Here's What to Expect from AMD's Q2 Earnings
Advanced Micro Devices AMD is set to report its Q2 earnings on Wednesday, July 24. The semiconductor firm's stock has surged 79% for far this year, hitting new highs along the way, which includes a new 52-week high of $34.86 Tuesday.
Overview
Based in Santa Clara, California, AMD develops computer processors and related technologies for both business and consumer markets. AMD's PC chips have come to rival industry leader Intel INTC. Additionally, AMD has maintained a duopoly in the discrete graphics processing unit market with competitor NVIDIA NVDA when looking at market share. Today, AMD boasts the claim that it is now the only chip maker "in the world that has both high-performance graphics and high-performance compute technology."
AMD has two main revenue streams: a computing and graphics segment, as well as an enterprise, embedded, and semi-custom segment. Computing and graphics accounted for $831 million last quarter, compared to $441 million for the enterprise segment.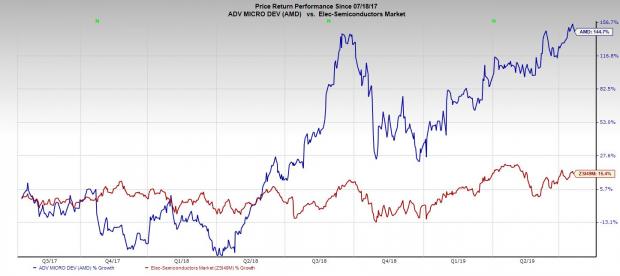 AMD currently trades around 44x earnings. This is extremely high compared to the industry average, which is 12.3x. Although that may make AMD seem significantly overvalued, the stock has grown 145% over the past two years, while its P/E ratio has declined over the same period, which would suggest that AMD's earnings have grown faster than its price.
Q2 Outlook & Earnings Trends
Revenues are expected to continue on their recent downturn, declining 13.36% year-over-year to $1.52 billion for the quarter, based on our current Zacks Consensus Estimates. AMD saw its revenues decrease 22.8% in Q1. The firm attributed most of its revenue decline on lower sales in the computer and graphics segment, amid a larger downturn in the broader and historically cyclical semiconductor industry.
Revenue from this segment had decreased by 16% from Q4 2018 to Q1 2019. Our Zacks non-financial metrics expect computing and graphics revenue to be $944.79 million this quarter, a 13% year-over-year decrease. Additionally, the revenue from the enterprise, embedded, and semi-custom segment is forecasted to fall 13.8%. Although the segments are expected to see continued declines, the drops are not supposed to be as big in Q2 as they were in Q1, and overall revenue is predicted to be up from Q1 2019, which might give investors some optimism even though expectations are quite low.
Meanwhile, earnings are not expected to be any better. Our Zacks Consensus Estimate calls for Q2 EPS of $0.08, a 42.86% decline from Q2 last year. This is better than last quarter's 87.5% decline, which was primarily due its sales downturn.
Bottom Line
Although AMD is expected to report revenues and earnings below last year's Q2 numbers, the company is expected to post significant earnings growth in fiscal 2019 and 2020, 45.65% and 58.09%, respectively. AMD management also seems much more focused on overall long-term growth than just a few quarters of shrinking earnings and revenue. So long as AMD can continue to innovate and excel in its industry, as it has in the past, it should remain a successful company.
More Stock News: This Is Bigger than the iPhone!

It could become the mother of all technological revolutions. Apple sold a mere 1 billion iPhones in 10 years but a new breakthrough is expected to generate more than 27 billion devices in just 3 years, creating a $1.7 trillion market.

Zacks has just released a Special Report that spotlights this fast-emerging phenomenon and 6 tickers for taking advantage of it. If you don't buy now, you may kick yourself in 2020.

Click here for the 6 trades >>
Want the latest recommendations from Zacks Investment Research? Today, you can download 7 Best Stocks for the Next 30 Days.
Click to get this free report
Advanced Micro Devices, Inc. (AMD): Free Stock Analysis Report
NVIDIA Corporation (NVDA): Free Stock Analysis Report
Intel Corporation (INTC): Free Stock Analysis Report
To read this article on Zacks.com click here.
Zacks Investment Research