Shell's Pennsylvania Ethane Cracker Completes 70% Construction
Royal Dutch Shell plc. RDS.A said that its petrochemical complex of several billion dollars in Western Pennsylvania is about 70% complete and in the process to enter service in the early 2020s. The news was disclosed by Hilary Mercer, vice president of Shell Polymers via an online presentation at Shale Insight 2020 conference.
Currently under construction, the plant is in Beaver County, about 48 km northwest of Pittsburgh, and will be self-sustained with its natural gas power plant and water treatment facility. The plant's costs are estimated to be $6-$10 billion, where ethane will be transformed into plastic feedstock. The facility is equipped to produce 1.5 million metric tons per year ("mmty") of ethylene and 1.6 mmty of polyethylene, two important constituents of plastics.
The commencement of work began in 2016 to benefit from the Appalachian ethane supply and a steady polyethylene market in the region. However, it was delayed due to the coronavirus outbreak to safeguard the workforce and the local community. After the temporary suspension of manufacturing activities in March, to prevent the transmission of the virus, Shell decided to resume work with about 6,500 workers, down from about 8,000 workers. The plant will utilize cheap ethane from shale gas producers in the Marcellus and Utica basins in Pennsylvania, OH and West Virginia to churn out polyethylene.
Beside, a 98-mile pipeline system to transfer ethane from natural gas drilled in the Appalachian Basin to the cracker plant is 95% complete. The pipeline system has the potential to move 100,000 barrels per day of ethane to the cracker under supply deals, with about 10 Appalachian producers. Per Mercer, all the major equipment has been placed on site and some of the utility systems are being commissioned to start production on time.
Company Profile & Price Performance
Shell is one of the primary oil supermajors – a group of U.S. and Europe-based big energy multinationals – with global operations. The company is fully integrated, as it participates in every aspect related to energy – from oil production to refining and marketing. Its shares have underperformed the industry in the past six months. Over the past 6 months, its shares have lost 29.6% compared with the industry's 19.6% decline.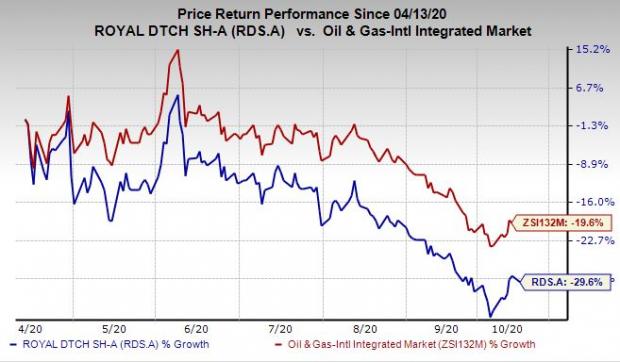 Zacks Rank & Stocks To Consider
Shell currently carries a Zack Rank #3 (Hold). Some better-ranked players in the energy space are SM Energy Company SM, Plains Group Holdings LP PAGP and Laredo Petroleum Inc. LPI, each currently sporting a Zacks Rank #1 (Strong Buy). You can see the complete list of today's Zacks #1 Rank stocks here.
Over the past 60 days, the Zacks Consensus Estimate for 2020 earnings for Laredo Petroleum has been raised 13.7%.
SM Energy is expected to see earnings growth of 12.5% in 2020 whereas Plains Group is likely to see earnings growth of 160.6% in 2021.
Looking for Stocks with Skyrocketing Upside?
Zacks has just released a Special Report on the booming investment opportunities of legal marijuana.
Ignited by referendums and legislation, this industry is expected to blast from an already robust $17.7 billion in 2019 to a staggering $73.6 billion by 2027. Early investors stand to make a killing, but you have to be ready to act and know just where to look.
See the pot stocks we're targeting >>
Want the latest recommendations from Zacks Investment Research? Today, you can download 7 Best Stocks for the Next 30 Days.
Click to get this free report
Royal Dutch Shell PLC (RDS.A): Free Stock Analysis Report
SM Energy Company (SM): Free Stock Analysis Report
Plains Group Holdings, L.P. (PAGP): Free Stock Analysis Report
Laredo Petroleum, Inc. (LPI): Free Stock Analysis Report
To read this article on Zacks.com click here.