Why Holding Anthem (ANTM) in Your Portfolio is a Prudent Move?
Anthem, Inc. ANTM has been gaining momentum from a healthy revenue stream and strategic initiatives. Strong operational performance, rising membership and an expanded product portfolio are other tailwinds. The leading health insurer has a market cap of $106.3 billion.

ANTM is leaving no stone unturned when it comes to providing virtual care.
Anthem is well-poised for progress, evident from its VGM Score of B. Here V stands for Value, G for Growth and M for Momentum with the score being a weighted combination of all three factors.

Anthem projects its adjusted net income for 2020 to be more than $25.85 per share, higher than the previous estimate of above $25.50.

Now delve deeper to see what makes this Zacks Rank #3 (Hold) player an investor favorite stock.

The leading health insurer is a dynamic stock, which has evolved over the past many years. ANTM boasts strong Medicare and Medicaid businesses. On its last earnings call, management had said that its Healthy Blue plan in partnership with Blue Cross Blue Shield of North Carolina turned into the largest Medicaid managed care plan by membership in North Carolina.
Anthem has plans to launch a Statewide Medicaid Managed Care contract in Ohio in the summer of 2022.

Anthem is continuously taking several measures to enhance its Medicare and Medicaid businesses to provide affordable, value-based medical care to the communities that it serves.

Acquisitions and alliances also formed a key component of its growth trajectory. The acquisitions of Missouri and Nebraska Medicaid plans of WellCare Health in January 2020 added around 300000 Medicaid members under its coverage. In November 2021, Anthem agreed to acquire Integra Managed Care to expand its Medicaid business. ANTM was awarded a contract to serve the retirees of New York in partnership with Emblem Health.
In the second quarter of 2021, Anthem bought myNEXUS, Inc., a home-based nursing management company for payors. All these buyouts also contributed to its top line.

ANTM's top-line improvement remains impressive, witnessing a 2015-2020 CAGR of 9% on the back of a premium rate increase and higher membership. In the first nine months of 2021, revenues of $35.8 billion improved 15% year over year owing to increased premium revenues.

On the back of its generous cash flow, the health insurance player has been able to deploy capital efficiently for the past many years now. ANTM initiated cash dividends in early 2011 and has raised its dividend ever since.

Share buyback activity was resumed last June, considering its solid solvency position. ANTM expects to buy back shares worth $1.6 billion for 2021 and around 60% of the target has been achieved so far.

Rising number of members also expanded its portfolio and established its dominance in the industry. In 2020, medical enrollment increased 4.7% year over year to 42.9 million members, backed by robust organic growth. As of Sep 30, 2021, ANTM had 44.3 million members. Several contracts and organic growth are expected to keep driving its membership, boosting the top line in turn.

The consensus mark for 2021 earnings stands at $25.96, indicating an upside of 15.5% from the year-ago reported figure.

Shares of Anthem have gained 30.7%, outperforming its industry's growth of 21.9%. You can see the complete list of today's Zacks #1 Rank (Strong Buy) stocks here.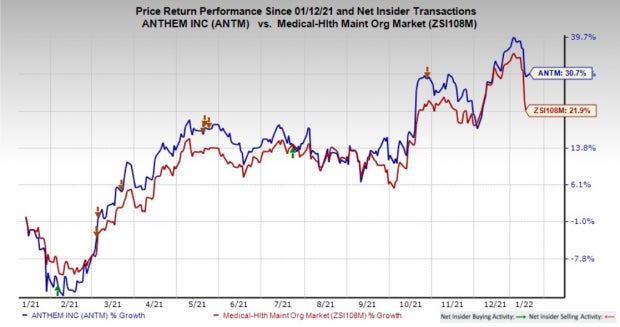 Image Source: Zacks Investment Research
Stocks to Consider
Some better-ranked stocks in the same space are Zoetis Inc. ZTS, Molina Healthcare, Inc. MOH and Abiomed Inc. ABMD.

Zoetis has a diversified business and is a leader in the animal health space. ZTS came up with a trailing four-quarter surprise of 12.7%, on average.
Molina Healthcare Inc. is a multi-state managed care organization, participating exclusively in government-sponsored healthcare programs.

MOH's earnings surpassed estimates in three of its trailing four quarters (missing the mark in one), the average surprise being 4%.

Headquartered in Danvers, MA, Abiomed is engaged in developing, manufacturing and marketing medical products, designed to assist or replace the pumping function of the failing heart. ABMD beat on earnings in all the trailing four quarters, the average being 5.8%.

Shares of ZTS and MOH have gained 24.6% and 19.8%, respectively, in a year's time while the ABMD stock has lost 1.6%.
Zacks' Top Picks to Cash in on Artificial Intelligence
This world-changing technology is projected to generate $100S of billions by 2025. From self-driving cars to consumer data analysis, people are relying on machines more than we ever have before. Now is the time to capitalize on the 4th Industrial Revolution. Zacks' urgent special report reveals 6 AI picks investors need to know about today.
See 6 Artificial Intelligence Stocks With Extreme Upside Potential>>
Want the latest recommendations from Zacks Investment Research? Today, you can download 7 Best Stocks for the Next 30 Days.
Click to get this free report
Molina Healthcare, Inc (MOH): Free Stock Analysis Report
ABIOMED, Inc. (ABMD): Free Stock Analysis Report
Zoetis Inc. (ZTS): Free Stock Analysis Report
Anthem, Inc. (ANTM): Free Stock Analysis Report
To read this article on Zacks.com click here.
Zacks Investment Research