3 Renewable Stocks Set to Continue Their Winning Streak in 2022
The year 2021 proved to be quite a remarkably resilient one for the renewable energy sector, which swiftly overcame the brief downfall it suffered until the middle of last year, thanks to COVID-19. Anticipating the sector to show similar or even better growth patterns next year, we may buy stocks like Evergy EVRG, Ameresco AMRC and Texas Pacific Land TPL.
What's the Scenario So Far?
Indeed, a disrupted supply chain, which pushed up shipping prices along with polysilicon prices worldwide, as well as lowering installation trends for renewable, was a major concern for clean energy advocates in recent times.
Nevertheless, factors like supportive government policies, encouraging more renewable investments, plummeting overall cost of generating renewable electricity as well as rapid adoption of electric vehicles (EV) across the board have kept the sector buoyant so far in 2021.
The Zacks Alternative Energy industry has gained 18.8% in the year-to-date period.
Will the Momentum Continue in 2022?
The renewable energy sector is expected to keep its winning streak alive in 2022. Per the International Renewable Energy Agency's report, the outlook till 2022 projects global renewable power costs to fall further, with onshore wind becoming 20-27% lower than the cheapest new coal-fired generation option.
Moreover, 74% of all new solar PV projects commissioned over the next two years that have been competitively procured through auctions and tenders will have an award price lower than new coal power. Such plummeting costs are likely to boost installation trends in the coming year.
Another impressive growth catalyst for this sector is the rapid adoption of electric vehicles (EV). The U.S. EV market is expected to reach 6.9-million-unit sales by 2025, reflecting a significant improvement from the 1.4-million-unit sales forecast for 2020, as estimated by Frost & Sullivan's analysis. With America being a forerunner in the global EV market, the aforementioned projection should bode well for clean energy stocks in 2022.
3 Renewable Stocks to Buy As We Step Into 2022
With the initial catastrophic impact of the pandemic expected to mellow down next year, we expect to witness a solid growth trajectory for the renewable energy sector. So, if you want to make the most of this opportunity now, you may buy some promising renewable stocks mentioned below. These are set to perform well in 2022 and are backed by a Zacks Rank #1 (Strong Buy) or 2 (Buy). These stocks have gained more than 20% so far this year, with a market capitalization of more than $1 billion. You can see the complete list of today's Zacks #1 Rank stocks here.
Evergy: Based in Kansas City, MO, this company provides clean, safe and reliable energy to 1.6 million customers in Kansas and Missouri. In December 2021, Evergy proposed a suite of energy efficiency programs to the Kansas Corporation Commission, which aims to provide Kansas residential and business customers with $42 million in anticipated net bill savings. Such proposals, if approved, will benefit Evergy's existing customers along with attracting new customers.
The Zacks Consensus Estimate for Evergy's 2022 earnings implies a 1.5% improvement from the prior year's estimated earnings. EVRG currently carries a Zacks Rank #2 and has gained 23.1% in the year-to-date period.
Ameresco: Based in Farmingham, MA, Ameresco is a leading renewable energy asset developer, owner and operator. Its comprehensive portfolio includes energy efficiency, infrastructure upgrades, asset sustainability and renewable energy solutions. Earlier in December, the company announced its partnership with Merthyr Tydfil Council on an energy conservation project, a deal projected to expand Ameresco's presence in the United Kingdom.
The Zacks Consensus Estimate for Ameresco's 2022 earnings implies a 23.7% improvement from the prior year's estimated earnings. Ameresco currently sports a Zacks Rank #1 and has gained 49.7% in the year-to-date period.
Texas Pacific Land: Based in Dallas, TX, this company is one of the largest landowners in the State of Texas, which generates revenues from pipeline, power line and utility easements, commercial leases, material sales and seismic and temporary permits related to land uses including midstream infrastructure projects and hydrocarbon processing facilities. In its third-quarter 2021 results, Texas Pacific reported net income growth of 81.2% on a year-over-year basis, while its revenues improved 66.2%.
The Zacks Consensus Estimate for Texas Pacific's 2022 earnings implies a 51.4% improvement from the prior year's estimated earnings. TPL currently carries a Zacks Rank #2 and has gained 73.7% in the year-to-date period.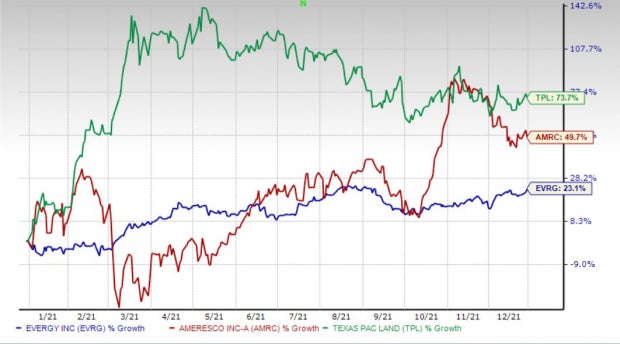 Image Source: Zacks Investment Research
Zacks Top 10 Stocks for 2022
In addition to the investment ideas discussed above, would you like to know about our 10 top picks for the entirety of 2022?
From inception in 2012 through November, the Zacks Top 10 Stocks gained an impressive +962.5% versus the S&P 500's +329.4%. Now our Director of Research is combing through 4,000 companies covered by the Zacks Rank to handpick the best 10 tickers to buy and hold. Don't miss your chance to get in on these stocks when they're released on January 3.
Be First to New Top 10 Stocks >>
Want the latest recommendations from Zacks Investment Research? Today, you can download 7 Best Stocks for the Next 30 Days.
Click to get this free report
Ameresco, Inc. (AMRC): Free Stock Analysis Report
Texas Pacific Land Corporation (TPL): Free Stock Analysis Report
Evergy Inc. (EVRG): Free Stock Analysis Report
To read this article on Zacks.com click here.
Zacks Investment Research