Absci (ABSI) Inks Research Agreement With Merck, Stock Up
Absci Corporation ABSI announced that it has entered into a research collaboration with U.S. pharma company, Merck MRK to produce enzymes for Merck's biomanufacturing applications using Absci's AI-powered integrated drug creation platform.
Absci will receive an upfront payment and certain other milestone payments from Merck under the collaboration terms. Per the terms of the deal, Merck has an option to nominate up to three targets and sign a drug discovery collaboration agreement with Absci for the same. Upon exercise of the option, Absci will be eligible to receive up to $610 million in upfront and milestone payments from Merck for all three targets. Merck will also fund research activities for the three targets and successful development can lead to royalties on sales.
Absci had its initial public offering ("IPO") on Jul 21, 2021 and its shares started trading on Nasdaq Global Select Market on Jul 22.
Shares of Absci were up 17.1% on Jan 7, following the announcement of the research collaboration. However, the company's shares have declined 68.6% since its IPO compared with the industry's decrease of 25.6% in the same period.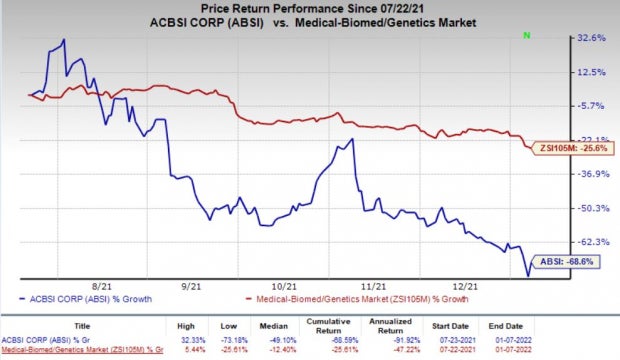 Image Source: Zacks Investment Research
Pharma and biotech companies have started using technologies, especially artificial intelligence ("AI") and machine learning ("ML") for efficient drug development. The usage of technology is also likely to accelerate novel drug discoveries. Several companies are developing AI-based technology platforms to support new drug discoveries.
Earlier this month, a popular biotech company, Amgen AMGN signed a deal with privately-held Generate Biomedicines to develop five programs across several diseases. Amgen will use Generate Biomedicines' machine learning algorithms that help to generate custom protein therapeutics.
Amgen is obligated to pay up to $1.9 billion in milestone payments to Generate Biomedicines for the development of the five targets.
The companies with conventional drug-discovery platforms are also trying to incorporate AI and ML to improve their platforms. Ligand Pharmaceuticals LGND is one of the early birds that is using AI in its drug discovery technologies.
Ligand's OmniAB platform has been using AI to enhance antigen design and immunization methods. Ligand also uses deep computational analysis to identify fully human antibodies having superior performance potential.
Absci Corporation Price
Zacks Rank
Absci currently carries a Zacks Rank #3 (Hold). You can see the complete list of today's Zacks #1 Rank (Strong Buy) stocks here.
Zacks' Top Picks to Cash in on Artificial Intelligence
In 2021, this world-changing technology is projected to generate $327.5 billion in revenue. Now Shark Tank star and billionaire investor Mark Cuban says AI will create "the world's first trillionaires." Zacks' urgent special report reveals 3 AI picks investors need to know about today.
See 3 Artificial Intelligence Stocks With Extreme Upside Potential>>
Want the latest recommendations from Zacks Investment Research? Today, you can download 7 Best Stocks for the Next 30 Days.
Click to get this free report
Merck & Co., Inc. (MRK): Free Stock Analysis Report
Amgen Inc. (AMGN): Free Stock Analysis Report
Ligand Pharmaceuticals Incorporated (LGND): Free Stock Analysis Report
Absci Corporation (ABSI): Free Stock Analysis Report
To read this article on Zacks.com click here.