UnitedHealth (UNH) Unit Invests to Improve Members' Eye Health
UnitedHealth Group Inc.'s UNH business, UnitedHealthcare, has recently undertaken two initiatives in an effort to offer UnitedHealthcare Vision members with enhanced eye health outcomes.
The first initiative will offer two discount programs to UNH's vision members of over 23 million. Through the discount programs, the members can avail up to 20% discount on Dell XPS laptops, which come pre-installed with blue-light-blocking properties from Eyesafe, a leading Minnesota-based screen time and blue light solutions provider. Members looking to upgrade their existing smartphones, laptops or other digital equipment can also avail of a comparable discount on Eyesafe Blue Light Screen Filters.
Meanwhile, through the second initiative, UnitedHealthcare aims to make substantial investments in five school districts across the United States. The investments have been made to offer suitable technology to facilitate remote learning of students and concurrently deliver screen protectors to them.
The recent investments highlight UNH's efforts to minimize significant exposure to the harmful blue light, which is usually emitted by screens of everyday digital devices. Fears of contracting the COVID-19 virus and restrictions imposed on physical movements prompted schools to shut down and professionals to pursue the work-from-home mode. Students resorted to online classes via laptops or tablets during the period. Though the decision led to uninterrupted office work and remote learning, it resulted in increased screen time and exerted significant pressure on the eye health of individuals. Consequently, despite proving a boon amid the troubled times, digitization has been damaging for the eye health of the growing tech-savvy population.
Initiatives similar to the latest one are likely to bolster the vision network of UnitedHealthcare, which already includes renowned eyewear retailers LensCrafters, 1-800 Contacts and GlassesUSA.com. The latest effort is expected to boost the customer base seeking the group benefit plans of UnitedHealthcare. UNH offers a wide array of group health insurance options, which apart from offering traditional medical insurance, extends to cover vision, dental, pharmacy and other expenses as well. If required, the group benefit plans can integrate several plans into one. These features place these plans in high demand among employers. Being cost-effective, employees need to pay lower premiums for group benefit plans compared to an individual health plan.
The UnitedHealthcare unit has solid Medicare and Medicaid businesses in place through which it has been devising cost-effective health plans and reaching out to various parts of the nation. It has joined forces with several well-established healthcare organizations to expand access to vital healthcare and aid nationwide residents to lead healthy lives. The sound performance of UNH's subsidiary (UnitedHealthcare) is anticipated to drive the company's top line in the days ahead as the segment usually accounts for a significant portion of overall revenues.
Similar to UnitedHealth Group, other players in the medical space such as Humana Inc. HUM, Cigna Corporation CI and Centene Corporation CNC also offer group benefit plans throughout the United States. The healthcare providers occupy a substantial share in the Medicare market.
Through the Group and Specialty segment, Humana offers employer group commercial fully-insured medical and specialty health insurance benefits, which encompasses dental, vision and life insurance benefits. Meanwhile, the Medicare Advantage ("MA") business of HUM continues to ride on an uptick in membership and new collaborations or contract extensions with renowned healthcare systems. This has been bolstering the partner networks and U.S. footprint of Humana.
Cigna's U.S. Medical segment offers comprehensive products and services that comprise medical, pharmacy, behavioral health, dental and vision benefits to insured and self-insured customers. The MA business of CI has performed well on the back of continuous product expansions, growing membership and new collaborations or contract extensions with renowned healthcare systems. With the MA plans for 2022, Cigna intends to bolster its geographic reach with the inclusion of 108 new counties.
Centene's health plans offer dental benefits management, home-based primary care services, managed vision, pharmacy benefits management and specialty pharmacy services. Several contract wins and renewals resulted in higher membership growth in CNC's MA business. In 2022, Centene plans to foray into 327 new counties and three new states including Massachusetts, Nebraska and Oklahoma through enhanced MA offerings.
Price Performances
Shares of UnitedHealth Group have gained 32.3% in a year compared with the industry's growth of 23.3%. UNH carries a Zacks Rank #3 (Hold). You can see the complete list of today's Zacks #1 Rank (Strong Buy) stocks here.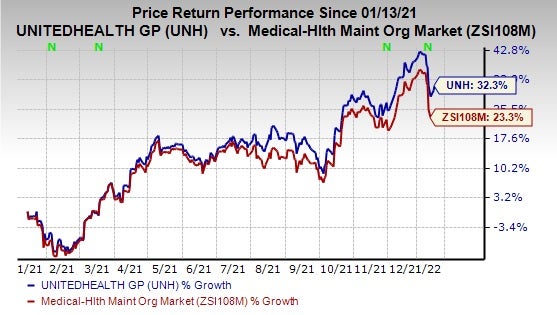 Image Source: Zacks Investment Research
While shares of Cigna and Centene have gained 7.3% and 20.4%, respectively, in a year, Humana stock has lost 5.9% in the same time frame.
Breakout Biotech Stocks with Triple-Digit Profit Potential
The biotech sector is projected to surge beyond $2.4 trillion by 2028 as scientists develop treatments for thousands of diseases. They're also finding ways to edit the human genome to literally erase our vulnerability to these diseases.
Zacks has just released Century of Biology: 7 Biotech Stocks to Buy Right Now to help investors profit from 7 stocks poised for outperformance. Recommendations from previous editions of this report have produced gains of +205%, +258% and +477%. The stocks in this report could perform even better.
See these 7 breakthrough stocks now >>
Want the latest recommendations from Zacks Investment Research? Today, you can download 7 Best Stocks for the Next 30 Days.
Click to get this free report
UnitedHealth Group Incorporated (UNH): Free Stock Analysis Report
Humana Inc. (HUM): Free Stock Analysis Report
Cigna Corporation (CI): Free Stock Analysis Report
Centene Corporation (CNC): Free Stock Analysis Report
To read this article on Zacks.com click here.
Zacks Investment Research