Under Armour (UAA) Down Despite Narrower-Than-Expected Q2 Loss
Shares of Under Armour, Inc. UAA are down roughly 14% during pre-market trading session, in spite of the company reporting narrower-than-expected second-quarter 2019 loss. Apparently, top-line miss and management's soft view regarding North America segment were not well perceived by investors. This athletic apparel maker now envisions a marginal decline in North America revenue. The company had earlier anticipated revenue to be flat.
Let's Delve Deep
Under Armour reported quarterly loss of 4 cents a share as against the Zacks Consensus Estimate of loss of 5 cents. This also fared far better than the loss of 8 cents incurred in the year-ago period. We note that slightly higher revenues, improved gross margin and lower interest expense might have aided the bottom-line performance of this Zacks Rank #1 (Strong Buy) stock.
Notably, this was the fourth straight quarter of bottom-line beat. Impressively, shares of this Baltimore, Maryland-based company have rallied 55% so far in the year compared with the industry's growth of 27%.
Net revenues rose 1.4% (or up 3% on a currency neutral basis) to nearly $1,191.7 million but fell short of the Zacks Consensus Estimate of $1,198.9 million, after surpassing the same in the preceding six quarters. We note that while direct-to-consumer revenue (represents 35% of total revenue) increased 2% to $423 million, wholesale revenue fell 1% to $707 million.
Apparel revenue decreased 1.1% year over year to $739.7 million, while Footwear revenue increased 4.7% to $284.1 million. Revenue from accessories category inched up 0.3% to $106.3 million. Meanwhile, Licensing revenue surged 19.5% to $25.3 million, whereas the company's Connected Fitness segment reported an increase of 9.7% to $31.9 million.
Net revenues from North America fell 3.2% (down 2.9% on a currency neutral basis) to $816.2 million. Remarkably, international business continued to witness sturdy growth, rising 11.8% (up 17.1% on a currency-neutral basis). Within international business, net revenues from EMEA and Asia-Pacific regions grew 6.1% and 22.6% to $145.3 million and $154.1 million, respectively. However, Latin America revenues decreased 2.5% to $39.7 million.
The company's gross margin expanded 170 bps to 46.5%, courtesy of supply chain endeavors, regional mix and restructuring charges in the year-ago quarter. This was offset by foreign currency impacts. SG&A expenses grew 2.4% to $565.8 million, while as a percentage of net revenues, the same increased 50 bps to 47.5%. Net interest expense fell sharply about 30% to $6 million.
Under Armour, Inc. Price, Consensus and EPS Surprise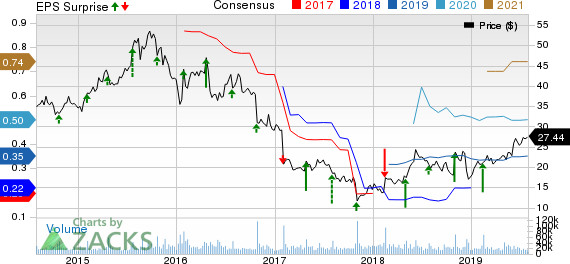 Under Armour, Inc. price-consensus-eps-surprise-chart | Under Armour, Inc. Quote
Other Financial Details
Under Armour ended the quarter with cash and cash equivalents of $455.7 million, long-term debt (net of current maturities) of $591.4 million and total shareholders' equity of $2,048.3 million. While cash and cash equivalents more than doubled year over year, total debt was down about 24%. Additionally, management expects to incur capital expenditures of approximately $210 million in 2019.
Guidance
Management continues to envision 2019 net revenues increase of 3-4%. The company projects international revenues to increase in low to mid-teen percentage rate. The company forecast earnings per share in the band of 33-34 cents a share, including an adverse impact from the company's minority interest in its Japanese licensee. The current Zacks Consensus Estimate for the full year is pegged at 35 cents.
Under Armour expects gross margin to improve 70-90 bps from the 2018 adjusted figure. The expansion is likely to be backed by favorable channel mix and supply-chain efforts.
Operating income is now anticipated to be around $230-$235 million compared with the earlier guided range of $220-$230 million. The company projects net interest and other expense of $30 million versus previous estimate of approximately $35 million.
3 Stocks Catching the Eyes
Zumiez ZUMZ has long-term earnings per share growth rate of 13.5% and a Zacks Rank #1. You can see the complete list of today's Zacks #1 Rank stocks here.
V.F. Corporation VFC delivered average positive earnings surprise of 9.6% in the trailing four quarters. It carries a Zacks Rank #2 (Buy).
Columbia Sportswear COLM has a long-term earnings growth rate of 11.2% and carries a Zacks Rank #2.
Today's Best Stocks from Zacks
Would you like to see the updated picks from our best market-beating strategies? From 2017 through 2018, while the S&P 500 gained +15.8%, five of our screens returned +38.0%, +61.3%, +61.6%, +68.1%, and +98.3%.
This outperformance has not just been a recent phenomenon. From 2000 – 2018, while the S&P averaged +4.8% per year, our top strategies averaged up to +56.2% per year.
See their latest picks free >>
Want the latest recommendations from Zacks Investment Research? Today, you can download 7 Best Stocks for the Next 30 Days.
Click to get this free report
Zumiez Inc. (ZUMZ): Free Stock Analysis Report
Columbia Sportswear Company (COLM): Free Stock Analysis Report
V.F. Corporation (VFC): Free Stock Analysis Report
Under Armour, Inc. (UAA): Free Stock Analysis Report
To read this article on Zacks.com click here.
Zacks Investment Research