Catalyst (CPRX) Thrives on Firdapse But Overdependence Concerns
Catalyst Pharmaceuticals, Inc.'s CPRX lead drug, Firdapse (amifampridine), is approved in the United States and Europe for the treatment of adult patients with Lambert-Eaton myasthenic syndrome ("LEMS"), an ultra-rare disease. The drug has witnessed solid uptake so far since its launch in early 2019.
Apart from LEMS, Catalyst is working on developing Firdapse for other indications. A proof-of-concept study evaluating Firdapse as a treatment for hereditary neuropathy with liability to pressure palsies is scheduled to start in the ongoing quarter.
Firdapse is currently being evaluated in various studies for the treatment of MuSK-MG and myasthenia gravis. Development of the long-acting formulation, Firdapse, also remains on track. The company remains focused on the expansion of commercialization of Firdapse in the United States.
During the first quarter of 2021, Firdapse generated sales worth $30.2 million, reflecting an increase of 3.7% year over year. The drug is also being studied for other rare neuromuscular indications, which upon potential approval, can drive sales in the days ahead.
Last month, Catalyst entered into an exclusive license and supply agreement with DyDo Pharma to develop/commercialize Firdapse for the treatment of LEMS in Japan. The drug has received an Orphan Drug designation in Japan for said indication.
Shares of Catalyst have rallied 61.1% so far this year against the industry's decrease of 8.8%.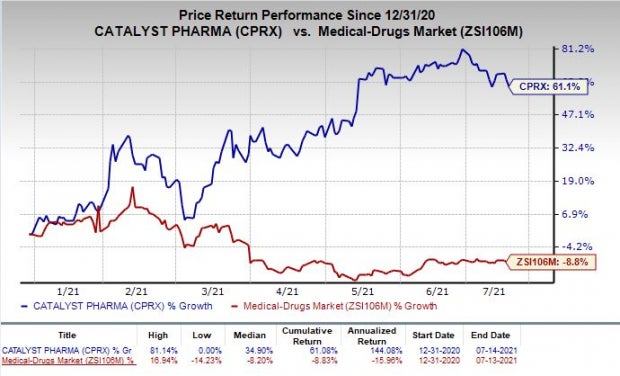 Image Source: Zacks Investment Research
In January 2021, Catalyst had stated that its exploratory study, SMA-001, to evaluate the safety and efficacy of Firdapse in ambulatory patients with Spinal Muscular Atrophy ("SMA") Type 3, met the primary endpoint of a statistically significant difference for the Hammersmith Functional Motor Scale Expanded (HFSME). The secondary endpoints were not statistically significant. Clinically, however, the effect was modest. Catalyst, thus, decided not to pursue the SMA Type 3 indication further.
Given the fact that Catalyst is solely dependent on Firdapse for revenues, such setbacks are detrimental for the company. Competition in the target market also remains an overhang for Catalyst.
Catalyst Pharmaceuticals, Inc. Price and Consensus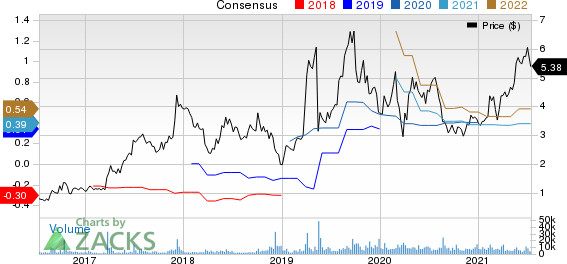 Catalyst Pharmaceuticals, Inc. price-consensus-chart | Catalyst Pharmaceuticals, Inc. Quote
Zacks Rank & Stocks to Consider
Catalyst currently carries a Zacks Rank #3 (Hold). Better-ranked stocks in the same sector include Catalent, Inc. CTLT, Can-Fite BioPharma Ltd. CANF and Corcept Therapeutics Incorporated CORT, all carrying a Zacks Rank #2 (Buy) at present. You can see the complete list of today's Zacks #1 Rank (Strong Buy) stocks here.
Catalent's earnings estimates have been revised 1.3% upward for 2021 and 3.5% upward for 2022 over the past 60 days. The stock has increased 6.8% year to date.
Can-Fite BioPharma's loss per share estimates have narrowed 31.9% for 2021 and 51.2% for 2022 over the past 60 days. The stock has surged 29.5% year to date.
Corcept's earnings estimates have been revised 2.5% upward for 2021 and 3.1% upward for 2022 over the past 60 days.
Bitcoin, Like the Internet Itself, Could Change Everything
Blockchain and cryptocurrency has sparked one of the most exciting discussion topics of a generation. Some call it the "Internet of Money" and predict it could change the way money works forever. If true, it could do to banks what Netflix did to Blockbuster and Amazon did to Sears. Experts agree we're still in the early stages of this technology, and as it grows, it will create several investing opportunities.
Zacks' has just revealed 3 companies that can help investors capitalize on the explosive profit potential of Bitcoin and the other cryptocurrencies with significantly less volatility than buying them directly.
See 3 crypto-related stocks now >>
Want the latest recommendations from Zacks Investment Research? Today, you can download 7 Best Stocks for the Next 30 Days.
Click to get this free report
Corcept Therapeutics Incorporated (CORT): Free Stock Analysis Report
Catalyst Pharmaceuticals, Inc. (CPRX): Free Stock Analysis Report
CanFite Biopharma Ltd (CANF): Free Stock Analysis Report
Catalent, Inc. (CTLT): Free Stock Analysis Report
To read this article on Zacks.com click here.
Zacks Investment Research