Tencent Expands Globally With 10% Stake in Universal Music
A consortium led by Tencent Holdings TCEHY is buying a 10% stake in Universal Music Group, which is owned by Vivendi VIVHY. Notably, Universal Music is behind artists like Lady Gaga, Taylor Swift and Billie Eilish among others.

The deal values Universal Music at $34 billion and the Tencent-led consortium is paying $3.36 billion for the stake, with an option to buy up to 10% more by early 2021 on the same price basis.

Singapore's state investment firm, GIC, and Qatar Investment Authority (QIA) are reportedly part of the consortium.
Tencent Holding Ltd. Price and Consensus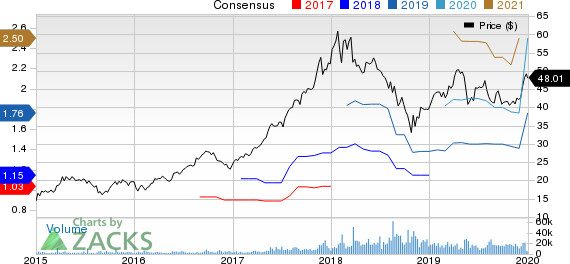 Tencent Holding Ltd. price-consensus-chart | Tencent Holding Ltd. Quote
Deal to Expand Global Footprint

The agreement between Tencent and Vivendi builds on a partnership formed in 2017, which allowed Tencent to license the music of Universal Music for distribution over its streaming platforms.

The deal is expected to aid in expanding Tencent's global footprint, with more access to artists in the United States, whereas Universal Music will get access to the Asia Market, including the hugely popular Korean Pop (K-Pop) stars.

Moreover, the companies will be able to cash in on the recovering global music industry.

Notably, per Market Watch data, revenues from recorded music in the United States rose 18% to $5.4 billion in the first half of 2019.

Strengthening Position in Streaming Space

The upsurge in the recorded music industry was largely driven by music streaming services like Spotify SPOT and Apple's AAPL Apple Music.

Notably, per Recording Industry Association of America data, quoted by Verge, revenues from streaming services were $4.3 billion in the first half of 2019, approximately 80% of the music industry's overall revenues.

Although Tencent's music streaming service has a user base that is nearly three times that of Spotify, which is the world's largest music streaming service, its paying users are comparatively fewer.

Spotify had 113 million paid subscribers as of the end of third-quarter 2019, whereas Tencent had about 35 million.
With Universal Music being the world's largest music label, the deal is expected to aid Tencent in competing with the likes of Spotify and Apple Music.

Zacks Rank

Tencent currently carries a Zacks Rank #4 (Sell).

You can see the complete list of today's Zacks #1 Rank (Strong Buy) stocks here.

7 Best Stocks for the Next 30 Days

Just released: Experts distill 7 elite stocks from the current list of 220 Zacks Rank #1 Strong Buys. They deem these tickers "Most Likely for Early Price Pops."

Since 1988, the full list has beaten the market more than 2X over with an average gain of +24.6% per year. So be sure to give these hand-picked 7 your immediate attention.

See 7 handpicked stocks now >>
Want the latest recommendations from Zacks Investment Research? Today, you can download 7 Best Stocks for the Next 30 Days.
Click to get this free report
Tencent Holding Ltd. (TCEHY): Free Stock Analysis Report
Vivendi SA (VIVHY): Free Stock Analysis Report
Apple Inc. (AAPL): Free Stock Analysis Report
Spotify Technology SA (SPOT): Free Stock Analysis Report
To read this article on Zacks.com click here.
Zacks Investment Research