Southwest (LUV) Bumps Up Boeing 737 MAX 7 Order by 34 Planes
Southwest Airlines LUV has entered into an agreement with Boeing BA to bump up its 2022 firm orders by 34 Boeing 737 MAX 7 aircraft as leisure air-travel demand continues to improve. The move is a part of the carrier's fleet modernization plans. With this, the airline has a total of 234 firm orders for MAX 7 aircraft.

Further, Southwest accelerated 32 options into 2023, 16 options into 2024 and 2025 each, and added 32 new options into 2026 through 2027. With this, the airline's firm and option order book totals 660 aircraft.

On a separate note, the carrier improved its cash burn forecast for the second quarter on anticipation of continued recovery in air-travel demand, which in turn is expected to lift operating revenues. Southwest now estimates average core cash burn in the range of $1 million-$2 million per day in the second quarter compared with the previous expectation of $1 million-$3 million. Average core cash burn was approximately $2 million per day last month. The company continues to expect breakeven or better average core cash flow, this month.
Southwest Airlines Co. Price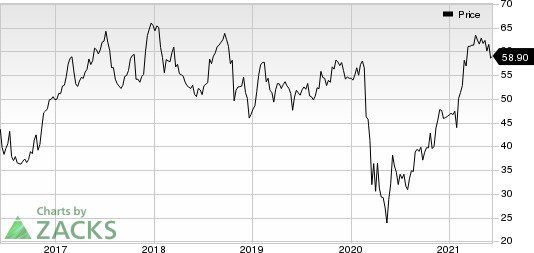 The company's operating revenues declined around 35% in May from the 2019 level, better than a decrease of 42% in April. This signals the improvement in travel demand. Capacity, measured in available seat miles (ASMs), jumped more than 100% year over year in the month, while being 18% down from the May 2019 level. Meanwhile, load factor (percentage of seats filled with passengers) in the month was around 84%.

For June, the airline anticipates operating revenues to fall approximately 20% from the 2019 level. Capacity is expected to jump around 65% year over year, but decrease about 7% from the 2019 level. Load factor is estimated to be around 85% in June.

Southwest continues to expect its second-quarter capacity to increase approximately 87% year over year and decrease around 16% from second-quarter 2019. Additionally, it still estimates second-quarter operating expenses, excluding fuel and oil expense, special items, and profit sharing, to increase between 10-15% year over year.

While business travel demand continues to significantly lag leisure demand, it has been improving consistently, albeit modestly, the airline stated. Business revenues for the company were down approximately 77% in May from the 2019 level, better than the 80% decline in April. The same was down approximately 85% and 90% in March and February, respectively. The airline continues to expect a negative impact of the significantly suppressed business travel demand on close-in demand and average passenger fares in the second quarter.

With regard to liquidity, Southwest recently received the second disbursement of approximately $926 million under the American Rescue Plan Act of 2021. This brings the company's total payroll support assistance to $1.9 billion, as expected under the program. As of Jun 7, 2021, the company had approximately $16.6 billion in cash and short-term investments.

Both Southwest and Boeing carry a Zacks Rank #3 (Hold).
Key Picks
Some better-ranked stocks in the broader Transportation sector are Covenant Logistics Group CVLG and United Parcel Service UPS. While Covenant Logistics sports a Zacks Rank #1 (Strong Buy), UPS carries a Zacks Rank #2 (Buy). You can see the complete list of today's Zacks #1 Rank stocks here.

Shares of Covenant Logistics and UPS have rallied more than 66% and 96% in a year's time, respectively.
Infrastructure Stock Boom to Sweep America
A massive push to rebuild the crumbling U.S. infrastructure will soon be underway. It's bipartisan, urgent, and inevitable. Trillions will be spent. Fortunes will be made.

The only question is "Will you get into the right stocks early when their growth potential is greatest?"

Zacks has released a Special Report to help you do just that, and today it's free. Discover 7 special companies that look to gain the most from construction and repair to roads, bridges, and buildings, plus cargo hauling and energy transformation on an almost unimaginable scale.

Download FREE: How to Profit from Trillions on Spending for Infrastructure >>
Want the latest recommendations from Zacks Investment Research? Today, you can download 7 Best Stocks for the Next 30 Days.
Click to get this free report
Southwest Airlines Co. (LUV): Free Stock Analysis Report
The Boeing Company (BA): Free Stock Analysis Report
United Parcel Service, Inc. (UPS): Free Stock Analysis Report
Covenant Logistics Group, Inc. (CVLG): Free Stock Analysis Report
To read this article on Zacks.com click here.