How Will SBA Communications (SBAC) Fare in Q1 Earnings?
SBA Communications Corporation SBAC is scheduled to report first-quarter 2021 results on Apr 26, after market close. The company's results are expected to reflect year-over-year increases in quarterly revenues and funds from operations ("FFO") per share.
In the last reported quarter, this Boca Raton, FL-based communications tower REIT delivered a surprise of 2.05% in terms of FFO per share. Results reflected solid operating performance in its site-leasing and development businesses. Portfolio expansion efforts on the back of acquisitions also aided results.
In the trailing four quarters, SBA Communications surpassed the Zacks Consensus Estimate on all occasions, the surprise being 2.05%, on average. The graph below depicts this surprise history:
SBA Communications Corporation Price and EPS Surprise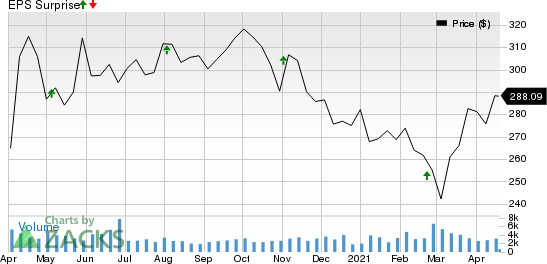 SBA Communications Corporation price-eps-surprise | SBA Communications Corporation Quote
Let's see how things have shaped up for this announcement.
Factors at Play
With higher availability of spectrum and improving 5G macro narrative, wireless carriers have been accelerating capital spending. This ultimately has been leading to new leasing activity for tower operators like SBA Communications, American Tower Corp AMT and Crown Castle International Corp CCI.
Specifically, as virtual communication has replaced in-person exchanges amid social-distancing and rampant work-from-home practices, the need for fast-speed, high-bandwidth and low-latency connections has grown. Hence, carriers have taken an aggressive stance in rolling out and expanding the coverage of 5G services.
As for SBA Communications, the company is expected to have witnessed strong leasing activity. In fact, in February, it announced a long-term master lease agreement with DISH Network Corporation DISH, per which the latter will lease SBA Communications' towers to achieve its greenfield nationwide 5G network build-out.
Also, as data volume for wireless and wired networks has been growing rapidly amid the widespread adoption of smartphones and applications, network carriers are likely to have continued increasing their spending on network deployments to improve and densify their cell sites and coverage.
The demand drivers are likely to have continued driving organic growth for the company's site-leasing business. The Zacks Consensus Estimate for first-quarter site-leasing revenues, which account for the lion's share of the total revenues, is pegged at $501 million, indicating a year-over-year uptick of 1.8%.
Moreover, in the first quarter, the company continued to expand its tower portfolio into select markets with high growth characteristics on the back of acquisitions and development. This has positioned it well to benefit from high tower demand.
Further, acquisitions and developments during the prior quarters are likely to have expanded the asset base and aided revenue generation in the quarter under review. Notably, in the December-end quarter, the company acquired 104 communication sites for $133.5 million. It also built 106 towers during the period. This too is expected to have driven the company's first-quarter site-leasing revenues.
SBA Communications' site-development business is also anticipated to have benefitted from increasing deployment by wireless service providers, as the company assists in developing these networks. Revenues from site-development operations are estimated to be $34.38 million, indicating an increase of 39.2% from the year-ago period's reported figure.
As such, the consensus estimate for first-quarter total revenues is pegged at $535.8 million. This indicates year-over-year growth of 3.6%.
Lastly, the company's activities during the quarter were inadequate to gain adequate analyst confidence. As such, the Zacks Consensus Estimate for first-quarter FFO per share has been unrevised at $2.45 over the past month. Nonetheless, it suggests year-over-year growth of 7.5%.
Key Developments During the Quarter
In early February, SBA Communications informed that it entered a definitive agreement with Pacific Gas and Electric Company ("PG&E") to buy the latter's license agreements. The agreements apply to more than 700 towers for $973 million in initial proceeds.
On Feb 16, 2021, the company closed the acquisition of wireless tenant licenses on 697 utility transmission structures from PG&E for $954 million.
The remaining transaction is expected to close by the end of third-quarter 2021. This will aid the company to capitalize on the wireless use potential of the assets.
SBA Communications expects the assets to generate $39.5 million in tower cash flow in their first full year in its portfolio.
Here is what our quantitative model predicts:
SBA Communications has the right combination of two key ingredients — a positive Earnings ESP and Zacks Rank #3 (Hold) or higher — for increasing the odds of an FFO beat.
You can uncover the best stocks to buy or sell before they're reported with our Earnings ESP Filter.
Earnings ESP: The Earnings ESP for SBA Communications is +0.16%.
Zacks Rank: It currently carries a Zacks Rank #3. You can see the complete list of today's Zacks #1 Rank (Strong Buy) stocks here.
Note: Anything related to earnings presented in this write-up represents funds from operations (FFO) — a widely used metric to gauge the performance of REITs.
+1,500% Growth: One of 2021's Most Exciting Investment Opportunities
In addition to the stocks you read about above, would you like to see Zacks' top picks to capitalize on the Internet of Things (IoT)? It is one of the fastest-growing technologies in history, with an estimated 77 billion devices to be connected by 2025. That works out to 127 new devices per second.

Zacks has released a special report to help you capitalize on the Internet of Things's exponential growth. It reveals 4 under-the-radar stocks that could be some of the most profitable holdings in your portfolio in 2021 and beyond.

Click here to download this report FREE >>
Want the latest recommendations from Zacks Investment Research? Today, you can download 7 Best Stocks for the Next 30 Days.
Click to get this free report
American Tower Corporation (AMT): Free Stock Analysis Report
Crown Castle International Corporation (CCI): Free Stock Analysis Report
DISH Network Corporation (DISH): Free Stock Analysis Report
SBA Communications Corporation (SBAC): Free Stock Analysis Report
To read this article on Zacks.com click here.
Zacks Investment Research