Middleby (MIDD) and Welbilt Terminate Merger Agreement
The Middleby Corporation MIDD yesterday announced the termination of its previously signed merger agreement with Welbilt, Inc. WBT. The deal was terminated as Ali Group seems to have outbid Middleby's proposal to acquire Welbilt.

Middleby's shares gained 2.2% yesterday to eventually close the trading session at $183.29.
Inside the Headlines
In April 2021, Middleby agreed to acquire Welbilt in an all-stock transaction, with an enterprise value of $4.3 billion. Welbilt's solid portfolio of products, brands and technologies were expected to enhance Middleby's Commercial Foodservice platform and offerings for customers. For each share of Welbilt common stock, Welbilt's shareholders were entitled to get a fixed exchange ratio of 0.1240 shares of Middleby common stock.

In May 2021, Ali Group made an all-cash offer to acquire Welbilt for $23 a share. Later, Ali Group increased the offer price to $24 per share in cash, which seemed to have provided Welbilt an option to reconsider the deal made with Middleby.

On Jul 13, Middleby stated its decision not to propose any changes to the terms of the merger agreement and allowed the five-day match period to get over. On the following day, Welbilt terminated the agreement by sending a written notice and paying Middleby a termination fee of $110 million in cash.

With this cash infusion, Middleby expects to execute its acquisition-based growth strategy better. This month, the company acquired Belgium-based Novy, a designer and manufacturer of premium cooker hoods, hobs, worktop cooker hoods and accessories. The Novy buyout is expected to strengthen Middleby's product offerings in the residential built-in cooking market.
Zacks Rank, Price Performance and Estimate Revisions
Middleby, with approximately $10.2 billion market capitalization, currently sports a Zacks Rank #1 (Strong Buy). The company is poised to gain from its efforts to broaden product portfolio, technological advancement actions, a healthy liquidity position and growth opportunities across its operating segments. Also, synergistic gains from acquired assets might be beneficial, going forward.

The Zacks Consensus Estimate for the company's earnings is pegged at $4.69 for 2021 and $5.83 for 2022, up 4.8% and 6% from the respective 60-day-ago figures.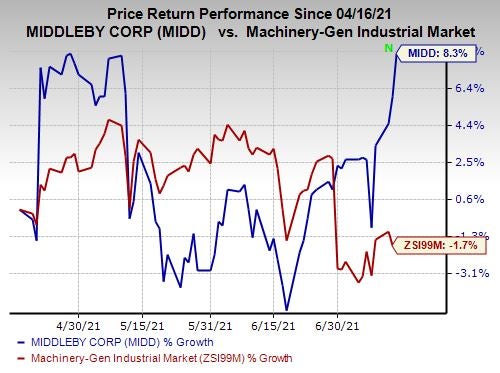 Image Source: Zacks Investment Research
The company's shares have gained 8.3% against 1.7% decline recorded by the industry in the past three months.
Other Stocks to Consider
A couple of other top-ranked stocks from the same space are Applied Industrial Technologies, Inc. AIT and Flowserve Corporation FLS, each carrying a Zacks Rank #2 (Buy). You can see the complete list of today's Zacks #1 Rank stocks here.

Applied Industrial delivered a positive earnings surprise of 30.33%, on average, in the trailing four quarters.

Flowserve delivered a positive earnings surprise of 33.19%, on average, in the trailing four quarters.
Bitcoin, Like the Internet Itself, Could Change Everything
Blockchain and cryptocurrency has sparked one of the most exciting discussion topics of a generation. Some call it the "Internet of Money" and predict it could change the way money works forever. If true, it could do to banks what Netflix did to Blockbuster and Amazon did to Sears. Experts agree we're still in the early stages of this technology, and as it grows, it will create several investing opportunities.
Zacks' has just revealed 3 companies that can help investors capitalize on the explosive profit potential of Bitcoin and the other cryptocurrencies with significantly less volatility than buying them directly.
See 3 crypto-related stocks now >>
Want the latest recommendations from Zacks Investment Research? Today, you can download 7 Best Stocks for the Next 30 Days.
Click to get this free report
Flowserve Corporation (FLS): Free Stock Analysis Report
Applied Industrial Technologies, Inc. (AIT): Free Stock Analysis Report
The Middleby Corporation (MIDD): Free Stock Analysis Report
Welbilt, Inc. (WBT): Free Stock Analysis Report
To read this article on Zacks.com click here.