Ecolab Introduces Exelerate TUFSOIL for Food Manufacturers
Ecolab Inc ECL recently unveiled Exelerate TUFSOIL, a breakthrough ready-to-use gel cleaner and degreaser for food and protein manufacturers.
Exelerate TUFSOIL aids in more effective cleaning while reducing time spent eradicating tough, burnt-on soils in fryers, ovens, smokehouses, dryers, racks, catwalks and environmental areas.
This should boost Ecolab's Global Industrial segment.
More on Exelerate TUFSOIL
Exelerate TUFSOIL was developed to increase production time and enhance cleaning outcomes to curb food safety risks and improve worker safety.
The patent-pending formula is an outcome of Ecolab's meticulous research and development along with commitment to come up with path-breaking innovation that helps customers meet challenges. By prolonging exposure time, Exelerate TUFSOIL has the ability to break down tough soils more proficiently. Additionally, customers have noted that as a gel product, Exelerate TUFSOIL, has a reduced odor when compared to foam alkaline products.
The product is ready-to-use and does not need any mixing, diluting, or titrating, decreasing operator preparation time and handling of the product. Exelerate TUFSOIL can also be used on hot surfaces without drying out, minimizing time spent waiting for surfaces to cool down and avoiding re-application compared to foam products that can dry on the surface. This ensures additional time savings and operational efficacy for plant operators.
A fluorescent green dye is added to the product to offer improved visibility, especially for dark, hard-to-reach areas such as fryers or ovens.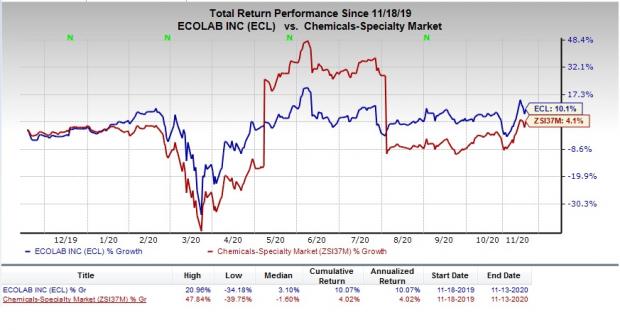 For investors' notice, Ecolab's Exelerate TUFSOIL is currently available in North America and Greater China, and will be launched in additional markets throughout 2021.
Recent Developments
In October 2020, the company launched a path-breaking product, Sink & Surface Cleaner Sanitizer, to address unexpected hygiene challenges. It is the first Environmental Protection Agency ("EPA")-registered concentrated no-rinse, 2-in-1 cleaner and sanitizer for food contact surfaces that can kill emerging viral pathogens in 30 seconds. Interestingly, the Sink & Surface Cleaner Sanitizer is part of the innovative solutions powering the new Ecolab Science Certified Program. This launch is expected to boost Ecolab's Global Industrial segment.
In the same month, Ecolab attained product approval from the U.S. EPA for use against SARS-CoV-2, the virus responsible for COVID-19. Its Peroxide Multi Surface Cleaner and Disinfectant is the first EPA-registered disinfectant that has been proven to be effective at killing the SARS-CoV-2 virus and approved for use with the electrostatic spray technology. This disinfectant is one example of breakthrough solutions powering the new Ecolab Science Certified program. This is expected to boost Ecolab's Global Industrial segment.
Market Prospects
Per a report by Allied Market Research, the global food and beverages disinfection market is projected to reach $2.38 billion, at a 4.4% CAGR during the 2018-2025 period. Hence, this is a well-timed launch.
Price Performance
Over the past year, the stock has gained 10.1% compared with the industry's 4.1% growth.
Zacks Rank and Key Picks
Ecolab currently has a Zacks Rank #3 (Hold).
Some better-ranked stocks from the broader medical space include Align
Technology ALGN, DaVita DVA and Thermo Fisher Scientific
TMO, each carrying a Zacks Rank #2 (Buy). You can see the complete list of today's Zacks #1 Rank (Strong Buy) stocks here.
Align Technology has a projected long-term earnings growth rate of 18.3%.
DaVita has a projected long-term earnings growth rate of 18.3%.
Thermo Fisher has an estimated long-term earnings growth rate of 18%.
The Hottest Tech Mega-Trend of All
Last year, it generated $24 billion in global revenues. By 2020, it's predicted to blast through the roof to $77.6 billion. Famed investor Mark Cuban says it will produce "the world's first trillionaires," but that should still leave plenty of money for regular investors who make the right trades early.
See Zacks' 3 Best Stocks to Play This Trend >>
Want the latest recommendations from Zacks Investment Research? Today, you can download 7 Best Stocks for the Next 30 Days.
Click to get this free report
Ecolab Inc. (ECL): Free Stock Analysis Report
DaVita Inc. (DVA): Free Stock Analysis Report
Align Technology, Inc. (ALGN): Free Stock Analysis Report
Thermo Fisher Scientific Inc. (TMO): Free Stock Analysis Report
To read this article on Zacks.com click here.
Zacks Investment Research