Fred's (FRED) Shares Plunge on Q3 Loss, Dividend Cancelled
Fred's Inc. FRED delivered a dismal performance in third-quarter fiscal 2017, wherein both the top and bottom line declined year on year and lagged estimates.

Consequently, shares of the company fell 18.7% on Dec 6, post earnings release. Along with disappointing quarterly results, investors' optimism was marred by the cancellation of quarterly cash dividends.

Despite Fred's efforts to boost traffic, the company has been posting soft sales due to store closures. On account of such headwinds, shares of the company plunged 63.5% in the past six months against the industry's rally of 12%.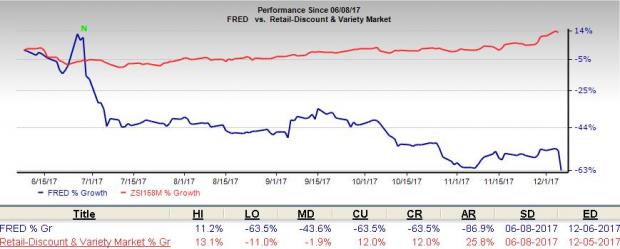 Q3 Highlights

The discount retailer witnessed adjusted quarterly loss of 42 cents per share, which was wider than the Zacks Consensus Estimate of 15 cents. Bottom-line results also compared unfavorably with the prior-year quarter's loss of 27 cents. Including non-recurring and asset impairment costs, quarterly loss was $1.38.
Fred's, Inc. Price, Consensus and EPS Surprise
Quarterly net sales declined 4.5% year over year to $493.6 million and lagged the Zacks Consensus Estimate of $500.5 million. The downturn was mainly due to the closure of 39 underperforming outlets earlier this fiscal.

Comps fell 0.8% in the quarter, owing to a negative impact of 36 basis points (bps) stemming from the sale of low productive discontinued inventory. However, the decline was narrower than a 3.8% dip witnessed in the year-ago quarter.

The company's gross profit declined 14.9% year over year to $94.6 million, primarily due to lower sales and increased promotional activity to drive store traffic. Further, gross margin contracted 230 basis points to 19.2% thanks to shift in shipments timing of high margin seasonal products and increased sales of low margin tobacco products and specialty drugs.

Fred's adjusted operating loss (or EBITDA) was $38.8 million in the reported quarter, wider than the year-ago quarter's loss of $32 million. During the quarter, management successfully reduced selling, general and administrative (SG&A) expenses by 7% to $133.4 million, driven by stringent expense control efforts and store closures.

Meanwhile, the company continues to witness flat comp scripts at Retail Pharmacy, on a 90-day year-to-date basis. Also, growth has been in generic dispensing rate owing to the company's shift to profitable generic prescriptions. In order to improve segments performance, Fred's has been expanding flu shots capacity along with aggressive inventory management and marketing initiatives.

In Specialty Pharmacy business, management continued to build momentum through investing in sales team, therapy diversification and technology.

In Front Store operations, management witnessed improved sales trends in tobacco, cosmetics and beer businesses.

Financial Update

Fred's ended the fiscal third quarter with cash and cash equivalents of $5.1 million, long-term portion of indebtedness of $168.1 million and shareholders' equity of $218.3 million.

In a separate release, the company also declared the cancellation of dividend to facilitate retention of free cash flow. This will enable the company curtail debt load, buyback shares and undertake other corporate initiatives. Also, the company announced amendments to stock repurchase program. The reformed program allows buyback of 3.8 million of the company's outstanding Class A shares.

Store Update

Fred's currently operates 600 pharmacy and general merchandise stores. This includes 13 franchised Fred's Pharmacy locations along with three additional specialty pharmacy-only locations.

Looking Ahead

Management is on track with turnaround strategies focusing mainly on driving store traffic, lowering SG&A expenses, enhancing free cash flow and reducing debt. Additionally, this Zacks Rank #3 (Hold) company has been streamlining operations to induce efficiency and enhance shareholder value.

Do Retail Stocks Interest You? Check These

Investors may consider other stocks from the same sector such as Home Depot Inc HD Ross Stores Inc ROST and Zumiez Inc ZUMZ. While Zumiez sports a Zacks rank #1 (Strong Buy), Home Depot and Ross Stores carry a Zacks Rank #2 (Buy). You can see the complete list of today's Zacks #1 Rank stocks here.

Zumiez delivered an average positive earnings surprise of 22.2% in the trailing four quarters. It has a long-term earnings growth rate of 18%.

Home Depot delivered an average positive earnings surprise of 3.9% in the last four quarters. It has a long-term earnings growth rate of 13.4%.

Ross Stores delivered an average positive earnings surprise of 5.5% in the trailing four quarters. It has a long-term earnings growth rate of 10%.

Zacks' Hidden Trades

While we share many recommendations and ideas with the public, certain moves are hidden from everyone but selected members of our portfolio services. Would you like to peek behind the curtain today and view them?

Starting now, for the next month, I invite you to follow all Zacks' private buys and sells in real time from value to momentum...from stocks under $10 to ETF to option movers...from insider trades to companies that are about to report positive earnings surprises (we've called them with 80%+ accuracy). You can even look inside portfolios so exclusive that they are normally closed to new investors.

Click here for Zacks' secret trade>>

Want the latest recommendations from Zacks Investment Research? Today, you can download 7 Best Stocks for the Next 30 Days.
Click to get this free report
Home Depot, Inc. (The) (HD): Free Stock Analysis Report
Zumiez Inc. (ZUMZ): Free Stock Analysis Report
Ross Stores, Inc. (ROST): Free Stock Analysis Report
Fred's, Inc. (FRED): Free Stock Analysis Report
To read this article on Zacks.com click here.
Zacks Investment Research