Archer Daniels to Expand Citrus Portfolio With Ziegler Buyout
Archer Daniels Midland Company ADM takes its quest of enhancing the nutrition portfolio, with citrus ingredients and flavors, to the next level as it agrees to buy Europe-based natural citrus flavor ingredients provider — Ziegler Group. Earlier this month, the company successfully acquired Florida Chemical Company LLC ("FCC") for $165 million. FCC, the Consumer and Industrial Chemistry Technologies segment of Flotek Industries Inc. FTK, specializes in citrus-based oils and ingredients.

Coming back to the latest acquisition, Ziegler is a leader in producing natural high-quality citrus oils, extracts, concentrates and compounds for flavor, food and beverage industry customers. The company uses proprietary cold concentration technologies for production. Based in Aufsess, in southern Germany, Ziegler has operations across Europe, the United States and Japan.

This merger with Archer Daniels is likely to bring increased opportunities for growth and creating benefits for Ziegler's customers. Zeigler will be positioned to take advantage of Archer Daniels' portfolio of ingredients and global reach. Meanwhile, Archer Daniels will gain from Zeigler's technology and citrus capabilities.

The combination of Zeigler and Florida Chemical will immediately bolster Archer Daniels' presence in the natural citrus ingredients market. These acquisitions bring a wide range of innovative citrus solutions and systems for the food, beverage and fragrance customers.

Archer Daniels expects to complete the acquisition by the second quarter of 2019. The acquisition remains conditioned upon the receipt of various regulatory approvals.

Given citrus' fastest-growing and highest-demand flavors for food and beverages, expansion of the global citrus platform forms a key part of Archer Daniels' growth strategy. The company is focused on creating global citrus portfolio offering a complete product line for customers.

Further, Archer Daniels is focused on strengthening its Nutrition portfolio. The buyout of WILD Flavors reinforced Archer Daniels' foothold in the nutrition space, expanding the specialty ingredients portfolio — including vanilla, mint and other savory flavors. Moreover, the Neovia buyout in February 2019 expanded its presence in the animal feed industry. Additionally, the company acquired Rodelle and Protexin, and signed a joint development agreement with China-based biotech company, Qingdao Vland Biotech Group Co., Ltd. These acquisitions reflect Archer Daniels' focus on improving its portfolio in the Nutrition space.

Management expects increased profits for the Nutrition segment during the first quarter of 2019, driven by operational improvements and gains from acquisitions as well as higher margin and sales. Moreover, the segment's operating profit is projected to be significantly higher from the first quarter of 2018. Archer Daniels is focused on five major platforms — animal nutrition, health & wellness, carbohydrates, human nutrition, and taste — to boost growth in the future.

However, the Nutrition segment witnessed a decline in adjusted operating profit in fourth-quarter 2018. Lower Merchandising and Handling results, including important insurance settlements in other income and dismal performance at Animal Nutrition owing to continuous production issues, were deterrents.

A glimpse of Archer Daniels' price performance in the past year depicts that this Zacks Rank #3 (Hold) stock has gained 0.3% against the industry's 7.3% decline.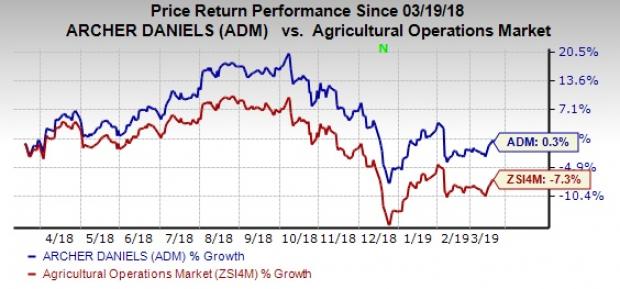 Want Better-Ranked Stocks in the Consumer Staples Sector? Check These

Currently, Medifast MED has an impressive long-term earnings growth rate of 20% and a Zacks Rank #1 (Strong Buy). You can see the complete list of today's Zacks #1 Rank stocks here.

General Mills, Inc. GIS has a long-term earnings growth rate of 7.3% and a Zacks Rank #2 (Buy) at present.

Is Your Investment Advisor Fumbling Your Financial Future?

See how you can more effectively safeguard your retirement with a new Special Report, "4 Warning Signs Your Investment Advisor Might Be Sabotaging Your Financial Future."

Click to get it free >>
Want the latest recommendations from Zacks Investment Research? Today, you can download 7 Best Stocks for the Next 30 Days.
Click to get this free report
MEDIFAST INC (MED): Free Stock Analysis Report
General Mills, Inc. (GIS): Free Stock Analysis Report
Flotek Industries, Inc. (FTK): Free Stock Analysis Report
Archer Daniels Midland Company (ADM): Free Stock Analysis Report
To read this article on Zacks.com click here.
Zacks Investment Research