CME Group's (CME) August ADV Drops at Five Product Lines
Shares of CME Group Inc. CME lost 1.08% in the last couple of days' trading in response to soft August volumes. Average daily volume (ADV) of 16.4 million contracts per day was down 33% year over year attributable to lower volumes in five of the six product lines. There were 21 trading days in August this year versus 22 days in August 2019.

Interest rate volume of 7.2 million contracts per day decreased 48%. Energy volume of 1.9 million contracts decreased 24% year over year. Foreign exchange volumes dropped 11% to 0.7 million contracts per day. Agricultural volume of 1.4 million contracts per day declined 2% year over year. Equity index volume of 4.1 million contracts per day decreased 17%. However, Metals volume of 1 million contracts per day increased 15%.

Though August volumes decreased, the company's operating leverage and compelling suit of products are expected to help CME Group record higher volumes going forward. CME Group maintains a solid market share of about 90% in global futures trading and clearing services.

Expansion of futures products in the emerging markets plus an increase in non-transaction related opportunities as well as OTC offerings should continue to contribute modestly to its top-line growth in the years ahead.

Increasing electronic trading volume adds scalability and hence leverage to CME Group's operating model. Efforts to expand and cross-sell through strategic alliances, acquisitions, new product initiatives and a strong global presence should also drive growth.

Shares of this largest futures exchange in the world in terms of trading volume as well as notional value traded have underperformed the industry year to date. The stock has lost 14.4% against the industry's increase of 2.6%. Nevertheless, its solid fundamentals will likely help the stock retain its growth momentum.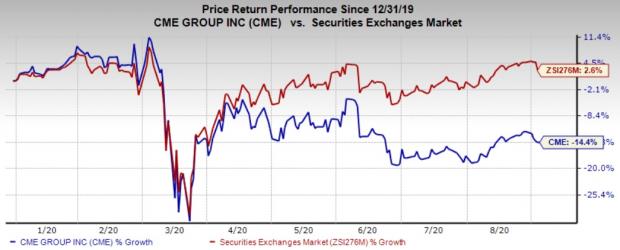 CME Group currently carries a Zacks Rank #5 (Strong Sell).

You can see the complete list of today's Zacks #1 Rank (Strong Buy) stocks here.

Recently, Nasdaq NDAQ reported volumes for the month of August. While U.S. equity options volume improved 36.9% year over year to 215 million contracts, European options and futures volume declined 34.7% year over year to 4.9 million contracts.

MarketAxess Holdings MKTX reported total monthly trading volume of $450 billion for August 2020, which increased a whopping 160.4% year over year.

Intercontinental Exchange's ICE futures & options ADV was 4.6 million, down 17.5% year over year.
More Stock News: This Is Bigger than the iPhone!
It could become the mother of all technological revolutions. Apple sold a mere 1 billion iPhones in 10 years but a new breakthrough is expected to generate more than 27 billion devices in just 3 years, creating a $1.7 trillion market.

Zacks has just released a Special Report that spotlights this fast-emerging phenomenon and 6 tickers for taking advantage of it. If you don't buy now, you may kick yourself in 2021.

Click here for the 6 trades >>
Want the latest recommendations from Zacks Investment Research? Today, you can download 7 Best Stocks for the Next 30 Days.
Click to get this free report
Intercontinental Exchange Inc. (ICE): Free Stock Analysis Report
CME Group Inc. (CME): Free Stock Analysis Report
Nasdaq, Inc. (NDAQ): Free Stock Analysis Report
MarketAxess Holdings Inc. (MKTX): Free Stock Analysis Report
To read this article on Zacks.com click here.
Zacks Investment Research