Can Solid Overseas Market Aid Halliburton (HAL) Q4 Earnings?
Halliburton Company HAL is scheduled to release fourth-quarter 2019 results on Jan 21, before the opening bell. The current Zacks Consensus Estimate for the to-be-reported quarter's earnings is 29 cents per share on revenues of $5.1 billion.
Highlights of Q3 Earnings
Halliburton reported in-line third-quarter earnings as robust international activity offset headwinds in North America. The world's second-largest oilfield services company after Schlumberger SLB saw its net income registered at 34 cents per share, matching the Zacks Consensus Estimate.
However, the bottom line fell 32% below the year-earlier earnings. Moreover, operating income of $536 million lagged the prior-year's $716 million.
Meanwhile, revenues of $5.6 billion were 10.1% lower than the year-ago quarter and also missed the Zacks Consensus Estimate of $5.8 billion. Revenues from North America too fell 21.1% year over year to $2.9 billion. However, the same from Halliburton's international operations rose 6.9% from the year-ago period to $2.6 billion, an area that continues to exhibit growth momentum.
As far as earnings surprises are concerned, this Houston, TX-based company boasts an excellent record, having surpassed the Zacks Consensus Estimate twice in the last four reports,meeting the same on two other occasions, the average beat being 6.87%. This is depicted in the graph below:
Halliburton Company Price and EPS Surprise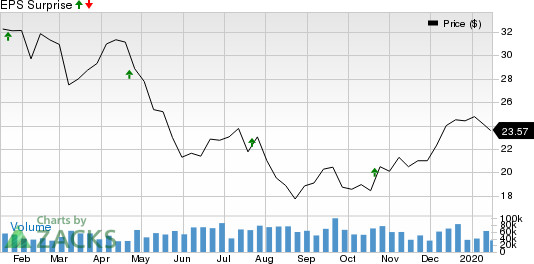 Halliburton Company price-eps-surprise | Halliburton Company Quote
Factors to Impact Q4 Results
The Zacks Consensus Estimate for fourth-quarter earnings has been revised 14.7% downward in the past 90 days. Given this backdrop, let's delve into the factors that might have impacted the company's performance in the December quarter.
E&P Capital Discipline: Clients have been adopting a more conservative approach to their investment decisions. Consequently, upstream oil majors are now committed to reap more investor returns rather than scaling up production by overspending cash flows. This created an extremely challenging operating environment for service providers with no adequate incentives to trigger investments in mature field development for exploring unconventional resources or expanding offshore programs. This slowdown in activity is likely to have hurt demand for Halliburton's services and equipment in the fourth quarter.
Lower Rig Count in North America: During the fourth quarter of 2019, oil rig count in North America saw a decrease of 870 year over year. While there is a typical delay of around three-four months between oil price changes and the resultant reflection in rig counts, statistics suggest weakening of activity in the North American region during the October-December timeframe. Halliburton with its sizable presence in the area is expected to reflect this downside in the to-be-reported results.
Recovery in International Operations: One bright spot in the otherwise gloomy earnings outlook is the recovery in overseas markets. Halliburton's international revenues increased 10% throughout the first three quarters of 2019, a trend that most likely continued in the fourth quarter as well, driven by increased customer spending on drilling and completion projects across all regions outside North America including land, offshore and unconventional. This positive trend was also confirmed by the Baker Hughes rig count statistics, which put the international tally in the fourth quarter at 3,330, reflecting an increase of 9.8% over the year-ago period.
The company's international revenues are likely to have grown in high single-digits during 2019. Importantly, Halliburton saw the resurgence in customers' spending across multiple geographies outside North America.
What Does Our Model Say?
The proven Zacks model does not conclusively predict a beat for Halliburton this earnings season. This is because a stock needs to have both — a positive Earnings ESP and a Zacks Rank #1 (Strong Buy), 2 (Buy) or 3 (Hold) — for this to happen. But that is not the case here as you will see below.
You can uncover the best stocks to buy or sell before they're reported with our Earnings ESP Filter.
Earnings ESP: Halliburton has an Earnings ESP of -1.90%, representing the difference between the Most Accurate Estimate and the Zacks Consensus Estimate.
Zacks Rank: Halliburton carries a Zacks Rank #3.
The above combination acts as a spoiler as it now leaves surprise prediction inconclusive.
Stocks to Consider
Here are some companies from the energy space that you may want to consider on the basis of our model, which shows that these have the right combination of elements to beat on earnings this time around:
Magellan Midstream Partners MMP has an Earnings ESP of +1.98% and is Zacks #3 Ranked. The partnership is slated to release earnings on Jan 30. You can see the complete list of today's Zacks #1 Rank stocks here.
Baker Hughes BKR has an Earnings ESP of +1.64% and a Zacks Rank of 3. The company is slated to report earnings on Jan 22.
Free: Zacks' Single Best Stock Set to Double

Today you are invited to download our latest Special Report that reveals 5 stocks with the most potential to gain +100% or more in 2020. From those 5, Zacks Director of Research, Sheraz Mian hand-picks one to have the most explosive upside of all.

This pioneering tech ticker had soared to all-time highs and then subsided to a price that is irresistible. Now a pending acquisition could super-charge the company's drive past competitors in the development of true Artificial Intelligence. The earlier you get in to this stock, the greater your potential gain.

See 5 Stocks Set to Double>>
Want the latest recommendations from Zacks Investment Research? Today, you can download 7 Best Stocks for the Next 30 Days.
Click to get this free report
Magellan Midstream Partners, L.P. (MMP): Free Stock Analysis Report
Baker Hughes Company (BKR): Free Stock Analysis Report
Halliburton Company (HAL): Free Stock Analysis Report
Schlumberger Limited (SLB): Free Stock Analysis Report
To read this article on Zacks.com click here.
Zacks Investment Research