Preferred Bank (PFBC) Hikes Dividend: Is it Worth Betting on?
After more than two years, Preferred Bank PFBC has announced a dividend hike. Hence, since the announcement late last week, the company's shares have risen 1%.

Preferred Bank declared quarterly cash dividend to 38 cents per share, marking an increase of 26.7% over the prior payout. The dividend will be paid out on Apr 21 to shareholders on record as of Apr 7.

Considering the last day's closing price of $65.66, Preferred Bank's dividend yield currently stands at 2.31%. This is impressive compared with the industry's 1.81%. This yield is not only attractive for income investors but it represents a steady income stream.

Li Yu, Chairman and CEO of Preferred Bank, said, "We are very pleased to increase the dividend and it is a direct reflection of the strong performance of the Bank through the past year as well as expectations for the future. This also serves to maintain our stated desired dividend payout ratio."

Preferred Bank continues enhancing shareholders' value through sustained capital deployment activities. Prior to this hike, it raised its quarterly dividend by 20% in January 2019 to 30 cents per share.

While Preferred Bank stock looks promising based on regular rise in dividend, one must take a look at its fundamentals and financial performance before making any investment decision.

Preferred Bank has a solid balance sheet. As of Dec 31, 2020, it had total debt of $130 million, while its cash and cash equivalents were $759.5 million. Also, the company's times interest earned of 16.8X improved at the end of fourth-quarter 2020. Thus, given the solid balance sheet position and earnings strength, the bank's capital deployment activities look sustainable.

Moreover, Preferred Bank has solid prospects. The company has been growing organically and its revenues are expected to get support from fee income sources, and strong loan and deposit balances amid lower rates. The company's revenues are projected to grow 5.7% and 4.9% for 2021 and 2022, respectively.

Additionally, Preferred Bank boasts a solid earnings growth potential. The company's earnings have grown 20.6% in the past three-five years, up significantly from industry's 9.8%. The trend is likely to continue. The company's earnings are expected to grow 14.4% in 2021 and 2.6% in 2022.

Further, Preferred Bank's ROE of 13.96% compared with the industry average of 8.94% highlights its commendable position over peers.

Also, analysts are bullish on the stock. The Zacks Consensus Estimate for earnings has been revised marginally upward for both 2021 and 2022 over the past 30 days. At present, Preferred Bank carries a Zacks Rank #2 (Buy). You can see the complete list of today's Zacks #1 Rank (Strong Buy) stocks here.

Shares of Preferred Bank have gained 34.1% over the past three months, outperforming the industry's 32.9% rise.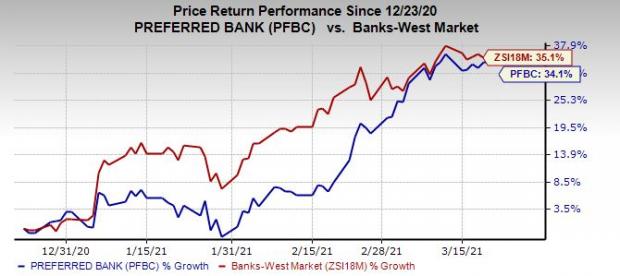 So, based on the above-mentioned factors, the stock seems worth a considering. Nevertheless, margin pressure due to near-zero interest rates and muted loan demand remain major near-term concerns. Also, mounting expenses might hurt Preferred Bank's bottom line to some extent. Thus, one must consider these downsides before making any decision.
Other Banks Taking Similar Actions
Over the past few months, several banks have announced increase in their quarterly dividends. Some of these are Fulton Financial Corporation FULT, First Bancorp FBNC and Merchants Bancorp MBIN.

Fulton Financial raised its quarterly dividend 7.7%, while First Bancorp increased it 11.1%. Further, Merchants Bancorp announced a 12.5% hike in its dividend.
Zacks Top 10 Stocks for 2021
In addition to the stocks discussed above, would you like to know about our 10 best buy-and-hold tickers for the entirety of 2021?

Last year's 2020 Zacks Top 10 Stocks portfolio returned gains as high as +386.8%. Now a brand-new portfolio has been handpicked from over 4,000 companies covered by the Zacks Rank. Don't miss your chance to get in on these long-term buys.

Access Zacks Top 10 Stocks for 2021 today >>
Want the latest recommendations from Zacks Investment Research? Today, you can download 7 Best Stocks for the Next 30 Days.
Click to get this free report
Preferred Bank (PFBC): Free Stock Analysis Report
Fulton Financial Corporation (FULT): Free Stock Analysis Report
First Bancorp (FBNC): Free Stock Analysis Report
Merchants Bancorp (MBIN): Free Stock Analysis Report
To read this article on Zacks.com click here.
Zacks Investment Research