D.R. Horton (DHI) Expands in Midwest With Westport Buyout
D.R. Horton, Inc. DHI has expanded its footprint in the Midwest of the United States, with the acquisition of a privately-held home construction company, Westport Homes, for $190 million. Shares of the company gained 2.4% yesterday following the news.

Terms of the Deal

The addition of Westport Homes, a top five homebuilder by volume in Indianapolis and Fort Wayne, Indiana, and Columbus, Ohio, will boost D.R. Horton's control of lots and homes. Assets acquired through the Westport buyout include 3,500 lots, 400 homes in inventory, along with 550 homes in sales order backlog, mostly in Westport's Indianapolis and Columbus operations.

D.R. Horton, which has operations in 81 markets across 27 U.S. states, also acquired the control of approximately 3,200 lots through option contracts.

Over the 12 months ended Oct 31, Westport closed 886 homes, with an average home size of about 2,200 square feet and sales price of $264,000. Westport generated about $234 million in revenues within the said period.

D.R. Horton's Inorganic Drive

D.R. Horton is fast acquiring homebuilding companies in desirable markets. In the fiscal third quarter, the company acquired two small private builders for approximately $18 million. It purchased Lexington Homes to enter the Spokane, Washington market and Permian Homes to bolster its position as the largest builder in the Midland/Odessa market in Texas.

In October 2017, the company acquired 75% shares of Forestar Group, a residential and mixed-use real estate development company, for $558 million. The deal helped D.R. Horton to expand operations in Texas, which is witnessing positive housing momentum of late. This is also expected to contribute around $1 billion of annual revenues to the company over the next five years.

Notably, Forestar delivered 1,279 lots and generated $109 million of revenues in the 12 months ended Sep 30. Forestar remains on track to grow annual deliveries to approximately 10,000 lots, generating $700-$800 million of revenues in fiscal 2020. D.R. Horton expects Forestar to be profitable, with future pre-tax margins of at least 10%.

D.R. Horton, a Zacks Rank #3 (Hold) stock, remains well poised to gain from its continued strategic focus on consolidating market share, while generating strong cash flow, pre-tax income and returns. The company's shares have outperformed its industry in the past six months. Recently, this homebuilder ended fiscal 2018 on an impressive note. Consolidated pre-tax income increased 29% to $2.1 billion on $16.1 billion revenues (up 14%) in fiscal 2018. It closed 51,857 homes in the fiscal year, up 13% from fiscal 2017. You can see the complete list of today's Zacks #1 Rank (Strong Buy) stocks here.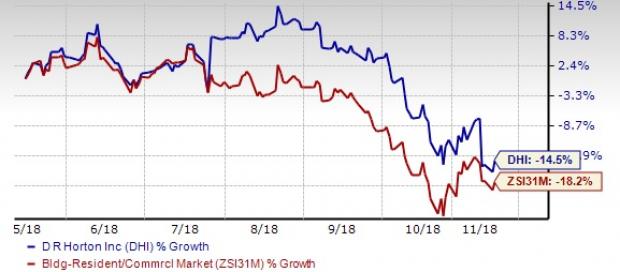 Its pre-tax margin improved 140 basis points (bps) to 12.8% and homebuilding return on inventory was up 360 bps to 20.2%. Additionally, homebuilding cash flow from operations was $1 billion, marking the fourth consecutive year of generating positive operating cash flow wherein annual revenues doubled.

Indeed, factors like increasing construction costs, dearth of skilled labor, rising prices of homes and higher mortgage rates continue to make things difficult for D.R. Horton and other homebuilders like Lennar LEN, PulteGroup PHM, KB Home KBH and others.

3 Medical Stocks to Buy Now

The greatest discovery in this century of biology is now at the flashpoint between theory and realization. Billions of dollars in research have poured into it. Companies are already generating revenue, and cures for a variety of deadly diseases are in the pipeline.

So are big potential profits for early investors. Zacks has released an updated Special Report that explains this breakthrough and names the best 3 stocks to ride it.

See them today for free >>
Want the latest recommendations from Zacks Investment Research? Today, you can download 7 Best Stocks for the Next 30 Days.
Click to get this free report
KB Home (KBH): Free Stock Analysis Report
Lennar Corporation (LEN): Free Stock Analysis Report
PulteGroup, Inc. (PHM): Free Stock Analysis Report
D.R. Horton, Inc. (DHI): Free Stock Analysis Report
To read this article on Zacks.com click here.
Zacks Investment Research