CytomX & Astellas Collaborate to Develop Novel Cancer Therapy
CytomX Therapeutics, Inc. CTMX and Japan-based Astellas Pharma entered into a strategic collaboration for discovering, developing and commercialization of novel T-cell engaging bispecific antibodies, which target CD3 and tumor cell surface antigens for treating cancer. The companies will use CytomX's Probody therapeutic technology platform and bispecific formats and CD3 modules for development of treatment targeting solid tumors.
Per the terms of the deal, Astellas will pay CytomX an upfront payment of $80 million in cash. CytomX will also be eligible to receive additional payments of up to $1.6 billion related to future preclinical, clinical and commercial milestones as well as royalties on global net sales on any commercialized product under the deal. CytomX will be responsible for initial research and discovery activities. Following candidate selection for development, Astellas will be responsible for preclinical and clinical development and commercialization activities.
Meanwhile, CytomX has options to co-develop a specified number of targets with Astellas Pharma, which need to be exercised before initiation of first pivotal study on chosen candidates. CytomX will be eligible to receive certain portion of profits from sales of jointly developed drugs in the United States. The company may also elect to co-commercialize the products in the U.S. market.
The deal gives CytomX the opportunity to expand its potentially transformational Probody technology and provides the company with additional financial and strategic flexibility.
So far this year, share of CytomX have declined 21.5% compared with the industry's decrease of 16.7%.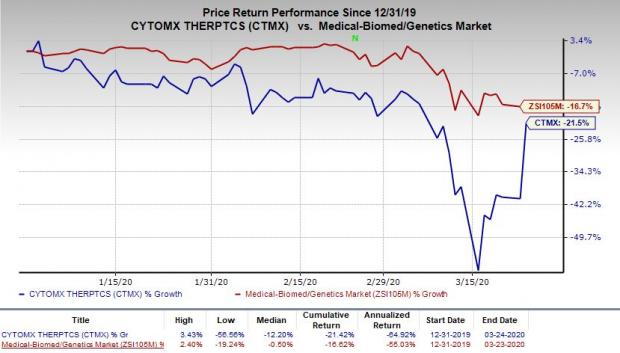 Apart from Astellas Pharma, CytomX has other collaboration agreements with multiple pharma/biotech companies related to use of its Probody therapeutic technology platform. The company is developing two early- to mid-stage candidates in partnership with Bristol-Myers BMY in combination with the latter's PD-1 inhibitor, Opdivo, targeting cancer indication. CytomX is also developing another early-stage candidate in collaboration with AbbVie ABBV targeting solid tumors. Last year, AbbVie selected a second research target to develop under the collaboration. CytomX also has a collaboration with Amgen AMGN to develop CytomX Probody T-cell engaging bispecific program that targets the EGFR protein in cancerous cell.
CytomX also has two candidates in its internal pipeline. The lead candidate, CX-072, a Probody therapeutic targeting PD-L1, is being developed as monotherapy in five oncology indications including triple negative breast cancer. The company is developing CX-072 in combination with Bristol-Myers' Yervoy in patients with unresectable or metastatic melanoma whose disease has progressed or relapsed after receiving treatment with a PD-1/PD-L1 immune checkpoint inhibitor. The candidate is also being developed in combination with Roche's cancer drug, Zelboraf, in patients with V600E BRAF-positive melanoma.
CytomX is developing the second candidate, CX-2009, as monotherapy in a phase II study as a treatment for hormone receptor (ER, PR) positive, HER2 negative breast cancer.
CytomX Therapeutics, Inc. Price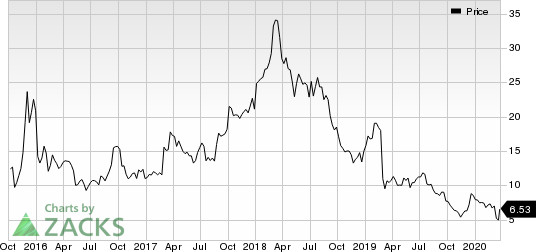 CytomX Therapeutics, Inc. price | CytomX Therapeutics, Inc. Quote
Zacks Rank
CytomX currently carries a Zacks Rank #3 (Hold). You can see the complete list of today's Zacks #1 Rank (Strong Buy) stocks here.
More Stock News: This Is Bigger than the iPhone!
It could become the mother of all technological revolutions. Apple sold a mere 1 billion iPhones in 10 years but a new breakthrough is expected to generate more than 27 billion devices in just 3 years, creating a $1.7 trillion market.
Zacks has just released a Special Report that spotlights this fast-emerging phenomenon and 6 tickers for taking advantage of it. If you don't buy now, you may kick yourself in 2020.
Click here for the 6 trades >>
Want the latest recommendations from Zacks Investment Research? Today, you can download 7 Best Stocks for the Next 30 Days.
Click to get this free report
Bristol-Myers Squibb Company (BMY): Free Stock Analysis Report
Amgen Inc. (AMGN): Free Stock Analysis Report
AbbVie Inc. (ABBV): Free Stock Analysis Report
CytomX Therapeutics, Inc. (CTMX): Free Stock Analysis Report
To read this article on Zacks.com click here.
Zacks Investment Research