SAIC Secures Prime Position in Marine Corps' IDIQ Contract
Science Applications International Corp. SAIC recently secured the position of a prime contractor among seven awardees of a $245 million indefinite delivery/indefinite quantity (IDIQ) contract from the Marine Air–Ground Task Force Training Systems Support. The contract spans 10 years.

Per the contract, Science Applications will bring in task orders to support pre-deployment training programs to Marine Corps operating forces to improve warfighting skills.

The company will be provided with exercise and mission rehearsal support; planning and structuring training; supporting live, virtual, constructive, and gaming training scenarios; and executive and technical training support.

Science Applications has been associated with the Marine Corps' global missions for decades.

SAIC Rides on Contract Wins

Science Applications has a large pipeline of new projects and continues to win more deals at regular intervals. Notably, as of May 3, 2019, the company's total backlog was $13.6 billion. These back-to-back contract wins are the key catalysts driving success perennially for the company.

Furthermore, having the government as a big client lends stability to the business and moderates fluctuation in revenues. Although the government generally has a lengthy approval process, the project earns money for a number of years after it is approved.

In the recent months, the company secured a $37-million and a $57-million task order as part of the Seaport-e program. Moreover, NASA awarded the company the Safety and Mission Assurance Engineering Contract II worth up to $292 million.

Further, Science Applications was awarded a position on the multiple award $535 million IT Services contract for the Defense Threat Reduction Agency.

Moreover, in April this year, it was awarded a position on the National Institutes of Health Business and Professional Support Services II contract to provide a broad range of IT services and support.

The company continues to execute its strategy of winning high-value contracts, delivering excellence to customers and deploying capital for growth. Its robust business model is expected to help it grow further.
Science Applications International Corporation Revenue (TTM)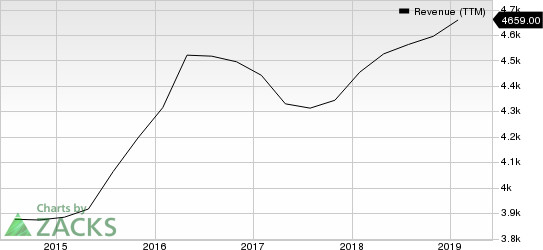 Science Applications International Corporation revenue-ttm | Science Applications International Corporation Quote
Growing Competition a Woe

Competition from CACI International CACI, Harris Corp. HRS and KBR, Inc. KBR in the federal marketplace remains steady.

In April, Harris announced that it has secured a $212 million contract to supply the next production lot of electronic jammers to protect the U.S. Navy and Foreign Military Sales F/A-18 Hornet and Super Hornet aircraft against electronic threats. The largest order on the program to date reinforces Harris' 21-year partnership with the Navy.

The following month, CACI announced that it won a prime position on a $3 billion multiple-award, IDIQ contract by Tactical Communications Equipment and Services, to provide tactical communications and support services to the Department of Homeland Security and other federal agencies.

Moreover, few days ago, KBR's government services unit, KBRwyle received a firm-fixed-price, cost-plus-fixed fee, IDIQ contract from the U.S. Department of Defense for Marine Corps prepositioning program logistics services in support of Blount Island Command.

This level of intense competition from peers makes us apprehensive about Science Applications' prospects. Nonetheless, the company's recent buyout of government IT service provider Engility is expected to boost its position in key markets and enhance competitiveness.

Science Applications currently has a Zacks Rank #3 (Hold). You can see the complete list of today's Zacks #1 Rank (Strong Buy) stocks here.

Looking for Stocks with Skyrocketing Upside?

Zacks has just released a Special Report on the booming investment opportunities of legal marijuana.

Ignited by new referendums and legislation, this industry is expected to blast from an already robust $6.7 billion to $20.2 billion in 2021. Early investors stand to make a killing, but you have to be ready to act and know just where to look.

See the pot trades we're targeting>>
Want the latest recommendations from Zacks Investment Research? Today, you can download 7 Best Stocks for the Next 30 Days.
Click to get this free report
Science Applications International Corporation (SAIC): Free Stock Analysis Report
Harris Corporation (HRS): Free Stock Analysis Report
CACI International, Inc. (CACI): Free Stock Analysis Report
KBR, Inc. (KBR): Free Stock Analysis Report
To read this article on Zacks.com click here.
Zacks Investment Research