Cambium (CMBM) to Power Broadband Connectivity in Libya
Cambium Networks Corporation CMBM recently announced that it will offer improved Internet connectivity services in Libya in collaboration with Libyan International Company for Technology and Information Technology. Leveraging ePMP fixed wireless broadband technology, the company will provide high-quality Internet to more than 60,000 residential, business and enterprise customers in the North African country.

ePMP (equalize Point to Multi-Point) technology harnesses the power of the sub 6 GHz frequency band to facilitate a robust and efficient wireless broadband communication channel. It aims to eliminate signal interference in densely populated urban and suburban areas with more than 1,500 Access Points installed in above 250 tower locations.

Cambium has long been recognized as one of the largest ePMP network providers in the world. Perhaps this is one of the key reasons the Libyan International Company for Technology and Information Technology has been using its equipment since 2015 to upgrade the regional telecommunications infrastructure. The carrier now intends to extend the broadband services in relatively densely populated suburban environments by utilizing ePMP technology with each Access Point supporting 120 clients – about five times the existing solution. This is likely to reduce the huge capital expenditures and improve profitability by reaching a greater number of subscribers.

Backed by dynamic business fundamentals, Cambium has a broad portfolio of fixed wireless broadband and Wi-Fi networking solutions. The innovative offerings enable the creation of a unified wireless fabric that spans across multiple frequencies of Wi-Fi, managed centrally via the cloud. The company capitalizes on its cloud-based network management software that enables operators to seamlessly design, deploy and manage their networks from cloud-to-tower-to-edge. These streamlined operations minimize several network performance complexities with utmost agility.

Cambium also offers a variety of other network management tools, such as cnMaestro, XMS Cloud, cnHeat, cnArcher, to enhance ease of use and network performance. Its solutions have been particularly designed to function under harsh conditions while remaining aligned to demanding performance specifications required by various industries. These avant-garde solutions enhance economies of scale for network operators by supporting a large number of customer premise equipment per fixed wireless access point and reducing ongoing management costs through embedded software and device reliability.

The company is well-positioned to benefit from a proprietary software and product ramp-up, likely facilitating it to deliver a compelling combination of price, performance and spectrum efficiency. Cambium believes that growth in data traffic is likely to be primarily driven by the addition of applications and connected devices used for both enterprise and service provider use cases. Moreover, with the rapid transition to Wi-Fi 6 solutions, Cambium witnessed significant improvements in enterprise Wi-Fi solutions supported by enhanced field deployments. The company intends to augment its geographical footprint by collaborating with major network operators, thereby driving its product adoption across various end markets. Amid the rapid 5G shift, accretive investments in high-speed wireless networks are likely to position its portfolio to secure lucrative opportunities in the long run.

The stock has gained 10% over the past year against the industry decline of 13.2%. We remain impressed with the inherent growth potential of this Zacks Rank #5 (Strong Sell) stock.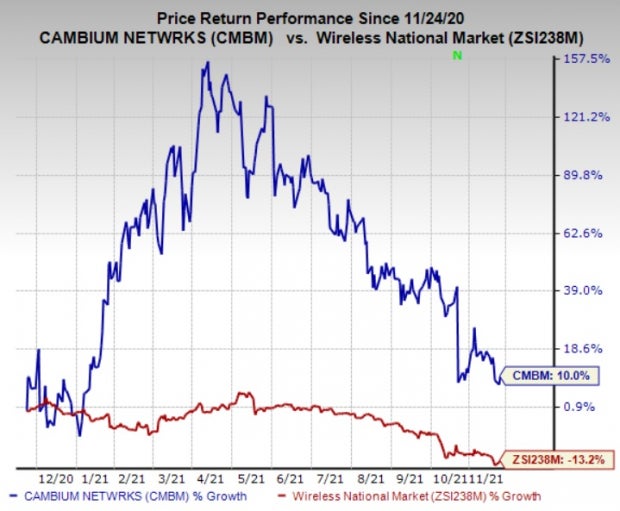 Image Source: Zacks Investment Research
A better-ranked stock in the broader industry is Clearfield, Inc. CLFD, sporting a Zacks Rank #1 (Strong Buy). You can see the complete list of today's Zacks #1 Rank stocks here.

Clearfield delivered an earnings surprise of 50.8%, on average, in the trailing four quarters. Earnings estimates for the current year for the stock have moved up 19.4% in the past 60 days. Over the past year, Clearfield has gained a stellar 181.7%.

Sierra Wireless, Inc. SWIR carries a Zacks Rank #2 (Buy). It has a long-term earnings growth expectation of 12.5% and delivered an earnings surprise of 34.2%, on average, in the trailing four quarters.

Over the past year, Sierra Wireless has gained a solid 59.5%. The company continues to launch innovative products for business-critical operations that require high security and optimum 5G performance.

Qualcomm Incorporated QCOM, carrying a Zacks Rank #2, is another solid pick for investors. It has a long-term earnings growth expectation of 17.5% and delivered an earnings surprise of 11.2%, on average, in the trailing four quarters.

Earnings estimates for the current year for the stock have moved up 14.7% in the past 90 days. Qualcomm is likely to benefit in the long run from a solid 5G traction and a surge in demand for essential products that are the building blocks for digital transformation in the cloud economy.
Zacks' Top Picks to Cash in on Artificial Intelligence
This world-changing technology is projected to generate $100S of billions by 2025. From self-driving cars to consumer data analysis, people are relying on machines more than we ever have before. Now is the time to capitalize on the 4th Industrial Revolution. Zacks' urgent special report reveals 6 AI picks investors need to know about today.
See 6 Artificial Intelligence Stocks With Extreme Upside Potential>>
Want the latest recommendations from Zacks Investment Research? Today, you can download 7 Best Stocks for the Next 30 Days.
Click to get this free report
QUALCOMM Incorporated (QCOM): Free Stock Analysis Report
Sierra Wireless, Inc. (SWIR): Free Stock Analysis Report
Clearfield, Inc. (CLFD): Free Stock Analysis Report
Cambium Networks Corporation (CMBM): Free Stock Analysis Report
To read this article on Zacks.com click here.
Zacks Investment Research