Growth & Income Buys | Johnson & Johnson and International Paper
This week's video covers two companies where management has made key decisions for the future of their respective companies; Johnson & Johnson (JNJ), and International Paper (IP).
Johnson & Johnson JNJ has the largest market capitalization for any U.S. healthcare company at just under $330 billion. The company's Q1 earnings report beat both top and bottom line expectations with earnings and revenues improving by +12.6% year over year. Most importantly the Pharma segment, which accounts for almost half of the company's total revenues had sales improve by +19%.
But after the earnings report, the stock price began to fall as worries about increasing competition from generic drugs would negatively impact Pharma sales. While JNJ has a nice pipeline of new drugs, and high expectations for its cancer and stroke prevention medications the segment was susceptible to encroachment by generic competitors. To counter this threat, management announced that it has about $50 billion available for acquisitions. Further, management commented that they were not looking to make one big $50 billion splash, rather they were looking to make many smaller acquisitions. These acquisitions are expected to bolster its drug pipeline for the next several years.
To add to this good news, JNJ recently announced that they accepted Platinum Equity's $2.1 billion offer to sell the LifeScan business (diabetes treatments). This deal is expected to close in late 2018. Moreover, management revealed that Fortive Corp made a $2.8 billion offer to purchase the Advanced Sterilization Products Business, which if accepted would close in early 2019.
These proceeds from the sale of these units are expected to go into its acquisition pool, share repurchase program, and to be used for an increased dividend payment. Currently, JNJ is in a very unique group called Dividend Kings; a company that has increased dividend payments each year for the past 50 consecutive years. The company has a current annual dividend yield of +2.94%.
Price and Earnings Consensus Graph
As you can see in the graph below, the stock price had been on a steady upwards trend since the third quarter 2015. When the markets peaked in January of 2018, the stock price then fell for the next several months due to generic competition worries.
Johnson & Johnson Price and Consensus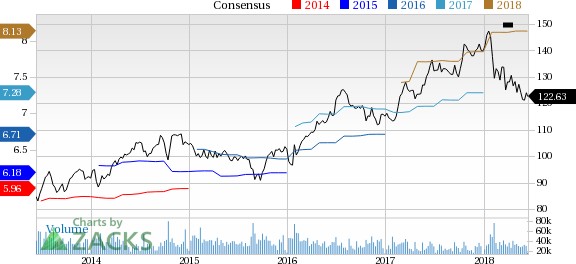 Johnson & Johnson Price and Consensus | Johnson & Johnson Quote
Many analysts have stated that JNJ's current stock price provides a great buying opportunity with plenty of upside growth potential. This is due to the sale of underperforming assets, its acquisition power, and strong dividend payment. Overall, the long-term outlook for the company is very strong.
International Paper IP has been doing very well for the past several quarters. In its most recent earnings report the company beat both the Zacks consensus earnings and revenue estimates with earnings growing by +59% while revenues improved by about +2%. While revenues beat expectations they were not overly impressive.
To improve revenues management announced an increase in pricing for all three of the company's primary products; printing papers, cellulose fibers, and containerboard. This move is expected to accelerate both cash flows and earnings over the next several quarters. Further, in the first four months the company has seen box shipments improve by +1.9%. This indicates that the upswing in pricing has not impacted demand and subsequent sales.
The new cash flows are expected to be funneled into a share repurchase initiative and or an increase in the company's dividend. Currently, the company has a +3.3% annual dividend yield.
The new pricing power has caused analyst estimates to increase for the next two quarters, and for FY 18 & FY 19. As you can see in the table below, this was not a one-time increase in target prices, but estimates have been repeatedly increased over the past 90 days.

The company currently carries a Zacks Rank #2 (Buy) and has a VGM score of A. Therefore the near and long-term outlook for the company is very solid.
5 Medical Stocks to Buy Now

Zacks names 5 companies poised to ride a medical breakthrough that is targeting cures for leukemia, AIDS, muscular dystrophy, hemophilia, and other conditions.

New products in this field are already generating substantial revenue and even more wondrous treatments are in the pipeline. Early investors could realize exceptional profits.

Click here to see the 5 stocks >>
Want the latest recommendations from Zacks Investment Research? Today, you can download 7 Best Stocks for the Next 30 Days.
Click to get this free report
Johnson & Johnson (JNJ): Free Stock Analysis Report
International Paper Company (IP): Free Stock Analysis Report
To read this article on Zacks.com click here.
Zacks Investment Research