Raytheon (RTN) Secures Navy Deal to Support F-18 APG-79 AESA
Raytheon Company RTN recently clinched a contract for delivering 101 spare part units across nine assemblies to support the F-18 APG-79 active electronically scanned array radar system (AESA). The deal has been awarded by the Naval Supply Systems Command Weapon Systems Support, Philadelphia, PA.
Valued at $12 million, the contract includes Foreign Military Sales (FMS) to Kuwait. Work related to the deal will be carried out in Forest, MS, and is expected to be completed by December 2022.
Importance of APG-79 AESA
Raytheon's combat-proven APG-79 AESA radar system substantially increases the power of the U.S. Navy's F/A-18E/F Super Hornet and the F/A-18 Classic Hornet by providing active electronic beam scanning that allows the radar beam to be steered at enormous speeds.
Further, its agile beam enables the multimode radar to interleave in near-real time, so that pilots and crew can use both modes simultaneously. The radar system also optimizes situational awareness and provides superior air-to-air and air-to-surface capabilities.
What Favors Raytheon?
According to Stratistics MRC, the Global Electronically Scanned Arrays (ESA) market accounted for $6.68 billion in 2017 and is expected to reach $12.39 billion by 2026, witnessing a CAGR of 7.1% during the forecast period.
Such growth can be attributed to factors like increasing preference for technologically advanced radar for providing all-weather battlefield surveillance against incoming threat, integration of ESA into radar systems and replacement of traditional ESA systems. This, in turn, will further lead to robust demand for its spare parts, components and technical services, bolstering growth prospects of defense contractors like Raytheon in this market.
This July, Raytheon was selected as a radar supplier for Boeing's BA B-52 bomber radar modernization program. Under the contract, Raytheon will design, develop, produce and sustain AESA radar systems for the entire B-52 fleet of the U.S. Air Force. This reflects the dominant position that Raytheon enjoys in the radar market. The latest contract win is a further testament to that.
Meanwhile, Raytheon's Space and Airborne System (SAS) business unit, which manufactures other combat-proven radars and sensors along with the AESA Radar system, significantly helps in driving the company's overall top line. This is evident from the division's second-quarter 2019 revenues that accounted for 25.4% of the company's total sales. In sync with this, we may expect the recent contract win to add further impetus to this unit's top-line growth moving ahead.
Price Movement
In a year's time, Raytheon has gained 4% compared with the industry's 21% growth.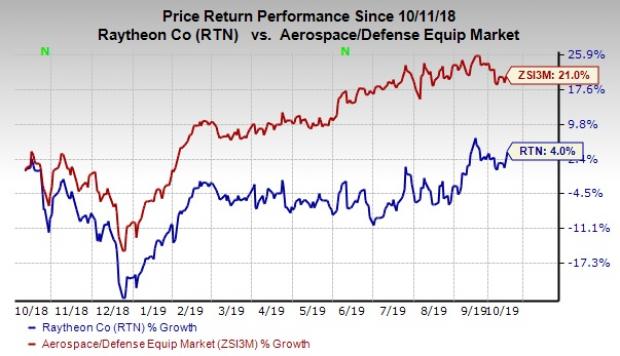 Zacks Rank & Stocks to Consider
Raytheon currently carries a Zacks Rank #3 (Hold). A few better-ranked stocks in the same space are Teledyne Technologies, Inc. TDY and Heico Corp. HEI. While Teledyne sports a Zacks Rank #1 (Strong Buy), Heico carries a Zacks Rank #2 (Buy). You can see the complete list of today's Zacks #1 Rank stocks here.
Teledyne Technologies came up with an average positive earnings surprise of 9.26% in the last four quarters. The company boasts a solid long-term earnings growth estimate of 7.5%.
Heico delivered an average positive earnings surprise of 10.07% in the last four quarters. The company boasts a solid long-term earnings growth rate of 13.9%.
Looking for Stocks with Skyrocketing Upside?

Zacks has just released a Special Report on the booming investment opportunities of legal marijuana.

Ignited by new referendums and legislation, this industry is expected to blast from an already robust $6.7 billion to $20.2 billion in 2021. Early investors stand to make a killing, but you have to be ready to act and know just where to look.

See the pot trades we're targeting>>
Want the latest recommendations from Zacks Investment Research? Today, you can download 7 Best Stocks for the Next 30 Days.
Click to get this free report
The Boeing Company (BA): Free Stock Analysis Report
Heico Corporation (HEI): Free Stock Analysis Report
Teledyne Technologies Incorporated (TDY): Free Stock Analysis Report
Raytheon Company (RTN): Free Stock Analysis Report
To read this article on Zacks.com click here.