Vir Biotechnology (VIR) Gains 11% This Week on BARDA Contract
Shares of Vir Biotechnology, Inc. VIR have gained 10.7% so far this week after the company was awarded a multi-year contract by the Biomedical Advanced Research and Development Authority ("BARDA"), part of the U.S. Department of Health and Human Services' Administration for Strategic Preparedness and Response.
The multi-year contract also allows for a potential total investment of up to $1 billion for the development of influenza and other emerging infectious disease or medical countermeasure candidates.
Vir will receive an initial investment of approximately $55 million from BARDA to support the development of VIR-2482, an investigational prophylactic monoclonal antibody for seasonal and pandemic influenza viruses. A phase II pre-exposure prophylaxis study is expected to begin in the second half of 2022 with initial data anticipated in mid-2023.
BARDA can exercise 12 options in further support of the development of pre-exposure prophylactic antibodies including and beyond VIR-2482 for the prevention of influenza illness or possibly supporting medical countermeasures for other pathogens of pandemic potential.
Please note that Vir signed a collaboration agreement with GlaxoSmithKline GSK in 2021 for VIR-2482.
Per the terms, GSK has an exclusive option to lead post-phase II development and commercialization of VIR-2482 and will pay the company an option exercise fee of $300 million upon exercise.
Shares of Vir have plunged 49.4% in the year so far compared with the industry's 25.9% decline.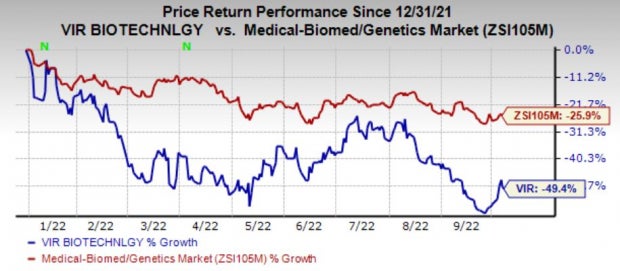 Image Source: Zacks Investment Research
The news impressed investors as Vir had earlier suffered a setback with the FDA excluding the use of sotrovimab in all U.S. regions due to the continued proportion of COVID-19 cases caused by certain Omicron subvariants in April 2022. Sotrovimab, however, currently has Emergency Use Authorization (EUA) temporary authorization or marketing approval (under the brand name Xevudy) in more than 40 countries, and remains in use outside of the United States.
Vir's development pipeline consists of product candidates targeting COVID-19, hepatitis B and hepatitis D viruses, influenza A and human immunodeficiency virus.
Vir currently carries a Zacks Rank #3 (Hold). A couple of better-ranked stocks in the biotech sector are Bolt Pharmaceuticals BOLT and Dynavax DVAX, both carrying a Zacks Rank #2 (Buy) at present. You can see the complete list of today's Zacks #1 Rank (Strong Buy) stocks here.
Loss estimates for BOLT have narrowed to $2.25 from $2.87 in the past 60 days. Earnings surpassed estimates in three of the trailing four quarters and missed the mark in the remaining one, the average beat being 2.39%.
Dynavax's earnings estimates have increased to $1.73 from $1.14 for 2022 over the past 60 days. Earnings of DVAX surpassed estimates in two of the trailing four quarters and missed the mark in the remaining two, the average beat being 70.57%.



This Little-Known Semiconductor Stock Could Be Your Portfolio's Hedge Against Inflation
Everyone uses semiconductors. But only a small number of people know what they are and what they do. If you use a smartphone, computer, microwave, digital camera or refrigerator (and that's just the tip of the iceberg), you have a need for semiconductors. That's why their importance can't be overstated and their disruption in the supply chain has such a global effect. But every cloud has a silver lining. Shockwaves to the international supply chain from the global pandemic have unearthed a tremendous opportunity for investors. And today, Zacks' leading stock strategist is revealing the one semiconductor stock that stands to gain the most in a new FREE report. It's yours at no cost and with no obligation.
>>Yes, I Want to Help Protect My Portfolio During the Recession
Want the latest recommendations from Zacks Investment Research? Today, you can download 7 Best Stocks for the Next 30 Days.
Click to get this free report
GSK PLC Sponsored ADR (GSK): Free Stock Analysis Report
Dynavax Technologies Corporation (DVAX): Free Stock Analysis Report
Vir Biotechnology, Inc. (VIR): Free Stock Analysis Report
Bolt Biotherapeutics, Inc. (BOLT): Free Stock Analysis Report
To read this article on Zacks.com click here.
Zacks Investment Research