Arena's (ARNA) Etrasimod Gets FDA's Orphan Drug Tag for EoE
Arena Pharmaceuticals, Inc. ARNA announced that the FDA has granted an Orphan Drug designation to its lead pipeline candidate, etrasimod, being developed for the treatment of patients with eosinophilic esophagitis (EoE). Currently, there is no FDA-approved treatment to address the given indication.
Notably, the Orphan Drug designation is granted to drugs that are capable of treating rare diseases in the United States. This tag also entitles the company to certain other benefits, including tax credits related to clinical trial expenses, an exemption from the FDA user fee and seven-year marketing exclusivity upon potential approval.
Shares of Arena were up 2.3% on Wednesday following the announcement of the news. However, the stock has plunged 19% so far this year compared with the industry's decrease of 1.6%.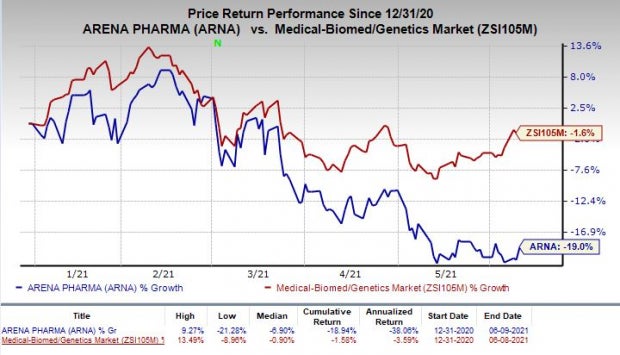 Image Source: Zacks Investment Research

During the first quarter of 2021, the company initiated the phase IIb study — VOYAGE — to evaluate etrasimod in patients with EoE. The double-blind, placebo-controlled study is evaluating the safety and efficacy of etrasimod (1 mg and 2 mg) with a primary efficacy measurement at week 16 and a secondary efficacy analysis at week 24 of treatment in the given patient population.
Arena is developing etrasimod, a next-generation, once-daily and selective sphingosine-1-phosphate (S1P) receptor modulator for treating multiple immune and inflammatory diseases in separate clinical studies.
Etrasimod is presently in late-stage development for ulcerative colitis ("UC"). Arena is evaluating the candidate in the pivotal phase III ELEVATE UC 52 study and another phase III study — ELEVATE UC 12 — as a treatment for moderately-to-severely active UC. Top-line data from both studies are expected in the first quarter of 2022.
The company is also evaluating the candidate in the phase IIb/III CULTIVATE study in patients with Crohn's disease. A phase II study is evaluating etrasimod in alopecia areata patients. The company is advancing the candidate to a phase III registrational program to evaluate it as a potential treatment for atopic dermatitis.
A successful development and potential approval of etrasimod for any of the above indications will be a big boost for Arena, as the company will be able to generate revenues from the drug's sales in the days ahead.
Zacks Rank and Stocks to Consider
Arena currently carries a Zacks Rank #3 (Hold). Some better-ranked stocks in the biotech sector are Repligen Corporation RGEN, Kamada Ltd. KMDA and Bio-Techne Corporation TECH, all carrying a Zacks Rank #2 (Buy) at present. You can see the complete list of today's Zacks #1 Rank (Strong Buy) stocks here.
Repligen's earnings estimates have been revised 18.3% upward for 2021 and 14.7% upward for 2022 over the past 60 days.
Kamada's earnings estimates have been revised 21.4% upward for 2021 and 18.1% upward for 2022 over the past 60 days.
Bio-Techne's earnings estimates have been revised 8.8% upward for 2021 and 9.1% upward for 2022 over the past 60 days. The stock has rallied 35.1% year to date.
Bitcoin, Like the Internet Itself, Could Change Everything
Blockchain and cryptocurrency has sparked one of the most exciting discussion topics of a generation. Some call it the "Internet of Money" and predict it could change the way money works forever. If true, it could do to banks what Netflix did to Blockbuster and Amazon did to Sears. Experts agree we're still in the early stages of this technology, and as it grows, it will create several investing opportunities.

Zacks' has just revealed 3 companies that can help investors capitalize on the explosive profit potential of Bitcoin and the other cryptocurrencies with significantly less volatility than buying them directly.
See 3 crypto-related stocks now >>
Want the latest recommendations from Zacks Investment Research? Today, you can download 7 Best Stocks for the Next 30 Days.
Click to get this free report
Arena Pharmaceuticals, Inc. (ARNA): Free Stock Analysis Report
Repligen Corporation (RGEN): Free Stock Analysis Report
BioTechne Corp (TECH): Free Stock Analysis Report
Kamada Ltd. (KMDA): Free Stock Analysis Report
To read this article on Zacks.com click here.