Casey's (CASY) Unveils Hiring Plans to Fill 5000 Positions
Casey's General Stores, Inc. CASY announced plans to appoint as many as 5000 new employees across its stores and distribution centers. The company plans filling the new positions during its 'Here For Good' Hiring Day Event. The company expects that the latest hiring initiative will support its growing business.

The Hiring Day Event will be conducted by Casey's on May 13th. The event will be carried out at nearly 2300 stores, across 16 states, where the company operates. As part of the initiative, the company will be conducting open interviews across stores.

Through this hiring drive, Casey's seeks applications for full- as well as part-time positions. Moreover, the company is looking to fill leadership positions. The new team members will be appointed across the company's stores, distribution centers as well as its store support center in Ankeny, IA. It is also seeking applications for truck drivers.

Casey's has remained committed to empowering employees, whose contributions have played a vital role in achieving business targets. In fact, the company is undertaking efforts to support its workforce in overcoming the hurdles associated with the pandemic. In its last earnings call, management informed that the company is providing a bonus of $50 to employees who have completed the full vaccine dosage.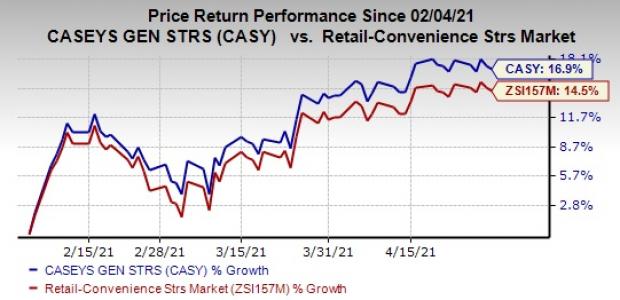 Casey's has evolved into the fourth-largest convenience store retailer and the fifth-largest pizza chain in the United States. We note that the company has been on track with store expansions. In March, the company announced plans to acquire 49 stores throughout Oklahoma from Circle K Stores Inc., in an all cash transaction worth $39 million. In November 2020, the company entered into a deal to acquire Buchanan Energy, known for its Bucky's Convenience Stores. As part of this deal, the company is on track to conclude the acquisition of the 94 Bucky's Convenience Stores. Also, the company anticipates completing the construction of about 40 new stores this fiscal year.

Additionally, Casey's has been enhancing delivery capabilities via DoorDash. The company is also increasing online grocery items at all outlets and providing curbside pick option to guests. Its digitization efforts are likely to help create a seamless shopping experience online as well as in-store. Moreover, to support such efforts, it is strengthening operations at distribution centers alongside bolstering transportation fleet.

In addition to boosting store portfolio and digital capabilities, Casey's has also been on track with its price and product optimization strategies, fleet card and other loyalty programs, cost containment efforts as well as capital reallocation plans. We expect such efforts to support this Zacks Rank #3 (Hold) company's performance in the forthcoming periods. Markedly, shares of the company have gained 16.9% in the past three months compared with the industry's rise of 14.5%.
Check These Stocks
Tapestry, Inc. TPR, which carries a Zacks Rank #2 (Buy), has a long-term earnings growth rate of 10%. You can see the complete list of today's Zacks #1 Rank stocks here.

L Brands, Inc. LB, with a Zacks Rank #2, has a long-term earnings growth rate of 13%.

Deckers Outdoor Corporation DECK, which carries a Zacks Rank #2, has a long-term earnings growth rate of 21.5%.
Breakout Biotech Stocks with Triple-Digit Profit Potential
The biotech sector is projected to surge beyond $775 billion by 2024 as scientists develop treatments for thousands of diseases. They're also finding ways to edit the human genome to literally erase our vulnerability to these diseases.

Zacks has just released Century of Biology: 7 Biotech Stocks to Buy Right Now to help investors profit from 7 stocks poised for outperformance. Our recent biotech recommendations have produced gains of +50%, +83% and +164% in as little as 2 months. The stocks in this report could perform even better.

See these 7 breakthrough stocks now>>
Want the latest recommendations from Zacks Investment Research? Today, you can download 7 Best Stocks for the Next 30 Days.
Click to get this free report
Deckers Outdoor Corporation (DECK): Free Stock Analysis Report
Caseys General Stores, Inc. (CASY): Free Stock Analysis Report
L Brands, Inc. (LB): Free Stock Analysis Report
Tapestry, Inc. (TPR): Free Stock Analysis Report
To read this article on Zacks.com click here.
Zacks Investment Research