Petrobras (PBR) Receives R$271.1M in Bribery Settlement Case
Petrobras PBR announced that it received the third and final installment of R$271.1 million by the affiliates of TechnipFMC FTI as part of the leniency agreement signed in 2019.
Leniency agreements are recognized as legal instruments, wherein individuals or companies under investigation for crimes cooperate with authorities to resolve unlawful acts. Notably, the agreements usually involve payments to settle certain types of corruption charges.
Petrobras mentioned that it received the first two installments of the agreement in July 2019 and June 2020, which amounted to approximately R$ 578.3 million. The total payment obtained from the leniency agreements made by TechnipFMC and other companies accused of corruption exceeded R$6 billion with the final installment.
According to Petrobras, it received the settlement and compensation payments due to its position as a crime victim investigated in Operation Car Wash. Notably, Operation Car Wash is known as the largest corruption scandal in Brazil, wherein government and business officials have been accused of taking bribes for significant Petrobras contracts.
In 2019, the U.S. Department of Justice informed that TechnipFMC and its subsidiary, Technip USA, Inc., were accused of paying bribes in exchange for lucrative Petrobras contracts. TechnipFMC agreed to pay a combined fine of more than $296 million to resolve corruptive charges with the United States and Brazil authorities.
Several companies in Brazil also signed similar agreements with authorities after being accused of paying bribes to acquire Petrobras contracts as part of the Car Wash investigation. In fact, more than $1 billion was retrieved by Petrobras in cooperation, leniency and repatriation agreements this year.
Notably, Petrobras commits to adopt necessary measures to seek adequate compensation for the losses that were caused.
Company Profile & Price Performance
Petrobras is the largest integrated energy firm in Brazil and one of the biggest in Latin America. Its activities include exploration, exploitation and production of oil from reservoir wells, shale and other rocks. Further, it comprises refining, processing, trading and transportation of oil and oil products, natural gas, and other fluid hydrocarbons beside other energy-related operations.
Shares of the company have outperformed the industry in the past three months. Its stock has gained 45.8% compared with the industry's 1% growth.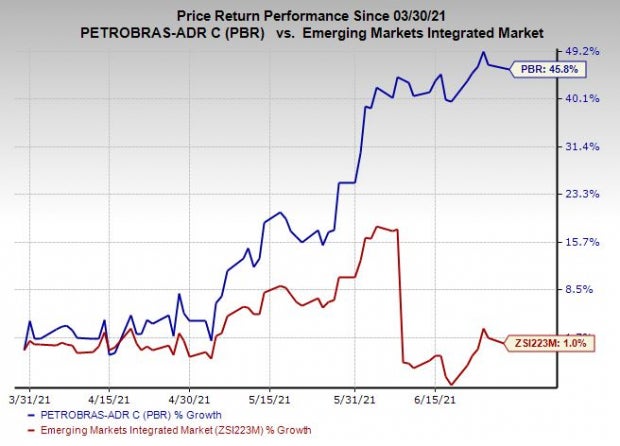 Image Source: Zacks Investment Research
Zacks Rank & Stocks to Consider
Petrobras currently sports a Zack Rank #3 (Hold).
Some better-ranked players in the energy space are Halliburton Company HAL and NOW Inc. DNOW, each currently carrying a Zacks Rank #2 (Buy). You can see the complete list of today's Zacks #1 Rank (Strong Buy) stocks here.
Halliburton's 2021 earnings are expected to rise 47.7% year over year.
DNOW's 2021 earnings are expected to surge 3,320% year over year.
+1,500% Growth: One of 2021's Most Exciting Investment Opportunities
In addition to the stocks you read about above, would you like to see Zacks' top picks to capitalize on the Internet of Things (IoT)? It is one of the fastest-growing technologies in history, with an estimated 77 billion devices to be connected by 2025. That works out to 127 new devices per second.
Zacks has released a special report to help you capitalize on the Internet of Things's exponential growth. It reveals 4 under-the-radar stocks that could be some of the most profitable holdings in your portfolio in 2021 and beyond.
Click here to download this report FREE >>
Want the latest recommendations from Zacks Investment Research? Today, you can download 7 Best Stocks for the Next 30 Days.
Click to get this free report
Halliburton Company (HAL): Free Stock Analysis Report
Petroleo Brasileiro S.A. Petrobras (PBR): Free Stock Analysis Report
TechnipFMC plc (FTI): Free Stock Analysis Report
NOW Inc. (DNOW): Free Stock Analysis Report
To read this article on Zacks.com click here.
Zacks Investment Research