Apple Updates Portfolio Prior to Streaming Service Launch
Apple AAPL updates its iPad and iMac devices, prior to the much-anticipated Mar 25 event, where the iPhone-maker is set to launch video streaming and news subscription services.

Apart from introducing a thinner and slightly larger iPad, Apple launched an upgraded iMac line-up that is expected to deliver superior performance in terms of computing and graphics.

New iPad & iMac Specifications

The new ultra-thin iPad Air measures 10.5 inches diagonally and is supported by Apple Pencil. Moreover, iPad Air performance is expected to be 70% better, due to the A12 Bionic chip and Apple's Neural Engine.

Graphic qualities of the device are also expected to be superior. Per Apple, the advanced Retina display with True Tone technology is roughly "20% larger with over half a million more pixels."

Apple also launched the new 7.9-inch iPad mini that delivers "three times the performance and nine times faster graphics." The device is 25% brighter and has the highest pixel density among any of the iPads, powered by the advanced Retina display with True Tone technology.

The new iMac features Intel's INTC 8-core 9th-generation processors and Radeon Pro Vega graphics from Advanced Micro Devices AMD.

Apple Inc. Price and Consensus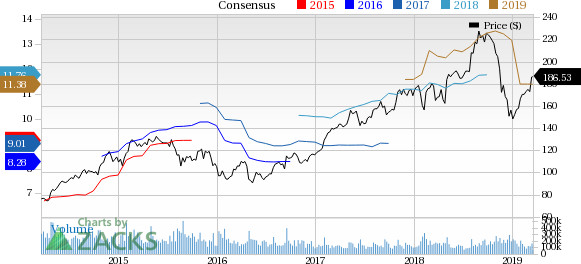 Apple stated that the new 21.5-inch iMac features 8th-generation quad-core, and for the first time, 6-core processors, which will help it perform up to 60% faster. The 27-inch iMac will be available in two variants (9th-generation 6-core and 8-core processors), which will deliver up to 2.4 times faster performance.

Will New iPads and iMac Aid Apple?

Per IDC's third-quarter 2018 data, Apple dominated the tablet market with 26.6% share, followed by Samsung. Although the new iPads are expected to help Apple sustain its tablet market share lead, we note that the overall market has weakened, with shipments down 8.6% in third-quarter 2018.

Moreover, the PC market remains sluggish. Per Gartner's preliminary data, PC shipments in the fourth quarter of 2018 fell 4.3% year over year to 68.6 million units. According to IDC, worldwide PC shipment also dipped 3.7% on a year-over-year basis and totaled 68.1 million in the final quarter of 2018.

Per both IDC and Gartner, Lenovo Group Ltd. LNVGY maintained its top spot in the December quarter, driven by its joint venture with Fujitsu. However, Apple, HP HPQ, Acer and Asus witnessed soft PC sales.

Hence, sluggishness in both tablet and PC market doesn't bode well for Apple. The company is suffering from a downturn in sales of its flagship device, iPhone. However, its Services business has emerged as the new cash cow. Expanding App Store, Apple Music and Apple Pay subscriber base has been a major growth driver for the Services business.

The upcoming video service is an important addition to the portfolio. Apple has spent roughly $2 billion on its content (either through producing or acquiring) and is likely to offer subscription-based streaming shows from CBS Showtime, Starz and Viacom. However, Netflix and Hulu are not expected to be part of the video streaming service.

Currently, Apple has a Zacks Rank #3 (Hold). You can see the complete list of today's Zacks #1 Rank (Strong Buy) stocks here.
This Could Be the Fastest Way to Grow Wealth in 2019
Research indicates one sector is poised to deliver a crop of the best-performing stocks you'll find anywhere in the market. Breaking news in this space frequently creates quick double- and triple-digit profit opportunities.
These companies are changing the world – and owning their stocks could transform your portfolio in 2019 and beyond. Recent trades from this sector have generated +98%, +119% and +164% gains in as little as 1 month.
Click here to see these breakthrough stocks now >>
Want the latest recommendations from Zacks Investment Research? Today, you can download 7 Best Stocks for the Next 30 Days.
Click to get this free report
HP Inc. (HPQ): Free Stock Analysis Report
Lenovo Group Ltd. (LNVGY): Free Stock Analysis Report
Apple Inc. (AAPL): Free Stock Analysis Report
Advanced Micro Devices, Inc. (AMD): Free Stock Analysis Report
Intel Corporation (INTC): Free Stock Analysis Report
To read this article on Zacks.com click here.
Zacks Investment Research