Here's Why You Should Add Celanese (CE) to Your Portfolio
Celanese Corporation's CE shares have popped around 37% over the past six months. We are positive on the company's prospects and believe that the time is right for you to add the stock to portfolio as it looks promising and is poised to carry the momentum ahead.

Let's take a look into the factors that make this leading chemical and specialty materials maker an intriguing choice for investors right now.
An Outperformer
Shares of Celanese, a Zacks Rank #2 (Buy) stock, have rallied 109.6% over the past year against the 68.5% rise of its industry. It has also outperformed the S&P 500's roughly 59.6% rise over the same period.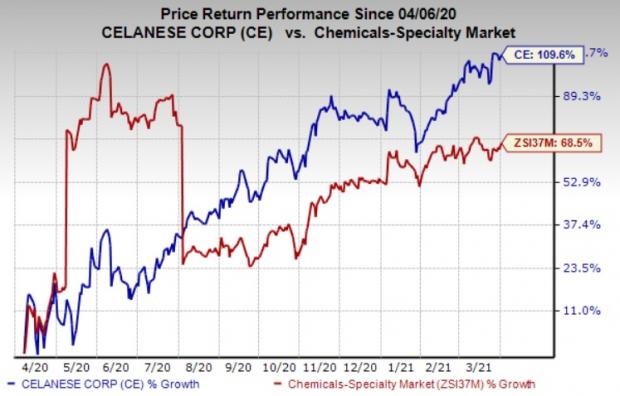 Estimates Going Up
Over the past two months, the Zacks Consensus Estimate for Celanese for the current year has increased around 17.2%. The consensus estimate for 2022 has also been revised 8.4% upward over the same time frame. The favorable estimate revisions instill investor confidence in the stock.
Positive Earnings Surprise History
Celanese has outpaced the Zacks Consensus Estimate in each of the trailing four quarters. In this time frame, it has delivered an earnings surprise of 15.2%, on average.
Superior Return on Equity (ROE)
ROE is a measure of a company's efficiency in utilizing shareholder's funds. ROE for the trailing 12-months for Celanese is 29%, above the industry's level of 10.5%.
Valuation Looks Attractive
Celanese's shares are currently trading at a level that is lower than the industry average, suggesting that the stock still has upside potential.

Going by the EV/EBITDA (Enterprise Value/ Earnings before Interest, Tax, Depreciation and Amortization) multiple, which is often used to value chemical stocks, Celanese is currently trading at trailing 12-month EV/EBITDA multiple of 14.74, cheaper compared with the industry average of 33.63.
Upbeat Prospects
Celanese, last month, raised its full-year 2021 outlook for adjusted earnings to $11.00-$11.50 per share. The midpoint of the latest guidance range reflects a 15% increase from the earlier range of $9.50-$10.00.

The company also expects adjusted earnings of roughly $3 per share for the first quarter. It expects the momentum to continue in the middle of 2021 as increased demand for Acetyl Chain and Engineered Materials products is met.

Celanese is benefiting from its productivity measures, investments in high-return organic projects and strategic acquisitions. The company is also seeing a recovery in demand across most of its end markets.

The company remains committed to execute its productivity programs that include the implementation of a number of cost reduction capital projects. It achieved gross savings of $214 million from its productivity actions in 2020. Productivity actions are also expected to support to its margins in 2021.

Moreover, Celanese continues to actively pursue acquisitions, which are providing it opportunities for additional growth, investment and synergies. The acquisitions of SO.F.TER., Nilit and Omni Plastics are expected to contribute to earnings expansion in the company's Engineered Materials segment. The Elotex acquisition also strengthened the company's position in the vinyl acetate ethylene emulsions space. The buyout is expected to contribute to volumes in the Acetyl Chain segment.
Celanese Corporation Price and Consensus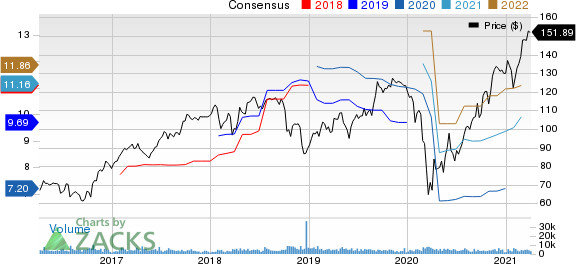 Celanese Corporation price-consensus-chart | Celanese Corporation Quote
Stocks to Consider
Other top-ranked stocks worth considering in the basic materials space include Nucor Corporation NUE, Fortescue Metals Group Limited (FSUGY) and Ashland Global Holdings Inc. ASH.

Nucor has a projected earnings growth rate of 135.3% for the current year. The company's shares have surged around 113% in a year. It currently sports a Zacks Rank #1 (Strong Buy). You can see the complete list of today's Zacks #1 Rank stocks here.

Fortescue has a projected earnings growth rate of 107.8% for the current fiscal. The company's shares have shot up around 126% in a year. It currently sports a Zacks Rank #1.

Ashland has an expected earnings growth rate of 83.2% for the current fiscal year. The company's shares have rallied around 80% in the past year. It currently carries a Zacks Rank #1.
Bitcoin, Like the Internet Itself, Could Change Everything
Blockchain and cryptocurrency has sparked one of the most exciting discussion topics of a generation. Some call it the "Internet of Money" and predict it could change the way money works forever. If true, it could do to banks what Netflix did to Blockbuster and Amazon did to Sears. Experts agree we're still in the early stages of this technology, and as it grows, it will create several investing opportunities.

Zacks' has just revealed 3 companies that can help investors capitalize on the explosive profit potential of Bitcoin and the other cryptocurrencies with significantly less volatility than buying them directly.

See 3 crypto-related stocks now >>
Want the latest recommendations from Zacks Investment Research? Today, you can download 7 Best Stocks for the Next 30 Days.
Click to get this free report
Nucor Corporation (NUE): Free Stock Analysis Report
Ashland Global Holdings Inc. (ASH): Free Stock Analysis Report
Celanese Corporation (CE): Free Stock Analysis Report
Fortescue Metals Group Ltd. (FSUGY): Get Free Report
To read this article on Zacks.com click here.
Zacks Investment Research