B&G Foods (BGS) Cuts View as Q2 Earnings Miss on Cost Inflation
B&G Foods, Inc. BGS reported second-quarter fiscal 2022 numbers, wherein the bottom line fell short of the Zacks Consensus Estimate and declined year over year. However, the top line increased year over year and matched the consensus mark. The company benefited from higher demand and pricing. However, increased input cost inflation and continued supply-chain headwinds remained hurdles.

Management reiterated its net sales guidance for fiscal 2022 while lowering its view for adjusted EBITDA and bottom line due to cost inflation. The company anticipates reverting to year-ago adjusted EBITDA levels in the back half of the year as pricing keeps pace with rising costs.
Quarterly Highlights
B&G Foods posted adjusted earnings of 7 cents per share, which missed the Zacks Consensus Estimate of 27 cents and our estimate of 30 cents. The bottom line tumbled 82.9% from the year-ago quarter's figure. The downside was a result of industry-wide inflation in input costs and supply-chain bottlenecks, together with the impact of stock worth $6.5 million sold by the company via an at-the-market equity offering program. This was somewhat compensated by higher net pricing.

B&G Foods, Inc. Price, Consensus and EPS Surprise


B&G Foods, Inc. price-consensus-eps-surprise-chart | B&G Foods, Inc. Quote
Net sales of $479 million increased 3.1% year over year, mainly due to pricing efforts and a favorable product mix. This was somewhat offset by soft volumes stemming from supply-chain hurdles and price elasticity. The top line came in line with the Zacks Consensus Estimate and slightly ahead of our estimate of $478.3 million.

Base business net sales of this Zacks Rank #2 (Buy) company advanced 3.2% to $478.3 million due to an increase in net pricing and a favorable product mix. These were partially countered by a fall in the unit volume and currency headwinds.

Net sales of Crisco, Green Giant (including Le Sueur), Cream of Wheat, Clabber Girl and Maple Grove Farms rose 22.9%, 5.9%, 21.5%, 8.7% and 6.1%, respectively. Net sales of Ortega and spices & seasonings declined by 12.3% and 4.2%, respectively. Base net sales of all the other brands in the aggregate fell 1.5%.

The adjusted gross profit came in at $78.8 million compared with $112 million in the year-ago period. The adjusted gross margin contracted from 24.1% to 16.5% in the quarter under review. The gross margin was hurt by greater-than-anticipated input cost inflation. This includes escalated raw materials and transportation expenses.

The company expects the input cost inflation to have a considerably industry-wide effect in the remainder of fiscal 2022. BGS is on track to mitigate the impact of inflation by undertaking cost-saving initiatives, increasing list prices and locking in prices via short-term supply contracts and advance commodities purchase agreements. That being said, these may not fully offset additional cost headwinds in the remaining part of fiscal 2022.

SG&A expenses declined by 6.1% to $44.2 million. As a percentage of net sales, SG&A expenses improved by 0.9 percentage points to 9.2%. Adjusted EBITDA decreased by 35.4% to $54.1 million due to industry-wide cost inflation and supply-chain woes, somewhat made up by elevated pricing. The adjusted EBITDA margin contracted from 18% to 11.3% in the second quarter of 2022.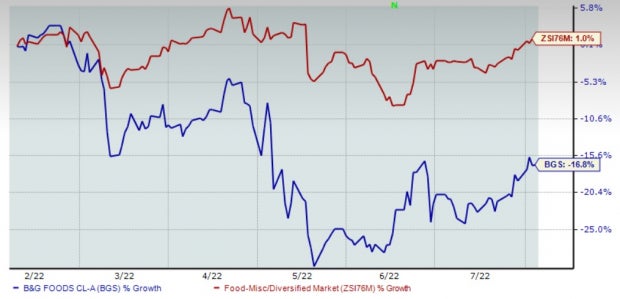 Image Source: Zacks Investment Research
Other Updates
B&G Foods concluded the quarter with cash and cash equivalents of around $43 million, long-term debt of $2,292.1 million and total shareholders' equity of $940.2 million.
Guidance
For fiscal 2022, management anticipates net sales in the range of $2.1-$2.14 billion. In fiscal 2021, net sales amounted to $2,056.3 million (nearly $2.06 billion). The company expects adjusted EBITDA for fiscal 2022 in the range of $300-$320 million compared with the $348-$358 million range forecast earlier and the $358 million recorded in fiscal 2021. Adjusted earnings per share (EPS) in fiscal 2022 are envisioned to be nearly in the band of $1.08-$1.28 now, down from the $1.65-$1.75 band projected before. In fiscal 2021, the metric came in at $1.88.

Management expects to keep witnessing solid consumer demand for its products. However, management expects to keep seeing significant cost inflation for inputs, such as ingredients, packaging, labor and transportation, due to factors like the pandemic, the Ukraine war, weather conditions, supply-chain hurdles and the shortage of labor. Although B&G Foods is undertaking various revenue-enhancing (like pricing and trade spend efforts) and cost-control measures, it is yet to be seen how effective these initiatives turn out.

Apart from this, other pandemic-related factors, such as the duration of social distancing and stay-at-home trends, other waves or variants of the pandemic, the operation of manufacturing facilities, the company's ability to procure ingredients and other raw materials and supply-chain status, among others, may impact BGS' performance.

Shares of the company have dropped 16.8% in the past six months compared to the industry's growth of 1%.
Other Solid Consumer Staple Stocks
Some other top-ranked stocks are The Chef's Warehouse CHEF, Sysco Corporation SYY and General Mills GIS.

The Chef's Warehouse, which engages in the distribution of specialty food products, sports a Zacks Rank #1 (Strong Buy). The Chef's Warehouse has a trailing four-quarter earnings surprise of 372.3%, on average. You can see the complete list of today's Zacks #1 Rank stocks here.

The Zacks Consensus Estimate for CHEF's current financial-year EPS suggests significant growth from the year-ago reported number.

Sysco, which engages in the marketing and distribution of various food and related products, sports a Zacks Rank #1. Sysco has a trailing four-quarter earnings surprise of 9.1%, on average.

The Zacks Consensus Estimate for SYY's current financial-year sales suggests growth of 13.2% from the year-ago reported number.

General Mills, which manufactures and markets branded consumer foods, currently carries a Zacks Rank #2. General Mills has a trailing four-quarter earnings surprise of 6.5%, on average.

The Zacks Consensus Estimate for GIS' current financial-year sales suggests growth of 1.7% from the year-ago reported figure.
Free: Top Stocks for the $30 Trillion Metaverse Boom
The metaverse is a quantum leap for the internet as we currently know it - and it will make some investors rich. Just like the internet, the metaverse is expected to transform how we live, work and play. Zacks has put together a new special report to help readers like you target big profits. The Metaverse - What is it? And How to Profit with These 5 Pioneering Stocks reveals specific stocks set to skyrocket as this emerging technology develops and expands.
Download Zacks' Metaverse Report now >>
Want the latest recommendations from Zacks Investment Research? Today, you can download 7 Best Stocks for the Next 30 Days.
Click to get this free report
General Mills, Inc. (GIS): Free Stock Analysis Report
B&G Foods, Inc. (BGS): Free Stock Analysis Report
Sysco Corporation (SYY): Free Stock Analysis Report
The Chefs' Warehouse, Inc. (CHEF): Free Stock Analysis Report
To read this article on Zacks.com click here.