Here's Why You Should Retain PRA Health (PRAH) Stock for Now
PRA Health Sciences, Inc. PRAH is well poised for growth in the coming quarters, backed by its strategic alliances over the past few months. A robust first-quarter 2021 performance, along with solid Contract Research Organization ("CRO") market prospects, is expected to contribute further. However, stiff competition and reliance on third parties persist.
Over the past year, this Zacks Rank #3 (Hold) stock has gained 61.4% compared with 8.3% growth of the industry and 38.5% rise of the S&P 500 composite.
The renowned CRO and provider of outsourced clinical development and data solution services has a market capitalization of $11.08 billion. The company projects 14.6% growth for 2022 and expects to maintain its strong performance. Further, it has delivered an earnings surprise of 6.53% for the past four quarters, on average.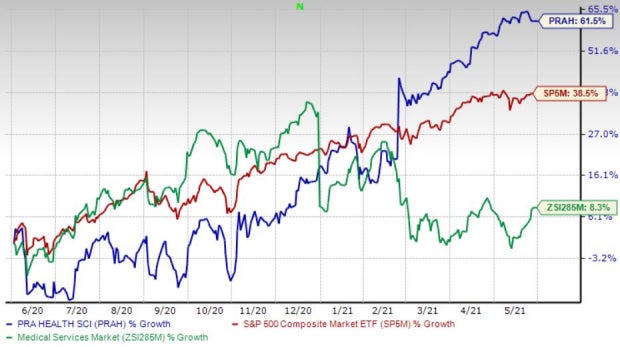 Image Source: Zacks Investment Research
Let's delve deeper.
Strong Q1 Results: PRA Health's solid first-quarter 2021 results buoy our optimism. Solid performance by both Clinical Research and Data Solutions segments is a major positive. Further, PRA Health continues to gain from large pharmaceutical companies. Expansion in both margins also bodes well.
Strategic Alliances: We are optimistic about PRA Health's partnerships over the past few months. The company, in December 2020, tied up with PWNHealth and Fulgent Genetics for the enhancement of its COVID-19 Monitoring Program with the addition of at-home COVID-19 testing capabilities. In September 2020, the company entered into a new strategic relationship with Deep Lens to accelerate patient access and recruitment for oncology clinical trials.
Other notable partnerships of PRA Health include those with The Leukemia & Lymphoma Society (LLS) (September 2020) and Symphony Health and Datavant (March 2020).
Potential in CRO Market: We are upbeat about the gradual transformation of the biopharmaceutical industry from providing limited clinical trial services to a full-service industry characterized by broad relationships with clients, and also by offering services that encompass the entire drug development process. Per PRA Health, increase in outsourcing is primarily due to factors like the increasing burden of clinical trial complexity and the desire to pursue simultaneous registration in multiple countries.
During the first quarter of 2021, PRA Health's Clinical Research segment's net new business recorded robust growth. Per management, continued strength across the entire Clinical Research segment was observed during the period and its new business continues to be diversified across a number of different therapeutic areas.
Downsides
Reliance on Third Parties: PRA Health's services are derived from, or include, the use of data it collects from third parties. When the company enters into a new data supply contract or renews an existing contract, suppliers may increase the cost to obtain and use data provided by such suppliers, increase restrictions on the company's ability to use or sell such data, or altogether refuse to license the data to it.
Foreign Exchange Woes: PRA Health derives a part of its revenues as well as incurs operating expenses denominated in currencies other than the U.S. dollar, particularly the Euro and the British pound. This exposes the company to changes in non-U.S. currency exchange rates, which could significantly affect the company's financial condition.
Estimate Trend
PRA Health is witnessing a negative estimate revision trend for 2021. In the past 90 days, the Zacks Consensus Estimate for its earnings has moved 0.2% south to $6.04.
The Zacks Consensus Estimate for the company's second-quarter 2021 revenues is pegged at $922.3 million, suggesting a 26.4% surge from the year-ago quarter's reported number.
Key Picks
Some better-ranked stocks from the broader medical space are Illumina, Inc. ILMN, DaVita Inc. DVA and Amedisys, Inc. AMED, each carrying a Zacks Rank #2 (Buy). You can see the complete list of today's Zacks #1 Rank (Strong Buy) stocks here.
Illumina's long-term earnings growth rate is estimated at 7%.
DaVita's long-term earnings growth rate is estimated at 14.4%.
Amedisys' long-term earnings growth rate is estimated at 12%.
Time to Invest in Legal Marijuana
If you're looking for big gains, there couldn't be a better time to get in on a young industry primed to skyrocket from $17.7 billion back in 2019 to an expected $73.6 billion by 2027.
After a clean sweep of 6 election referendums in 5 states, pot is now legal in 36 states plus D.C. Federal legalization is expected soon and that could be a still greater bonanza for investors. Even before the latest wave of legalization, Zacks Investment Research has recommended pot stocks that have shot up as high as +285.9%.
You're invited to check out Zacks' Marijuana Moneymakers: An Investor's Guide. It features a timely Watch List of pot stocks and ETFs with exceptional growth potential.
Today, Download Marijuana Moneymakers FREE >>
Want the latest recommendations from Zacks Investment Research? Today, you can download 7 Best Stocks for the Next 30 Days.
Click to get this free report
Illumina, Inc. (ILMN): Free Stock Analysis Report
Amedisys, Inc. (AMED): Free Stock Analysis Report
DaVita Inc. (DVA): Free Stock Analysis Report
PRA Health Sciences, Inc. (PRAH): Free Stock Analysis Report
To read this article on Zacks.com click here.