TiVo (TIVO) Posts Wider Loss in Q3, Beats Revenue Estimates
TiVo Corporation's TIVO third-quarter 2019 loss of $1.20 per share widened from the year-ago loss of 19 cents.

The company's non-GAAP earnings per share came in at 24 cents, flat year over year.

TiVo's revenues of $158.5 million surpassed the Zacks Consensus Estimate of $150 million. However, it declined 4% year over year due to lower Product revenues. Moreover, a $1.8 million headwind related to adjusted reporting of subscribers from Latin American operators, and a decrease in metadata revenues were overhangs on the top line.
TiVo Corporation Price, Consensus and EPS Surprise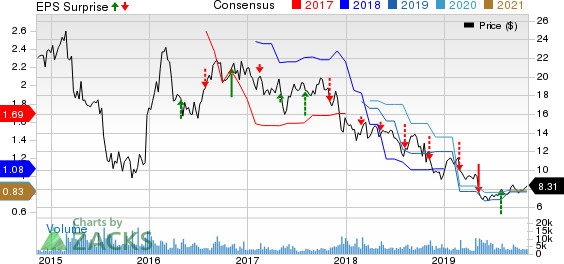 TiVo Corporation price-consensus-eps-surprise-chart | TiVo Corporation Quote
The company's core revenues (excluding revenues from Legacy TiVo Solutions IP Licenses, Hardware and Other Products) of $155 million (97.8% of total) reflected a 0.9% decrease from the year-ago quarter.

Notably, the company raised the lower end of its full-year revenue guidance, which is likely to buoy investors' confidence in the stock.

Further, the company announced that the separation of its product division from its intellectual property (IP) licensing unit is on track and the split-up is likely to be completed in April 2020.

Quarter in Detail

In terms of business segments, Product revenues (52.2% of total revenues) were down 12% to $82.8 million. This decline was primarily due to a difficult year-over-year comparison. The year-ago quarter had witnessed a $3.3 million passport contract renewal deal.

Revenues from Platform Solutions decreased 15% to $62.1 million. Additionally, revenues from Other products, primarily legacy analog ACP product, plunged 42% to $934K. Software and Services remained flat at $19.8 million.

Core Product revenues (excluding revenues from Hardware and Other Products) fell 11% to $79.2 million due to decline in consumer subscriber revenues. Moreover, in the year-ago quarter, the company recognized $3.3 million in minimum guarantee revenues, which led to an unfavorable comparison.

IP Licensing revenues (47.8%) increased 8% year over year to $75.7 million, driven by $4.1 million jump in catch up payments and new licenses in New Media, International Pay TV Providers and Other verticals. However, a $2.8 million benefit from of Legacy TiVo Solutions Time Warp revenues in the third quarter of 2018 was a dampener.

TiVo is witnessing significant demand for its IP portfolio in international markets. In the third quarter, it licensed several over-the-top and IPTV video streaming providers. Moreover, a new deal was inked with D'Live to license OTT services in Korea. TiVo also renewed a multi-year license with Australian IPTV provider Fetch TV.

Management is optimistic about the company's prospects in Canada. In line with its view, TiVo signed a multi-year license agreement with Canadian operator Eastlink.

Core IP Licensing revenues (excluding revenues from Legacy TiVo Solutions IP Licenses) rose 13% year over year to $75.7 million.

TiVo also announced that it entered into a license agreement with Vodafone and Liberty Latin America during the quarter. Additionally, the company expanded its global IP license deal with LG Electronics.

Adjusted EBITDA was up 6% from the year-ago quarter to $50.1 million due to higher IP licensing revenues and the company's cost-saving initiatives.

TiVo exited the reported quarter with cash, cash equivalents and short-term marketable securities of $276.7 million compared with $261.5 million at the end of the previous quarter.

Guidance

For 2019, TiVo expects revenues in the range of $655-$665 million, up from $650-$665 million predicted earlier. Adjusted EBITDA is anticipated between $190 million and $200 million, up from $180-$190 million envisioned earlier.

Further, the company's non-GAAP earnings are likely to be in the range of 86-91 cents per share, up from 80-85 cents expected earlier.

Zacks Rank and Key Picks

TiVo currently has a Zacks Rank #3 (Hold).

A few better-ranked stocks in the broader technology sector are Alteryx, Inc. AYX, Chegg, Inc. CHGG and Benefitfocus, Inc. BNFT, each flaunting a Zacks Rank #1 (Strong Buy). You can see the complete list of today's Zacks #1 Rank stocks here.

Long-term earnings growth rate for Alteryx, Chegg and Benefitfocus is 39.85%, 30% and 20%, respectively.

Today's Best Stocks from Zacks

Would you like to see the updated picks from our best market-beating strategies? From 2017 through 2018, while the S&P 500 gained +15.8%, five of our screens returned +38.0%, +61.3%, +61.6%, +68.1%, and +98.3%.

This outperformance has not just been a recent phenomenon. From 2000 – 2018, while the S&P averaged +4.8% per year, our top strategies averaged up to +56.2% per year.

See their latest picks free >>

Want the latest recommendations from Zacks Investment Research? Today, you can download 7 Best Stocks for the Next 30 Days.
Click to get this free report
Benefitfocus, Inc. (BNFT): Free Stock Analysis Report
Chegg, Inc. (CHGG): Free Stock Analysis Report
TiVo Corporation (TIVO): Free Stock Analysis Report
Alteryx, Inc. (AYX): Free Stock Analysis Report
To read this article on Zacks.com click here.
Zacks Investment Research