Zebra Continues to Support APYMSA, Completes Xplore Buyout
Zebra Technologies Corporation ZBRA recently marked its 10th year of business deal with Auto Parte Y Mas S.A.'s ("APYMSA") distribution center through which the company provides technologies for improving the workforce and operational processes of the latter. Prior to this, on Aug 14, Zebra Technologies successfully completed the acquisition of Xplore Technologies Corporation.
Inside the Headlines
APYMSA's distribution center maintains real-time inventory of nearly 20,000 products and distributes the same to more than 90 stores across the country. Maintaining high-quality delivery performance is a major challenge for APYMSA.
At present, workers of APYMSA distribution center print barcodes with the Zebra ZT410 printer and register incoming products with the Zebra LI2208 scanner. These gadgets permit real-time tracking and identification of products entering the warehouse until distributed till the products' final end. Additionally, APYMSA's unique enterprise-resource planning system, along with Zebra´s MC3200 mobile computer, enables controlled supply routes, resulting in an optimistic customer experience in Mexico.
APYMSA's distribution center is able to deliver products timely to its retail, wholesale and corporate customers with help from Zebra Technologies' solutions. In short, these technologies have enhanced the operational visibility, optimized restocking and product inventory accuracy, lowered errors, and reduced functioning costs for the latter. Notably, Zebra Technologies' solutions have strengthened APYMSA's brand recognition in the Mexican auto-parts market.
On Aug 14, Zebra Technologies successfully closed the Xplore Technologies acquisition. The company acquired the latter's outstanding shares for cash of $6.00 per share. The total consideration (including assumed indebtedness) was around $90 million, and was funded through available cash and borrowings under the credit facility.
Austin, TX-based Xplore Technologies primarily engages in manufacturing 2-in-1 laptops, rugged mobile computers (semi, fully and ultra rugged) and accessories. The products are used in various end-markets, including transportation & logistics, manufacturing, retail, and healthcare.
The acquisition is expected to fortify Zebra Technologies' its existing data capture, enterprise mobile computing, and printing portfolios. Also, the deal will provide the company an easy access to penetrate in public safety, utility, oil & gas, and government end-markets.
Price Performance
Over the past three months, shares of this Zacks Rank #1 (Strong Buy) company have rallied 5.7%, outperforming 3.3% growth recorded by the industry.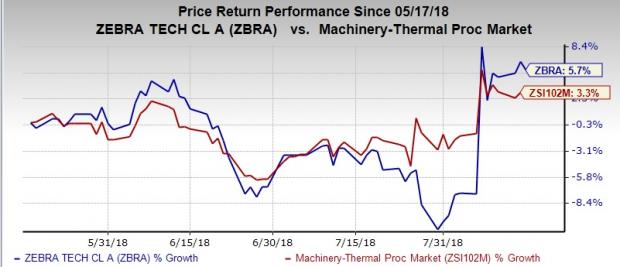 Other Stocks to Consider
Some other top-ranked stocks in the Zacks Industrial Products sector are listed below:
Altra Industrial Motion Corp. AIMC flaunts a Zacks Rank of 1. The company pulled off an average positive earnings surprise of 4.01% for the trailing four quarters.
Advanced Emissions Solutions, Inc. ADES carries a Zacks Rank of 2 (Buy). The company generated an average positive earnings surprise of 16.40% over the preceding four quarters.
Alamo Group, Inc. ALG is another Zacks #2 Ranked company. The company came up with an average positive earnings surprise of 6.06% during the same time frame.
Today's Stocks from Zacks' Hottest Strategies
It's hard to believe, even for us at Zacks. But while the market gained +21.9% in 2017, our top stock-picking screens have returned +115.0%, +109.3%, +104.9%, +98.6%, and +67.1%.
And this outperformance has not just been a recent phenomenon. Over the years it has been remarkably consistent. From 2000 - 2017, the composite yearly average gain for these strategies has beaten the market more than 19X over. Maybe even more remarkable is the fact that we're willing to share their latest stocks with you without cost or obligation.
Want the latest recommendations from Zacks Investment Research? Today, you can download 7 Best Stocks for the Next 30 Days.
Click to get this free report
Alamo Group, Inc. (ALG): Free Stock Analysis Report
Altra Industrial Motion Corp. (AIMC): Free Stock Analysis Report
Zebra Technologies Corporation (ZBRA): Free Stock Analysis Report
Advanced Emissions Solutions, Inc. (ADES): Free Stock Analysis Report
To read this article on Zacks.com click here.
Zacks Investment Research