Amazon (AMZN) Boosts Prime Day Preparations With Early Perks
Amazon AMZN is gearing up for its two-day global mega summer shopping event Prime Day, which is set to kick off on Jul 12.

This is evident from the new Prime perks and experiences introduced recently ahead of the event.

In partnership with Grubhub, Amazon is offering a free, full-year Grubhub+ membership to Prime members at no additional cost in the United States. The new perk can be availed across more than 4,000 U.S. cities by Prime members at the cost of only their Prime subscription.

Further, AMZN is offering a 60-second sneak peek into the 'Second Age of Middle-earth' in the upcoming series The Lord of the Rings: The Rings of Power, which is slated to premiere on Prime Video on Sep 2.

Additionally, in the United States, Amazon is providing Prime Day savings a week early by offering great deals on home entertainment devices, such as Fire TV smart TVs and streaming sticks to prepare fans for the first ever Thursday Night Football game, which will kick off on Prime Video on Sep 15.
Amazon.com, Inc. Price and Consensus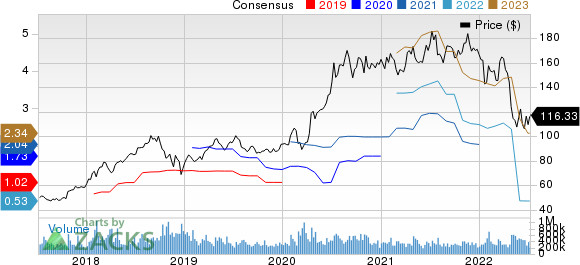 Amazon.com, Inc. price-consensus-chart | Amazon.com, Inc. Quote
Move to Benefit
Amazon's intends to make its Prime Day event a huge success by providing access to the above-mentioned perks and experiences early. The latest move will boost AMZN's Prime Day sales and drive its customer momentum.

Moreover, the latest move will help Amazon attract more U.S. customers to join its Prime program, which, in turn, will drive its subscription revenues.

Notably, subscription services have been acting as key drivers for the e-commerce giant since the past few years. Amazon witnessed 11% growth in its subscription services sales, which were $8.4 billion in first-quarter 2022.

We believe that positive impacts of all these endeavors are expected to get reflected in Amazon's third-quarter 2022 performance. This, in turn, is likely to raise investor optimism on the stock. Amazon has lost 31.4% on a year-to-date basis.
Prime: A Key Catalyst
The Prime Day celebration rakes in profits for AMZN by benefiting shoppers as well as third-party sellers to a great extent.

Amazon Prime remains a key catalyst for AMZN's top-line growth, backed by customer-friendly offers and cashback benefits.

Further, strengthening delivery and shipment services and expanding music and video content, plus a robust loyalty system are constantly boosting Amazon's Prime subscriber base.

All the benefits aid Amazon in delivering better shopping experiences to its Prime members.

We believe that Amazon is well-poised to sustain its dominant position in the booming e-commerce space on the back of its solid momentum across the Prime program
Zacks Rank & Stocks to Consider
Currently, Amazon carries a Zacks Rank #3 (Hold).

Some better-ranked stocks in the retail-wholesale sector are Solo Brands DTC, AutoNation AN and The Kroger KR. While Solo Brands sports a Zacks Rank #1 (Strong Buy), AutoNation and Kroger carry a Zacks Rank #2 (Buy). You can see the complete list of today's Zacks #1 Rank stocks here.

Solo Brands has lost 70.5% on a year-to-date basis. The long-term earnings growth rate for the DTC stock is currently projected at 16.74%.
AutoNation has lost 1.3% over a year. The long-term earnings growth rate for AN stock is currently projected at 24.74%.

Kroger has gained 7.1% on a year-to-date basis. The long-term earnings growth rate for the KR stock is currently projected at 11.27%.
Just Released: Zacks Top 10 Stocks for 2022
In addition to the investment ideas discussed above, would you like to know about our 10 top picks for the entirety of 2022?
From inception in 2012 through 2021, the Zacks Top 10 Stocks portfolios gained an impressive +1,001.2% versus the S&P 500's +348.7%. Now our Director of Research has combed through 4,000 companies covered by the Zacks Rank and has handpicked the best 10 tickers to buy and hold. Don't miss your chance to get in…because the sooner you do, the more upside you stand to grab.
See Stocks Now >>
Want the latest recommendations from Zacks Investment Research? Today, you can download 7 Best Stocks for the Next 30 Days.
Click to get this free report
Amazon.com, Inc. (AMZN): Free Stock Analysis Report
The Kroger Co. (KR): Free Stock Analysis Report
AutoNation, Inc. (AN): Free Stock Analysis Report
Solo Brands, Inc. (DTC): Free Stock Analysis Report
To read this article on Zacks.com click here.
Zacks Investment Research