Fee Income Growth to Support Comerica's (CMA) Q2 Earnings
Comerica Incorporated CMA is scheduled to report second-quarter 2021 results before the opening bell on Jul 21. The bank's revenues and earnings are likely to have witnessed a rise from the year-ago reported figures.
The company's first-quarter results were supported by lower provisions and strong fee income growth. However, decline in loans and higher expenses were the undermining factors.
Notably, Comerica has an impressive earnings surprise history. It surpassed estimates in all of the trailing four quarters, delivering an earnings surprise of 111.43%, on average.
Comerica Incorporated Price and EPS Surprise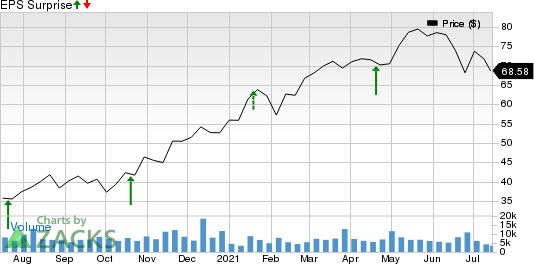 Comerica Incorporated price-eps-surprise | Comerica Incorporated Quote
The Zacks Consensus Estimate for second-quarter earnings is pegged at $1.62, which suggests a substantial increase from the year-ago reported number. The earnings estimate for the current quarter moved 2.5% north in the past seven days. Also, the consensus estimate for revenues of $722.8 million indicates a marginal rise.
Factors at Play
Higher Fee Income: Deposits have shown improvement in the quarter, aided by an incremental stimulus program, which is likely to have resulted in higher revenues from service charges on deposits.
Also, consumer spending was decent in the second quarter, resulting in the usage of debit/credit cards and merchant payment-processing services. Thus, card fees (a major contributor to fee income in 2020 and first quarter of 2021) are anticipated to have lent support to the company's top line in the to-be-reported quarter.
The Zacks Consensus Estimate for card fees of $73 million calls for a rise of 7.4% year over year.
The consensus estimate of $261 million for fee income suggests a 5.7% year-over-year rise.
However, management expects non-interest income to decline as the first-quarter levels of derivatives, warrants and deferred compensation asset returns are unlikely to repeat, partly offset by increase in card, fiduciary and syndication fees.
Muted Net Interest Income NII: Per the Fed's latest data, the overall lending scenario was soft during the April-June quarter, with weak home equity, and commercial and industrial loans. Conversely, real estate, commercial real estate as well as consumer loan portfolios might have offered support.
This, along with flattening of the yield curve and interest rates remaining at near-zero level in order to protect the economy from the impacts of the pandemic, is likely to have dented the company's net interest margin, thereby impacting its NII.
However, the Zacks Consensus Estimate for average earning assets of $80.1 billion for the quarter indicates 5.4% year-over-year growth.
The Zacks Consensus Estimate of $460 million for NII suggests a 2.3% year-over-year fall.
Management expects average loans to reflect growth in several businesses, led by middle market as a result of increasing mergers and acquisition activities, as well as working capital and capex needs. This might have been offset by declines in Mortgage Banker Finance, National Dealer Services and Energy. In addition, decline in Paycheck Protection Program loans due to forgiveness process is expected to have affected the company's performance. Management projects NII to increase as lease residual adjustment will not repeat in the second quarter.
Controlled Expenses: Its GEAR Up initiatives target keeping expenses under control. However, some impacts of technological investment and restructuring charges are likely to have prevailed.
Management projects non-interest expenses to have been stable, resulting from lower salaries and benefits, offset by increase in outside processing as well as seasonal rise in occupancy and advertising costs.
Asset Quality: The vaccine rollouts and additional market reopenings throughout the second quarter have infused optimism regarding the economic and GDP rebound. Hence, significant reserves (built due to the deterioration in the macroeconomic backdrop last year) are likely to have continued to be released in the second quarter similar to the previous quarter.
The consensus estimate for non-performing assets is pegged at $337 million for the to-be-reported quarter, indicating a 20% increase from the prior-year quarter. Also, the consensus mark for non-performing loans of $326 million suggests a 20% rise.
Management expects provisions for credit losses to be reflective of the economic environment, including the pace of economic recovery.
Now, let's have a look at what our quantitative model predicts:
The chances of Comerica beating the Zacks Consensus Estimate in the second quarter are less. This is because it doesn't have the right combination of the two key ingredients — a positive Earnings ESP and Zacks Rank #3 (Hold) or higher — for increasing the odds of an earnings beat.
You can uncover the best stocks to buy or sell before they're reported with our Earnings ESP Filter.
Earnings ESP: The Earnings ESP for Comerica is -0.03%.
Zacks Rank: Comerica currently carries a Zacks Rank #3.
Stocks to Consider
Here are some finance stocks that you may want to consider as these have the right combination of elements to post an earnings beat in their upcoming releases, per our model.
KeyCorp KEY is slated to report quarterly results on Jul 20. The company has an Earnings ESP of +0.26% and carries a Zacks Rank of 3, currently. You can see the complete list of today's Zacks #1 Rank (Strong Buy) stocks here.
BankUnited, Inc. BKU is set to release earnings numbers on Jul 22. The company holds a Zacks Rank of 3, at present and has an Earnings ESP of +3.07%.
T. Rowe Price Group, Inc. TROW is slated to report quarterly results on Jul 29. The company has an Earnings ESP of +1.24% and carries a Zacks Rank of 3, currently.
Bitcoin, Like the Internet Itself, Could Change Everything
Blockchain and cryptocurrency has sparked one of the most exciting discussion topics of a generation. Some call it the "Internet of Money" and predict it could change the way money works forever. If true, it could do to banks what Netflix did to Blockbuster and Amazon did to Sears. Experts agree we're still in the early stages of this technology, and as it grows, it will create several investing opportunities.
Zacks' has just revealed 3 companies that can help investors capitalize on the explosive profit potential of Bitcoin and the other cryptocurrencies with significantly less volatility than buying them directly.
See 3 crypto-related stocks now >>
Want the latest recommendations from Zacks Investment Research? Today, you can download 7 Best Stocks for the Next 30 Days.
Click to get this free report
Comerica Incorporated (CMA): Free Stock Analysis Report
KeyCorp (KEY): Free Stock Analysis Report
T. Rowe Price Group, Inc. (TROW): Free Stock Analysis Report
BankUnited, Inc. (BKU): Free Stock Analysis Report
To read this article on Zacks.com click here.