T-Mobile and Sprint Deal Approval Shakes The 5G Space
The $26 billion T-Mobile TMUS and Sprint S deal was finally approved last night, on the brink of the 5G revolution. This would create a massive combatant to Verizon VZ and AT&T T, who together make up roughly 70% of the wireless subscription market, according to statista.com. The merger is going to change the competitive landscape of the US telecom market.
T-Mobile's shares are up over 11% following the approved acquisition of Sprint, who itself saw a share price appreciation of 70%. Sprint's stock has been tumbling since the beginning of 2017 as this company struggles to compete. The approved merger appears to have revived Sprint from the dead.
T-Mobile's acquisition of Sprint has been held up for the last 2 years by regulatory concerns that this merger would be anticompetitive, hurting the consumer, and inhibiting innovation. Sprint's ostensible inability to compete in the evolving telecom landscape was the catalyst for the judge's approval of this deal.
Dish's Place in the Deal
The judge had some stipulations on the deal that included setting up Dish Network DISH as a new mobile carrier. This stipulation involves selling Dish Sprint's prepaid business comprised of Boost Mobile and Virgin mobile (9 million customers) as well as allowing Dish to use Sprints network for 7-years following the deals close. Dish Network has been struggling to survive the cord cutting revolution and has been seeing a falling topline and declining profitability.
This new revenue driver may bring Dish out of the cable ashes and into the forefront of 5G. Dish will have miles to go before they are really considered a legitimate competitor in the space, but this gives investors a little more faith in this declining company with its share price jumping over 5% today following the news.
Synergies
The judge also required that the new combined company to have 97% 5G coverage in the US within the next 3 years, which would market a big win for rural America. The combined efforts of T-Mobile and Sprint will put them at the forefront of 5G efforts making them a competitor to be reckoned with. The combined 5G spectrums of these mobile players will give them a sizable increase in access.
T-Mobile and its eccentric CEO John Legere have illustrated excellent management capabilities as it navigates the incredibly competitive telecom space. The company has been able to expand revenues and create shareholder value.
I am confident that the synergies between Sprint and T-Mobile will be massive with TMUS's capable management team at the helm. The 11% boost we see from TMUS, the acquiring firm, is atypical as the price from the acquiring firm usually declines. The markets are excited about this merger and what it will mean for the race to universal 5G.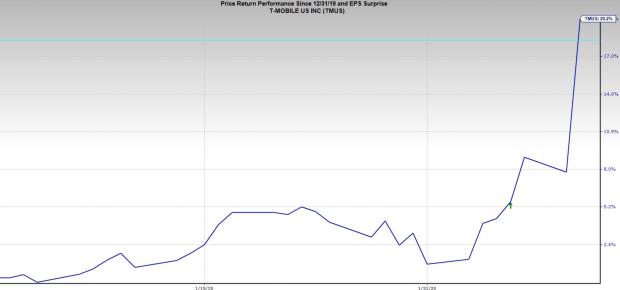 Final Thoughts
This is undoubtedly going to disrupt the telecommunication space. Verizon shares fell over 2% on this news, and AT&T's shares fell marginally. These companies now have more to worry about as the new T-Mobile may be able to offer the same excellent service at a discounted rate. I think that TMUS shares have more room to run once this deal is closed, and integration begins to uncover synergies. TMUS could make an excellent long-term telecom growth play for your portfolio.
The deal still has one last hurdle with the approval by the California Public Utility Commission pending, but they are well on their well to closing this deal.
Today's Best Stocks from Zacks

Would you like to see the updated picks from our best market-beating strategies? From 2017 through Q3 2019, while the S&P 500 gained +39.6%, five of our strategies returned +51.8%, +57.5%, +96.9%, +119.0%, and even +158.9%.

This outperformance has not just been a recent phenomenon. From 2000 – Q3 2019, while the S&P averaged +5.6% per year, our top strategies averaged up to +54.1% per year.

See their latest picks free >>
Want the latest recommendations from Zacks Investment Research? Today, you can download 7 Best Stocks for the Next 30 Days.
Click to get this free report
AT&T Inc. (T): Free Stock Analysis Report
Verizon Communications Inc. (VZ): Free Stock Analysis Report
DISH Network Corporation (DISH): Free Stock Analysis Report
Sprint Corporation (S): Free Stock Analysis Report
T-Mobile US, Inc. (TMUS): Free Stock Analysis Report
To read this article on Zacks.com click here.
Zacks Investment Research