RPM International (RPM) Q4 Earnings Miss, Adjusted EBIT Rise
RPM International Inc. RPM reported tepid fourth-quarter fiscal 2022 (ended May 31, 2022) results, with earnings missing the Zacks Consensus Estimate and sales beating the same.

Shares of this specialty chemicals manufacturer dropped 0.66% on Jul 25.

Pertaining to the quarterly results, Frank C. Sullivan, RPM International chairman and CEO, stated, "Our nimble businesses quickly adapted to dynamically shifting supply chain constraints, inflationary challenges and foreign exchange headwinds to steadily generate momentum in the second half of fiscal 2022."

Sullivan continued, "In our Consumer Group, which was the outlier, the year-over-year gap in adjusted EBIT results has begun to narrow as price increases have started to catch up with inflation and access to raw materials has improved. Better materials availability was largely due to our well-timed acquisition last fall of a production facility in Texas, which is now making alkyd resins that are critical to many of the segment's products."
Inside the Headlines
RPM International reported adjusted earnings of $1.42 per share, which lagged the consensus mark of $1.44 by 1.4% but increased 10.9% from the year-ago quarter's profit of $1.28.
RPM International Inc. Price, Consensus and EPS Surprise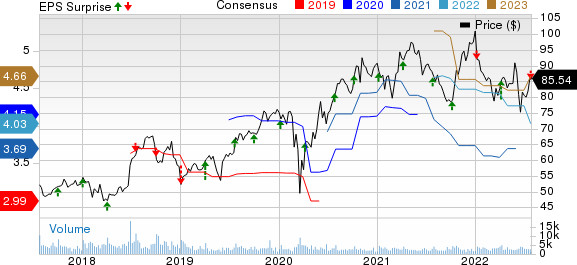 RPM International Inc. price-consensus-eps-surprise-chart | RPM International Inc. Quote
Net sales of $1,984 million marginally surpassed the consensus mark of $1,977 million and increased 13.7% from the prior-year level. The upside can be attributed to strong contributions from all the operating segments.

Adjusted EBIT for the reported quarter increased 11.7% year over year to $263.7 million.
Segmental Details
Construction Products Group: In the reported quarter, segment sales increased 18.5% from a year ago to $745.9 million, owing to 19.9% organic growth and 1.6% contribution from buyouts. The differentiated service model and its unique building envelope and restoration solutions led to this record upside. Foreign currency translation dented sales by 3%. Adjusted EBIT was $122.4 million, up 10.9% year over year.

Performance Coatings Group: Segment sales increased 16.3% from a year ago to $329.4 million, owing to a 17.4% rise in organic sales and 1.8% acquisition-related sales contribution. Foreign currency translation reduced sales by 2.9%. Flooring systems, protective coatings and fiberglass reinforced plastic grating generated record double-digit sales growth. Adjusted EBIT increased 37.3% on a year-over-year basis to $42.6 million.

Consumer Group: Sales in the segment grew 8.6% year over year to $682.8 million, owing to a 10% rise in organic sales. Yet, unfavorable foreign currency translation impacted sales by 1.4%. The upside was driven by an improved supply of key alkyd resins and price increase and high growth in product lines popular with professional remodelers. The segment's adjusted EBIT fell 14.2% from the prior year's level to $80.3 million due to a tough comparison with the prior-year period.

Specialty Products Group: The segment's sales totaled $225.8 million, which increased 11.4% on a year-over-year basis owing to a 12.2% rise in organic sales. Acquisitions contributed 0.5% to sales, but unfavorable foreign currency translation reduced sales by 1.3%. Solid performance in the OEM coatings companies and its food coatings and additives business contributed to the result. Adjusted EBIT for the quarter totaled $44.2 million, up 21.8% from the prior-year level.
Fiscal 2022 Highlights
For the year, RPM generated net sales of $6.71 billion, up 9.8% from fiscal 2021, driven by 8.9% contribution from organic sales and 1.4% from acquisitions, partially offset by a foreign currency translation headwind of 0.5%.

Adjusted earnings of $3.66 per share fell 12% year over year. Adjusted EBIT declined 9.7% to $708.4 million.
Balance Sheet
As of May 31, 2022, RPM International had cash and cash equivalents of $201.7 million compared with $246.7 million at the fiscal 2021-end. Total liquidity (at fiscal 2022 end) — including cash and revolving credit facilities — was $1.31 billion.

Long-term debt (excluding current maturities) at quarter-end was $2.08 billion compared with $2.38 billion at fiscal 2021-end. Cash provided by operations amounted to $178.7 million for fiscal 2022, down from $766.2 million in the year-ago period.
Outlook
The company intends to increase prices for certain raw materials, labor and packaging. Also, it anticipates a strengthening U.S. dollar to remain a headwind for the fiscal first quarter. Higher costs from unreliable bulk transportation (which creates production inefficiencies) and fuel surcharges (driven by high energy prices) are expected to affect the Consumer segment.

For first-quarter fiscal 2023, RPM International expects sales to increase in the mid-teens. The company also expects sales growth in the mid-teens for all its operating segments. Particularly, the Consumer Group is likely to generate the highest growth of the four segments backed by selling price increases, improved alkyd resin supply and investments in operations. Consolidated adjusted EBIT is expected to increase 20-25%.
Zacks Rank
RPM International currently carries a Zacks Rank #3 (Hold). You can see the complete list of today's Zacks #1 Rank (Strong Buy) stocks here.

D.R. Horton, Inc.'s DHI third-quarter fiscal 2022 earnings beat the Zacks Consensus Estimate, but revenues missed the same.

DHI also lowered its revenue guidance for the full year, given the expected completion dates of homes under construction and current market conditions.

UFP Industries, Inc. UFPI reported stellar second-quarter 2022 results.

Both UFPI's earnings and net sales beat the Zacks Consensus Estimate and increased on a year-over-year basis.

Acuity Brands, Inc. AYI reported solid third-quarter fiscal 2022 results. The top and the bottom line surpassed the Zacks Consensus Estimate and improved from the prior-year quarter's levels.

The upside in AYI's quarterly result was backed by higher sales from both of its segments along with price increases and product and productivity improvement.
This Little-Known Semiconductor Stock Could Lead to Big Gains for Your Portfolio
The significance of semiconductors can't be overstated. Your smartphone couldn't function without it. Your personal computer would crash in minutes. Digital cameras, washing machines, refrigerators, ovens. You wouldn't be able to use any of them without semiconductors.
Disruptions in the supply chain have given semiconductors tremendous pricing power. That's why they present such a tremendous opportunity for investors.
And today, in a new free report, Zacks' leading stock strategist is revealing the one semiconductor stock that stands to gain the most. It's yours free and with no obligation.
>>Give me access to my free special report.
Want the latest recommendations from Zacks Investment Research? Today, you can download 7 Best Stocks for the Next 30 Days.
Click to get this free report
UFP Industries, Inc. (UFPI): Free Stock Analysis Report
D.R. Horton, Inc. (DHI): Free Stock Analysis Report
RPM International Inc. (RPM): Free Stock Analysis Report
Acuity Brands Inc (AYI): Free Stock Analysis Report
To read this article on Zacks.com click here.
Zacks Investment Research