How Long Will Coronavirus Vaccine Drive Moderna (MRNA) Stock?
On Jan 25, we issued an updated research report on Moderna, Inc. MRNA. The company was in limelight in 2020 on the back of its progress with coronavirus vaccine development. Shares of the company skyrocketed 434.1% in 2020 compared with the industry's rise of 4.6%.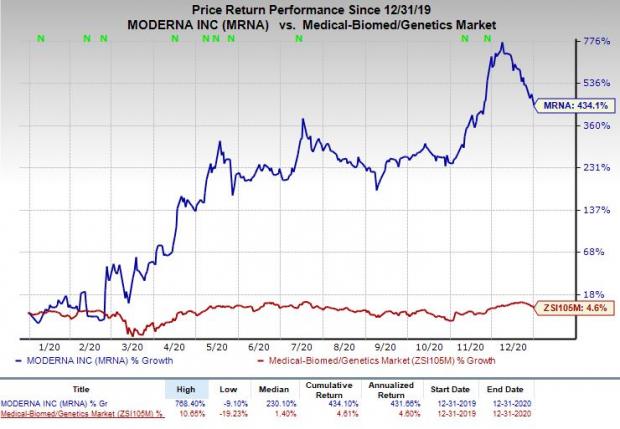 Coronavirus Vaccine
The company received approval for emergency use from the FDA for its mRNA-based coronavirus vaccine, mRNA-1273, in December last year. The vaccine also received conditional/temporary approval in several other countries including Europe and the United Kingdom. Regulatory applications seeking similar approval for mRNA-1273 are under review in several other countries. Since then, millions of doses of the vaccine have been administered across several countries.
Please note that the coronavirus vaccine candidate achieved 94.1% efficacy rate in primary analysis of the late-stage study evaluating it in COVID-19 patients. Per a Reuters article, the company stated that the immunity in individuals following inoculation with mRNA-1273 should last at least a year.
Moderna is looking to deliver up to 1 billion doses annually beginning 2021 across the globe, which is expected to generate billions in revenues. The company is also developing the vaccine candidate for adolescents and plans to evaluate it in pregnant women.
We note that Pfizer PFE/BioNTech's BNTX BNT162b is another mRNA-based coronavirus vaccine that is approved in several countries for emergency/conditional use. AstraZeneca's AZN adenoviurus-based coronavirus vaccine, AZD1222, is also approved in some countries. Meanwhile, J&J is developing a single-dose COVID-19 vaccine in a late-stage study with data readout expected by the end of January. Moderna's mRNA-1273 is likely to face competition from these vaccines. However, the targeted population size is huge.
Other Pipeline Candidates
Among other pipeline candidates, a cytomegalovirus vaccine — mRNA-1647 — is the leading candidate in Moderna's pipeline. A pivotal, phase III study is expected to start this year. The company's personalized cancer vaccine, mRNA-4157; intratumoral immuno-oncology candidate, mRNA-2416 (OX40L); and ischemic heart disease therapeutics candidate, AZD8601 are in mid-stage development.
Earlier this month, the company announced three new development programs to accelerate its infectious disease portfolio. It plans to start evaluating three candidates — mRNA-1010, mRNA-1020 and mRNA-1030 — as seasonal flu vaccines, two candidates — mRNA-1644 and mRNA-1574 — as HIV vaccines and mRNA-1215 as a vaccine against the Nipah virus. The company also plans to explore potential combination vaccines against flu, SARS-CoV-2, RSV and human metapneumovirus (hMPV).
However, most of Moderna's pipeline candidates are in early- to mid-stage development. Clinical development involves a high degree of risk and any setback will impact the company's stock negatively.
We also note that the company has agreements with big healthcare companies namely AstraZeneca, Merck and Vertex Pharmaceuticals for development of some of its pipeline candidates. These deals provide the company with funds through upfront and milestone payments as well as enable sharing of research and marketing costs. However, the company is currently dependent on its sole approved product, mRNA-1273, for steady revenues. Lower-than-expected sales of mRNA-1273 will significantly hamper the company in the near term.
Conclusion
Approval for mRNA-1273 boosted Moderna's prospects driving its share price higher in the past one year. However, with other approved coronavirus vaccines and several vaccine candidates under development, the prospects may dim going forward with rising competition.
Meanwhile, the company's focus on developing its coronavirus vaccine has hampered the development of certain other pipeline candidates. Moreover, several early/mid-stage candidates in its pipeline are several years away from commercialization.
It remains to be seen how the pandemic scenario pans out in 2021, which will decide the future course for the company.
Just Released: Zacks' 7 Best Stocks for Today
Experts extracted 7 stocks from the list of 220 Zacks Rank #1 Strong Buys that has beaten the market more than 2X over with a stunning average gain of +24.4% per year.
These 7 were selected because of their superior potential for immediate breakout.
See these time-sensitive tickers now >>
Want the latest recommendations from Zacks Investment Research? Today, you can download 7 Best Stocks for the Next 30 Days.
Click to get this free report
AstraZeneca PLC (AZN): Free Stock Analysis Report
Pfizer Inc. (PFE): Free Stock Analysis Report
Moderna, Inc. (MRNA): Free Stock Analysis Report
BioNTech SE Sponsored ADR (BNTX): Free Stock Analysis Report
To read this article on Zacks.com click here.
Zacks Investment Research