Perion Network's (PERI) Q3 Earnings & Revenues Increase Y/Y
Perion Network Ltd. PERI reported third-quarter 2019 non-GAAP earnings of 18 cents per share, which increased 12.5% year over year.

The Zacks Consensus Estimate was pegged at 9 cents per share.

Net revenues of $65.8 million beat the consensus mark by 1.2% and increased 15% from the year-ago quarter, driven by growth in Search and other revenues.

Top-line Details

Search and other (67.2% of net revenues) revenues increased 42.6% from the year-ago quarter to $44.2 million. The growth was driven by addition of publishers, higher revenues per month (RPM) and an increased number of unique searches.

The company stated that it is mining 13 million search queries per day, thereby improving its ability to provide meaningful insight to customers. This benefited RPM growth in the reported quarter.

Perion stated that the unique searches it provides to Microsoft's MSFT Bing has been benefiting the company's customers by providing important insight. This helped the company attract new publishers to its platform and expanded its total addressable market.

Advertising (32.8% of net revenues) revenues decreased 17.6% year over year to $21.6 million. This decline was attributed to the company's plan to transform its digital branding division Undertone from a single ad unit provider to an integrated provider of synchronized digital branding solutions.

Perion is focusing on integrating Undertone's display and video offerings with its social media offerings to create a meaningful and trackable cross-channel advertising platform.

The company also announced a partnership with Pinterest PINS related to its social media offering.

Further, Undertone's partnership with TV data and measurement company, Alphonson, announced in July, helps the former to reach a broader audience.
Perion Network Ltd Price, Consensus and EPS Surprise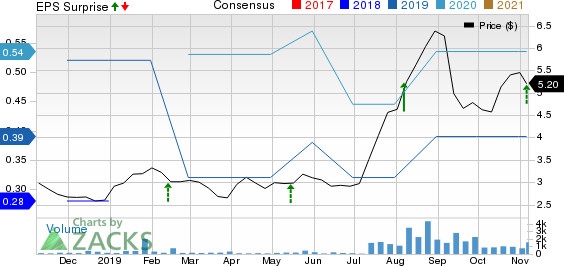 Perion Network Ltd price-consensus-eps-surprise-chart | Perion Network Ltd Quote
Operating Details
On a GAAP basis, total operating expenses were $61.8 million in the reported quarter. As a percentage of revenues, operating expenses increased 10 basis points (bps) on a year-over-year basis to 93.9%.

Customer acquisition costs and media buy increased 18.6% year over year to $34.2 million.

Research & development expenses increased 37.7% on a year-over-year basis to $6 million. Selling and marketing expenses increased 0.2% from the year-ago quarter to $8.7 million. General and administrative expenses decreased 8.3% on a year-over-year basis to $3.6 million.

Adjusted EBITDA came in at $7.6 million, up 13.4% from the year-ago quarter.

Balance Sheet

As of Sep 30, 2019, the company's cash and cash equivalents were $35.5 million compared with $36.1 million as of Jun 30, 2019.

Operating cash flow was $11.1 million in the reported quarter compared with $8.4 million in the previous quarter.

Guidance

For 2019, Perion reiterated adjusted EBITDA guidance between $25 million and 27 million. The company anticipates to reach or exceed the top end of the range.

Notably, the company expects to launch its first application developed in collaboration with Microsoft in the fourth quarter.

Moreover, Perion remains on track to launch a full Undertone product suite in the first half of 2020.

Zacks Rank & Stocks to Consider

Currently, Perion Network carries a Zacks Rank #3 (Hold).

A better-ranked stock from the broader computer & technology sector is Advanced Energy AEIS, sporting a Zacks Rank #1 (Strong Buy). You can see the complete list of today's Zacks #1 Rank stocks here.

Advanced Energy is set to report its quarterly earnings on Nov 12.

Wall Street's Next Amazon

Zacks EVP Kevin Matras believes this familiar stock has only just begun its climb to become one of the greatest investments of all time. It's a once-in-a-generation opportunity to invest in pure genius.

Click for details >>
Want the latest recommendations from Zacks Investment Research? Today, you can download 7 Best Stocks for the Next 30 Days.
Click to get this free report
Perion Network Ltd (PERI): Free Stock Analysis Report
Microsoft Corporation (MSFT): Free Stock Analysis Report
Advanced Energy Industries, Inc. (AEIS): Free Stock Analysis Report
Pinterest, Inc. (PINS): Free Stock Analysis Report
To read this article on Zacks.com click here.
Zacks Investment Research