Myovant (MYOV) Up on Collaboration With Pfizer for Relugolix
Myovant Sciences MYOV announced that it has signed a collaboration agreement with Pfizer PFE for development and commercialization of its recently approved oral GnRH receptor antagonist for advanced prostate cancer, Orgovy (relugolix). The companies will also jointly develop and commercialize Myovant's relugolix combination tablet for uterine fibroids and endometriosis.
Earlier this month, the FDA approved the first and only oral GnRH receptor antagonist, Orgovy, as monotherapy for the treatment of men with advanced prostate cancer. Data from a phase III study evaluating the drug demonstrated a 97% responder rate and a lower incidence of major adverse cardiovascular events compared to the current standard of care, AbbVie's ABBV Lupron (leuprolide acetate).
The relugolix combination tablet (relugolix + estradiol + norethindrone acetate) is also under review with the FDA for uterine fibroids and a decision is expected by Jun 1, 2021.
The collaboration agreement with Pfizer seems encouraging for Myovant as it will get strong support from an established pharma player for launch of its first commercial drug, Orgovy. Moreover, the agreement boosts Myovant funds significantly.
Per the terms of the agreement, Myovant will receive up to $4.2 million in upfront and milestone payments. This will include an upfront payment of $650 million, $200 million upon approval of relugolix combination tablet for uterine fibroids and tiered sales milestones on sales in both indications — prostate cancer and uterine fibroids — in the United States. The companies will also share profits and certain expenses for Orgovyx and relugolix combination tablet equally. Moreover, Pfizer will gain an exclusive option to commercialize relugolix in oncology outside the United States, Canada and certain Asian countries. The exercise of this option by Pfizer will trigger another $50 million payment to Myovant.
Shares of Myovant were up 20.5% on Dec 28 following the news. The company's shares have gained 76.6% so far this year compared with the industry's 9.2% increase.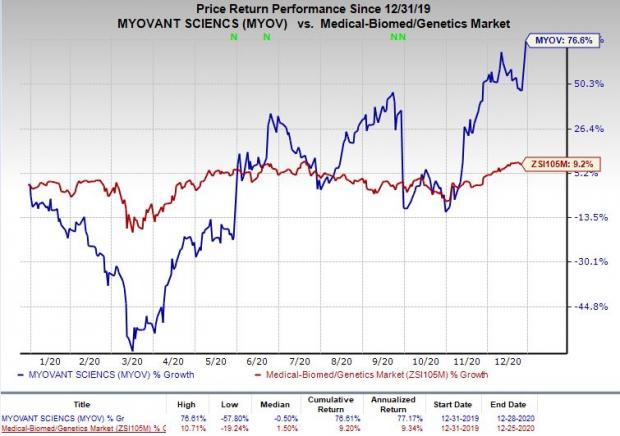 Please note that the company plans to file a marketing authorization application ("MAA") relugolix monotherapy for advanced prostate cancer in Europe in the first half of 2021. A decision on MAA for relugolix combination tablet for uterine fibroids from the European Commission is expected next year.
Apart from prostate cancer and uterine fibroids, the company has successfully completed two late-stage studies for a similar relugolix combination regimen in patients with endometriosis. It is currently evaluating relugolix combination regimen for treating endometriosis in a one-year extension study following the SPIRIT program. Data from the extension study is expected in the first half of 2021. A new drug application for endometriosis is expected to be in the same period.
We note that Myovant has in-licensed relugolix from Takeda Pharmaceuticals TAK, gaining a worldwide license to develop and commercialize relugolix, excluding Japan, and certain other Asian countries in 2018.
Myovant Sciences Ltd. Price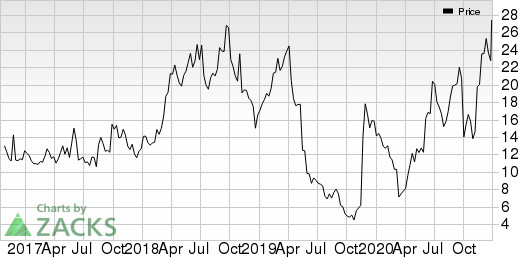 Zacks Rank
Myovant currently has a Zacks Rank #3 (Hold).
You can see the complete list of today's Zacks #1 Rank (Strong Buy) stocks here.
Just Released: Zacks' 7 Best Stocks for Today
Experts extracted 7 stocks from the list of 220 Zacks Rank #1 Strong Buys that has beaten the market more than 2X over with a stunning average gain of +24.4% per year.
These 7 were selected because of their superior potential for immediate breakout.
See these time-sensitive tickers now >>
Want the latest recommendations from Zacks Investment Research? Today, you can download 7 Best Stocks for the Next 30 Days.
Click to get this free report
Pfizer Inc. (PFE): Free Stock Analysis Report
AbbVie Inc. (ABBV): Free Stock Analysis Report
Myovant Sciences Ltd. (MYOV): Free Stock Analysis Report
Takeda Pharmaceutical Co. (TAK): Free Stock Analysis Report
To read this article on Zacks.com click here.
Zacks Investment Research