Digital Turbine (APPS) Q2 Earnings Beat, Revenues Up Y/Y
Digital Turbine APPS reported second-quarter fiscal 2020 non-GAAP earnings of 5 cents per share, which beat the Zacks Consensus Estimate by a penny. The company had reported non-GAAP earnings of 1 cent in the year-ago quarter.

Revenues of $32.8 million surpassed the consensus mark of $31 million and increased 37.5% on a year-over-year basis. The growth was primarily driven by higher revenue per device (RPD) from U.S.-based carrier partners and incremental contributions from newer platform products.

U.S. RPD increased over 30% year over year, driven by continued strong demand for the Digital Turbine platform among advertisers.

Digital Turbine's mobile device management platform, Ignite, has gained significant traction. In second-quarter fiscal 2020, Ignite was installed on roughly 36 million devices. As of Nov 4, 2019, more than 325 million devices had Ignite installed.

However, shares of the company decreased 3.9% to close at $6.83 on Nov 5, apparently due to soft fourth-quarter guidance for revenues, which are expected to decline sequentially.

Notably, Digital Turbine has returned 273.3% year-to-date compared with the industry's rally of 13.8%.




International Partnerships

Digital Turbine continued integration with new demand sources from SingleTap partners like AppsFlyer, Branch and Kochava. Growth in devices based on SingleTap is expected to drive more international advertising partners to the platform.

Additionally, the company is expected to expand from 50 to 70 countries with its new partner, Samsung, by the end of third-quarter fiscal 2020.

Further, management indicated that integration with Telefonica is expected to contribute to revenues in the current fiscal year.

Operating Details

Non-GAAP gross margin expanded 480 basis points (bps) on a year-over-year basis to 38.6%, largely driven by the successful mix of partner diversification and non-dynamic install revenue in Operator and OEM business.

On a GAAP-basis, product development expenses increased 3.7% to $2.7 million attributed to higher development payroll and professional service-related expenses in the reported quarter.

Sales & marketing (S&M) expenses increased 27.6% to $2.4 million as a result of increased travel expenses related to the company's continued expansion globally and increased commissions of sales personnel.

General & administrative (G&A) expenses rose 49.8% to $4 million, attributed to higher employee-related and consulting expenses.

Operating expenses, as percentage of revenues, declined 230 bps on a year-over-year basis to 28%.

Operating income on a GAAP basis was $3.1 million in the reported quarter. The company had reported operating income of $0.3 million in the year-ago quarter.
Digital Turbine, Inc. Price, Consensus and EPS Surprise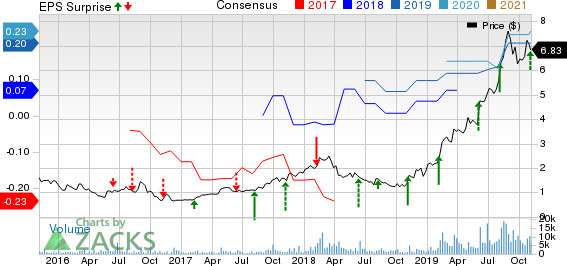 Digital Turbine, Inc. price-consensus-eps-surprise-chart | Digital Turbine, Inc. Quote
Balance Sheet & Cash Flow
Digital Turbine ended second-quarter fiscal 2020 with a cash balance of $25.5 million compared with $16.2 million as of Jun 30. As of Sep 30, 2019, the company had no debt.

Cash provided by operating activities totaled $6.7 million in the reported quarter compared with $5 million in the previous quarter.

Non-GAAP free cash flow was $5.7 million in the reported quarter compared with $4.3 million in the previously reported quarter.

Guidance

For third-quarter fiscal 2020, Digital Turbine expects revenues between $37 million and $38.2 million.

The Zacks Consensus Estimate for revenues is currently pegged at $35.9 million.

Non-GAAP adjusted EBITDA is expected between $5 million and $5.5 million.

Zacks Rank & Stocks to Consider

Currently, Digital Turbine carries a Zacks Rank #3 (Hold).

Advanced Energy AEIS, The Meet Group MEET and Dropbox DBX are some better-ranked stocks in the broader technology sector. Advanced Energy sports a Zacks Rank #1 (Strong Buy) while The Meet Group and Dropbox carry a Zacks Rank #2 (Buy). You can see the complete list of today's Zacks #1 Rank stocks here.

Both The Meet Group and Dropbox are set to report their quarterly earnings on Nov 7, while Advanced Energy is scheduled to report on Nov 12.

Just Released: Zacks' 7 Best Stocks for Today

Experts extracted 7 stocks from the list of 220 Zacks Rank #1 Strong Buys that has beaten the market more than 2X over with a stunning average gain of +24.5% per year.

These 7 were selected because of their superior potential for immediate breakout.

See these time-sensitive tickers now >>
Want the latest recommendations from Zacks Investment Research? Today, you can download 7 Best Stocks for the Next 30 Days.
Click to get this free report
MeetMe, Inc. (MEET): Free Stock Analysis Report
Digital Turbine, Inc. (APPS): Free Stock Analysis Report
Advanced Energy Industries, Inc. (AEIS): Free Stock Analysis Report
Dropbox, Inc. (DBX): Free Stock Analysis Report
To read this article on Zacks.com click here.
Zacks Investment Research