Here's Why Investors Are Favoring PVH Corp (PVH) Stock Now
PVH Corporation PVH continues to be an investor favorite, owing to its brand strength, particularly in Calvin Klein and Tommy Hilfiger, and momentum in digital business. Impressive performance in the digital platform, on the back of customers' shift to online purchases, has helped the stock stay afloat amid a tough environment. Investments in omni-channel capabilities and improved inventory bode well.

The aforementioned factors have been driving PVH Corp's overall performance. The company's earnings beat estimates in the last two quarters. It has a trailing four-quarter earnings surprise of 177.5%, on average. Cumulatively, these kept the investors bullish on the stock's prospects, The top line has also surpassed estimates in the past two quarters. This underlines PVH Corp's operational excellence.

In the past 30 days, the company's estimates for fiscal 2021 and 2022 earnings per share have moved up 29.8% and 10%, respectively. For fiscal 2021, its earnings estimates are pegged at $8.63 per share, suggesting a substantial growth from a loss of $1.97 reported in the year-ago quarter.

The Zacks Rank #1 (Strong Buy) stock has gained 17.1% so far this year compared with the industry's growth of 14.2%. The stock also comfortably outpaced the Consumer Discretionary sector's decline of 4.9% in the same period.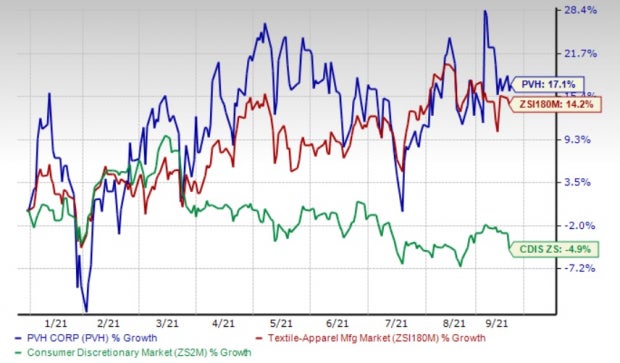 Image Source: Zacks Investment Research
Now let us discuss at length what makes the leading lifestyle products company such a compelling investment option.

PVH Corp's overall performance has been benefiting from solid performance across all regions and channels. The company is gaining from improved traffic in stores in the current year, which reflects significant growth from the prior year, owing to reopening and reduced occupancy restrictions. These factors aided top and bottom lines in second-quarter fiscal 2021. Revenues surged 46% year over year and 40% on a constant-currency (cc) basis.

Revenues in digital channels surged 35% year over year in the quarter under review, accounting for nearly 25% of total revenues. Europe acted as a major growth driver. Direct-to-consumer revenues rose 19% year over year in the fiscal second quarter, while wholesale revenues jumped 77%. Higher wholesale revenues were driven by solid sales in Europe, and sturdy digital demand from its traditional and pure-play wholesale customers.

The company is on track with the expansion of direct-to-consumer digital business and strengthening its network with third-party digital partners. Management earlier envisioned online sales to represent 20% of total sales over the next few years.

PVH Corp's diversified brand portfolio enables it to stay ahead of its peers. It aids in generating above-average industry growth and sustaining its position in the current challenging environment. The company's approach to brand management facilitates each of its brands to develop further through effective marketing strategies, financial control and operating leverage. Based on the strength of many of its brands, particularly Tommy Hilfiger, coupled with opportunities with regard to distribution, we believe that the company is poised for long-term growth.

The company continued to witness double-digit growth in both Tommy Hilfiger and Calvin Klein brands in the last reported quarter compared with second-quarter fiscal 2019. Product strength across all brands and regions, particularly in Europe, pricing power and gross margin expansion contributed to quarterly growth. Going forward, management remains confident about the underlying power of Calvin Klein and Tommy Hilfiger brands, which position the company's business to succeed amid the ever-changing consumer landscape.

PVH Corp's international business, which returned to growth in the first quarter of fiscal 2021, continued to deliver strong results in the second quarter. The company witnessed continued momentum in the international unit in the fiscal second quarter, driven by solid performance in Europe. Revenues for this business grew significantly from second-quarter fiscal 2019. For the rest of the year, the international business is likely to witness higher revenues than second-quarter fiscal 2019.
Conclusion
Although pressure from elevated freight and other logistic costs in the second half of fiscal 2021 are likely to persist, the company's strength across brands and digital business position it for growth. Its Momentum Score of A and a long-term earnings growth rate of 38.5% further indicate that the stock is well-poised.
Other Stocks to Watch
Columbia Sportswear Company COLM has a long-term earnings growth rate of 33.5%. It currently sports a Zacks Rank #1. You can see the complete list of today's Zacks #1 Rank stocks here.

lululemon athletica inc. LULU, a Zacks Rank #1 stock, has a long-term earnings growth rate of 18.3%.

Ralph Lauren Corporation RL has an expected long-term earnings growth rate of 15%. It currently flaunts a Zacks Rank #1.
Zacks Names "Single Best Pick to Double"
From thousands of stocks, 5 Zacks experts each have chosen their favorite to skyrocket +100% or more in months to come. From those 5, Director of Research Sheraz Mian hand-picks one to have the most explosive upside of all.
You know this company from its past glory days, but few would expect that it's poised for a monster turnaround. Fresh from a successful repositioning and flush with A-list celeb endorsements, it could rival or surpass other recent Zacks' Stocks Set to Double like Boston Beer Company which shot up +143.0% in a little more than 9 months and Nvidia which boomed +175.9% in one year.
Free: See Our Top Stock and 4 Runners Up >>
Want the latest recommendations from Zacks Investment Research? Today, you can download 7 Best Stocks for the Next 30 Days.
Click to get this free report
Columbia Sportswear Company (COLM): Free Stock Analysis Report
Ralph Lauren Corporation (RL): Free Stock Analysis Report
lululemon athletica inc. (LULU): Free Stock Analysis Report
PVH Corp. (PVH): Free Stock Analysis Report
To read this article on Zacks.com click here.
Zacks Investment Research