HollyFrontier (HFC) Q3 Earnings Beat, Refining Margins Up
U.S. refiner HollyFrontier Corp. HFC reported third-quarter 2018 net income per share (excluding special items) of $1.98, beating the Zacks Consensus Estimate of $1.63 and ahead of the year-ago period profit of $1.14 thanks to improving refining margins.
Revenues of $4.8 billion surpassed the Zacks Consensus Estimate of $4.5 billion and climbed 28.3% from the third-quarter 2017 sales of $3.7 billion.
HollyFrontier Corporation Price, Consensus and EPS Surprise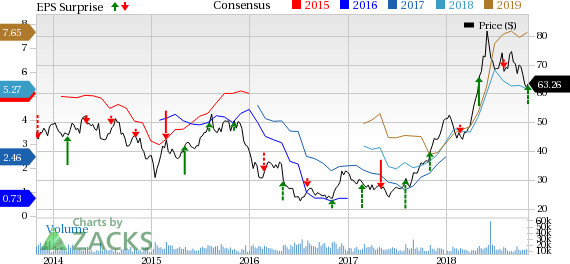 HollyFrontier Corporation Price, Consensus and EPS Surprise | HollyFrontier Corporation Quote
Segmental Information
Refining: Adjusted EBITDA from the Refining segment, which is the main contributor to HollyFrontier's earnings, was $507.2 million. This reflected a healthy improvement from the year-ago quarter's income of $326.4 million, thanks to wider gross margins, which jumped 38% to $19.41 per barrel.
Total refined product sales volumes averaged 447,770 barrels per day (bpd), down 3.4% from 463,750 bpd in the year-ago quarter as an outage forced the company's Woods Cross plant to run at lower rates throughout the first two months of the quarter. Downtime as part of planned turnaround at El Dorado facility also impacted volumes. Moreover, throughput decreased from 485,780 bpd in the year-ago quarter to 470,560 bpd. Meanwhile, capacity utilization was 96.7%, down from 99.5% in third-quarter 2017.
Lubricants and Specialty Products: The segment EBITDA totaled $42.3 million, lower than $53.7 million reported in the year-ago quarter on base oil market weakness. Product sales averaged 31,970 bpd, increasing from the prior-year level of 30,440 bpd. However, throughput fell 4.2% year over year to 21,410 bpd in the reported quarter.
HEP: This unit includes HollyFrontier's 57% interest in Holly Energy Partners L.P. HEP, a publicly-traded master limited partnership that owns, operates, develops and acquires pipelines and other midstream assets.
Segment EBITDA was $86.9 million, up from $75 million in third-quarter 2017. Earnings were buoyed by higher volume growth in its Permian crude gathering system, along with the buyouts of SLC and Frontier pipelines.
Balance Sheet
As of Sep 30, 2018, HollyFrontier had approximately $1.1 billion in cash and cash equivalents, and $2.4 billion in net long-term debt, representing a debt-to-capitalization ratio of 26.8%.
During the quarter, the company paid $58.4 million in dividends and bought back shares worth $124 million.
Zacks Rank & Stock Picks
HollyFrontier currently retains a Zacks Rank #3 (Hold).
Some better-ranked players in the energy space are oilfield service player Helix Energy Solutions Group, Inc. HLX and energy explorer Magnolia Oil & Gas Corporation MGY. Both the companies carry a Zacks Rank #2 (Buy).
(You can see the complete list of today's Zacks #1 Rank (Strong Buy) stocks here.)
The 2018 Zacks Consensus Estimate for Helix Energy is 22 cents, representing some 246.7% earnings per share growth over 2017. Next year's average forecast is 29 cents, pointing to another 30.7% growth.
Meanwhile, over 30 days, Magnolia Oil & Gas has seen the Zacks Consensus Estimate for 2018 and 2019 increase 19.1% and 8.8%, to $1.37 and $1.74 per share, respectively.
3 Medical Stocks to Buy Now
The greatest discovery in this century of biology is now at the flashpoint between theory and realization. Billions of dollars in research have poured into it. Companies are already generating revenue, and cures for a variety of deadly diseases are in the pipeline.
So are big potential profits for early investors. Zacks has released an updated Special Report that explains this breakthrough and names the best 3 stocks to ride it.
Want the latest recommendations from Zacks Investment Research? Today, you can download 7 Best Stocks for the Next 30 Days.
Click to get this free report
HollyFrontier Corporation (HFC): Free Stock Analysis Report
Helix Energy Solutions Group, Inc. (HLX): Free Stock Analysis Report
Holly Energy Partners, L.P. (HEP): Free Stock Analysis Report
Magnolia Oil & Gas Corp (MGY): Free Stock Analysis Report
To read this article on Zacks.com click here.
Zacks Investment Research