Bear of the Day: Louisiana-Pacific Corp. (LPX)
Louisiana-Pacific Corp. LPX manufactures and markets building products for the use in new home construction, repair and remodeling, and outdoor structure markets. The company offers trim and siding products, air and water barriers, lumber and sub-flooring, and joists used in commercial floorings and roofing systems.
LPX sells its products primarily to retailers, wholesalers, and homebuilding and industrial businesses. Louisiana-Pacific Corp. was incorporated in 1972 and is based in Nashville, TN.
The Zacks Rundown
LPX, a Zacks Rank #5 (Strong Sell), is a component of the Zacks Building Products – Wood industry group, which ranks in the bottom 6% out of more than 250 Zacks Ranked Industries. As such, we expect this industry group as a whole to underperform the market over the next 3 to 6 months.
The group has widely underperformed the market this year with a -18.02% return versus a -10.33% for the S&P 500. Also note the below-average projected earnings growth for this industry below:



Image Source: Zacks Investment Research
Candidates in the bottom tiers of industries can often be solid potential short candidates. While individual stocks have the ability to outperform even when included in a poor-performing industry group, the inclusion in a weaker group serves as a headwind for any potential rallies and the journey forward is that much tougher.
LPX is also overvalued relative to its industry group based on the Price/Book ratio:


Image Source: Zacks Investment Research
Weak Foundation: Falling Short on Earnings and Deteriorating Forecasts
Earnings misses have been a sore spot for LPX this year. The building products provider fell short of earnings estimates in second quarter, reporting EPS earlier this month of $4.19/SHARE – a -4.34% surprise versus the $4.38 consensus estimate. Last year, the company reported earnings of $4.74/SHARE during the second quarter. This is the type of negative trend that the bears like to see.
Analysts have been revising earnings estimates downward as of late. For the current quarter, estimates have been slashed -21.12% over the past 60 days. The Q3 Zacks Consensus EPS Estimate now stands at $1.83, translating to a -52.71% earnings regression relative to the same quarter last year.
For the year, analysts have also reduced their EPS estimate by -12.64% in the past 60 days. The 2022 Zacks Consensus EPS Estimate is now $12.99, reflecting a -7.02% decline compared to last year.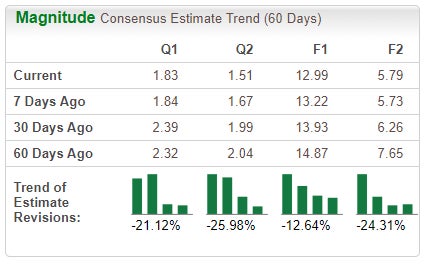 Image Source: Zacks Investment Research
Technical Outlook
LPX stock staged a failed breakout late last year and has now entered a sustained downtrend. Notice how both the 50-day (blue line) and 200-day (red line) moving averages are sloping down. Shares have declined more than 23% this year. The stock continues to trade below both averages.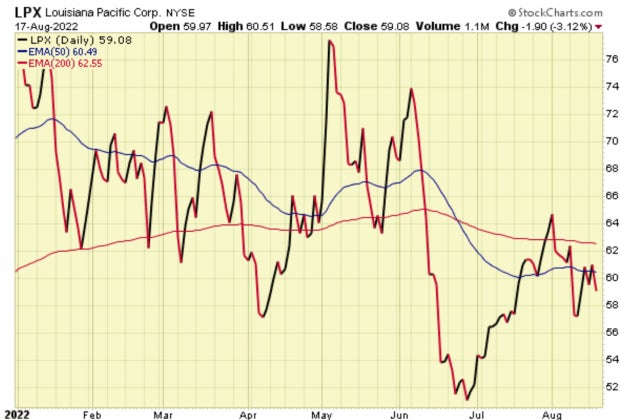 Image Source: StockCharts
While not the most accurate indicator, LPX has also experienced what is known as a 'death cross', wherein the stock's 50-day moving average crosses below its 200-day moving average. LPX would have to make a serious move to the upside and show increasing earnings estimate revisions to warrant taking any long positions in the stock.
Final Thoughts
Recent earnings misses and an unpredictable equity market don't exactly favor bullish LPX investors. Our Zacks Style Scores depict a weakening outlook for this stock, as LPX is rated a second worst-possible 'D' in our Momentum category. A deteriorating fundamental and technical backdrop show that this stock is fighting an uphill battle.
The fact that LPX is part of one of the worst-performing industry groups simply adds another headwind to a long list of concerns. Potential investors should only think about including this stock in their portfolio as part of a hedge or short strategy. Bulls will want to steer clear of an overvalued LPX until the situation shows major signs of improvement.
Free: Top Stocks for the $30 Trillion Metaverse Boom
The metaverse is a quantum leap for the internet as we currently know it - and it will make some investors rich. Just like the internet, the metaverse is expected to transform how we live, work and play. Zacks has put together a new special report to help readers like you target big profits. The Metaverse - What is it? And How to Profit with These 5 Pioneering Stocks reveals specific stocks set to skyrocket as this emerging technology develops and expands.
Download Zacks' Metaverse Report now >>
Want the latest recommendations from Zacks Investment Research? Today, you can download 7 Best Stocks for the Next 30 Days.
Click to get this free report
LouisianaPacific Corporation (LPX): Free Stock Analysis Report
To read this article on Zacks.com click here.
Zacks Investment Research