KBR-Adarga Partnership to Boost AI Skills in National Security
KBR, Inc. KBR has teamed up with Adarga to integrate the latter's leading-edge artificial intelligence (AI) software platform for national security.

Being one of the U.K.'s leading developers of AI analytics software, Adarga will help KBR's Government Solutions unit to use its software platform for the delivery of a number of large-scale programs across the defense and national security sectors. This will eventually help in bringing effective, data-driven decision-making operations.

In this regard, Andrew Barrie, KBR president, Government Solutions EMEA, said, "This partnership is an exciting step to enhance our innovative and highly dependable solutions focused approach across key markets, with a shared ethos to help our customers resolve their most complex challenges."

This tie-up will further boost KBR's competencies in offering services across key market sectors, and fast-track speed and scale to resolve complex data challenges.

Adarga's U.K.-developed Knowledge Platform is utilized for fast integration with partner programs. This has been providing vital insights for the U.K. Ministry of Defence by driving faster and enhanced decisions.
Innovative Digital Solutions: A Boon
KBR's focus on more agile, technology-driven, knowledge-based delivery has been driving its performance. In recent times, KBR has strengthened its position as a provider of high-end, digitally-enabled solutions and technologies in attractive end markets. KBR's best-in-class technologies have been designing and building end-to-end, sophisticated digitization solutions as well as services for clients across the world. Furthermore, the Government Solutions business strength to optimize its growth potential is encouraging.

Government Solutions, which accounted for 68.2% of KBR's 2020 revenues, mainly focuses on long-term service contracts with annuity streams for the U.K., Australian and U.S. governments.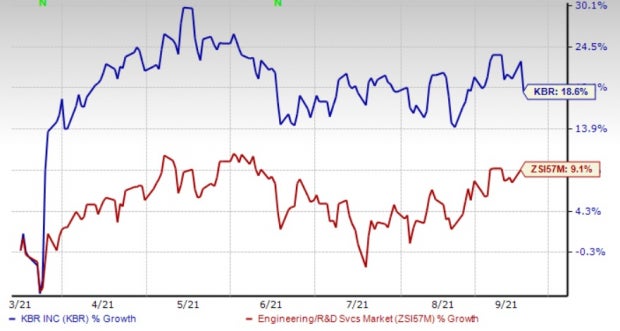 Image Source: Zacks Investment Research
Coming to share price performance, KBR's shares have advanced 18.6% over the past six months, outperforming the Zacks Engineering - R and D Services industry's 9.1% growth. Its solid prospects are backed by continuous contract wins, strong project execution, backlog level, and potential government as well as technology businesses. As of Jun 30, 2021, the total backlog was $19.9 billion compared with $19 billion at 2020-end. Of the total backlog, Government Solutions booked $12.4 billion. The Sustainable Technology Solutions segment accounted for $2.5 billion of the total backlog.

The Zacks Consensus Estimate for the Zacks Rank #2 (Buy) company's 2021 earnings indicates a 24.9% increase from 2020. You can see the complete list of today's Zacks #1 Rank (Strong Buy) stocks here.
Other Key Picks
Other top-ranked stocks in the same industry include Altair Engineering Inc. ALTR, Gates Industrial Corporation PLC GTES and Quanta Services, Inc. PWR, each carrying a Zacks Rank #2.

Altair, Gates Industrial, and Quanta Services' earnings for 2021 are expected to rise 64.5%, 94.3%, and 19.9%, respectively.
Time to Invest in Legal Marijuana
If you're looking for big gains, there couldn't be a better time to get in on a young industry primed to skyrocket from $17.7 billion back in 2019 to an expected $73.6 billion by 2027.
After a clean sweep of 6 election referendums in 5 states, pot is now legal in 36 states plus D.C. Federal legalization is expected soon and that could be a still greater bonanza for investors. Even before the latest wave of legalization, Zacks Investment Research has recommended pot stocks that have shot up as high as +285.9%.
You're invited to check out Zacks' Marijuana Moneymakers: An Investor's Guide. It features a timely Watch List of pot stocks and ETFs with exceptional growth potential.
Today, Download Marijuana Moneymakers FREE >>
Want the latest recommendations from Zacks Investment Research? Today, you can download 7 Best Stocks for the Next 30 Days.
Click to get this free report
Quanta Services, Inc. (PWR): Free Stock Analysis Report
Altair Engineering Inc. (ALTR): Free Stock Analysis Report
KBR, Inc. (KBR): Free Stock Analysis Report
Gates Industrial Corporation PLC (GTES): Free Stock Analysis Report
To read this article on Zacks.com click here.
Zacks Investment Research