Buy Nike Stock Ahead of Earnings Despite LULU's Drop?
Nike NKE is set to release its second quarter fiscal 2021 financial results on Friday, December 18. NKE shares have doubled the market over the last three months and the sportswear power's longer-term outlook is strong despite tough economic conditions.
There could be more pressure on Nike to outperform and provide strong guidance given its run. Investors should look no further than Lululemon's LULU recent post-earnings drop as an example. Yet, even if Nike hits a near-term hurdle, it appears worth considering as a longer-term buy.
All-Around Game…
Nike has done what is nearly impossible in an industry that's as ever-changing as fashion. The Oregon-based company has thrived in a fickle space because of its ability to create trends, adapt, and attach the Swoosh to the biggest sports, athletes, and cultural icons in the world. Despite the rise of Lululemon and a resurgent Adidas ADDYY in North America, Nike's influence on sports and fashion has arguably never been bigger.
Nike has cemented its place at the top of the world's two most popular sports: soccer and basketball. Plus, it's the official sponsor of the NFL, which is the richest and most important sport in the U.S. and likely will be for years if not decades to come.
The company also plays a key role in a world where consumers dress more relaxed than ever. And the work and learn from home world has made Nike and its peers even more popular. Let's also remember that Nike's shoes, which includes Jordan Brand, remain some of the hottest and most expensive on the secondary shoe market.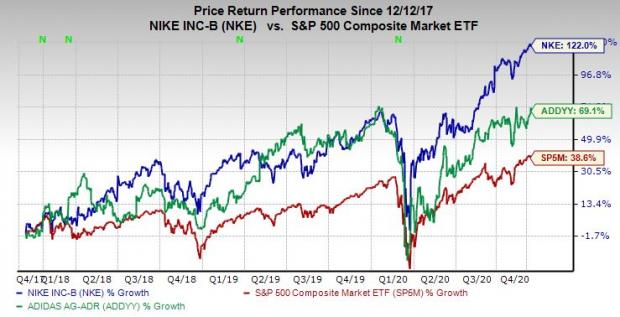 Other Fundamentals
All of this has helped Nike remain one of the world's most valuable brands alongside the likes of McDonald's MCD, Disney DIS, and Apple AAPL. And, of course, NKE has been transitioning to a higher-margin, direct-to-consumer model for years. This push includes an array of shopping apps and its mind-blowing reach across social media on platforms like Instagram FB where consumers can now shop directly.
Nike is also working to streamline and digitalized its supply chain. And Nike has not abandoned brick-and-mortar in the Amazon AMZN-age. Instead, it has bolstered its strategic partnerships with the likes of Foot Locker FL and revamped its own stores in high-value cities.
Nike's brick-and-mortar business is highly necessary and likely to remain vital considering that e-commerce accounted for roughly 14% of total retail sales in Q3, down from a record 16% in Q2. This is up from 11% in the year-ago period. However, some might have expected the figure to be higher given the conditions.
Outlook
Before we look ahead, it's worth noting that Nike's Q4 FY20 sales fell 38%, as its stores were negatively impacted by coronavirus-based closures. NKE's Q1 FY21 (reported on Sept. 22) then dipped only 1%. And Wall Street looked beyond the headline numbers to its booming e-commerce space, with digital sales up 75% in Q4 FY20 and 82% last quarter.
With this in mind, Zacks estimates call for NKE's adjusted Q2 EPS figure to slip 10% to $0.63 a share, with its sales projected to pop nearly 3%. The firm's Q3 revenue is then projected to climb 8%, with its full-year 2021 set to surge 13% and then jump another 11% higher in FY22. Meanwhile, the sports apparel giant's adjusted earnings are projected to skyrocket 78% this year and another 29% next year.
Bottom Line
Nike is projected to return to growth in impressive fashion after FY20's sales dipped 4.4%. In fact, both revenue estimates would represent Nike's best sales growth since fiscal 2012. NKE is a Zacks Rank #3 (Hold) at the moment and it has seen some positive earnings revisions recently, which helps it grab an "A" grade for Momentum in our Style Scores system.
NKE is also part of an industry that rests in the top 30% of our over 250 Zacks industries. Plus, 19 of the 25 brokerage recommendations Zacks has for Nike come in at a "Strong Buy," with four more at a "Buy" and none below a "Hold." NKE rests right near its recent records and its 0.80% dividend yield falls not too far below the 10-year U.S. Treasury note.
It is worth pointing out that Nike stock has made some big moves around earnings in the last three periods, which makes it a bit riskier for near-term buyers. But longer-term investors might want to consider buying NKE and not try to time it.
Looking for Stocks with Skyrocketing Upside?

Zacks has just released a Special Report on the booming investment opportunities of legal marijuana.

Ignited by referendums and legislation, this industry is expected to blast from an already robust $17.7 billion in 2019 to a staggering $73.6 billion by 2027. Early investors stand to make a killing, but you have to be ready to act and know just where to look.

See the pot stocks we're targeting >>
Want the latest recommendations from Zacks Investment Research? Today, you can download 7 Best Stocks for the Next 30 Days.
Click to get this free report
NIKE, Inc. (NKE): Free Stock Analysis Report
Amazon.com, Inc. (AMZN): Free Stock Analysis Report
Apple Inc. (AAPL): Free Stock Analysis Report
McDonalds Corporation (MCD): Free Stock Analysis Report
The Walt Disney Company (DIS): Free Stock Analysis Report
Foot Locker, Inc. (FL): Free Stock Analysis Report
lululemon athletica inc. (LULU): Free Stock Analysis Report
Adidas AG (ADDYY): Free Stock Analysis Report
Facebook, Inc. (FB): Free Stock Analysis Report
To read this article on Zacks.com click here.
Zacks Investment Research