Colgate-Palmolive (CL) Cheers Investors With Dividend Hike
Colgate-Palmolive Company CL is cheering investors by enhancing shareholder returns at a time when most companies' dividends and share repurchases remain suspended due to the hardships posed by the coronavirus outbreak. The global consumer products company boasts of paying uninterrupted dividends since 1895, while regularly increasing dividends every year since 2001. It will now pay a quarterly cash dividend of 45 cents per share, reflecting a 2.3% hike from the prior rate of 44 cents. The increased dividend will be paid out on May 14 to shareholders of record as of Apr 21, 2020.

Effective second-quarter 2021, the latest dividend hike will bring its annualized dividend rate to $1.76 per share. Notably, the company has a five-year annualized dividend growth rate of 3.2%, reflecting dividend increases for five consecutive years. Based on the share price of $75.27 on Mar 11, Colgate currently has a dividend yield of 2.3%. Moreover, the company's current dividend payout ratio is 57.7%.

Dividend payouts are the biggest enticement for investors and Colgate has always focused on making investments to develop business while using the excess cash to enhance shareholder returns, thanks to its strong cash generation ability. Notably, it is a windows-and-orphan stock, with a long history of regular reliable dividends. In 2020, the company paid out dividends of $1,654 million to shareholders.

The latest hike also reflects Colgate's solid cash position that is used to return value to shareholders (through higher dividends and regular buybacks) as well as reinvesting in the business. With an annual free cash flow return on investment of 41.7%, ahead of the industry's 24.4%, the increased dividend is likely to be sustainable. The company recorded a free cash flow of $3,309 million in 2020, up 18.3% from the prior year.
What Else Should You Know?
Colgate has been witnessing continued demand for personal and home care products due to the COVID-19 pandemic, with robust sales growth in the Hill's and Latin America businesses. Moreover, positive trends in the e-commerce platform bode well as more and more consumers are using online services for their essential needs. Further, it remains focused on its innovation strategy, with some notable innovation efforts being undertaken by Colgate, Colgate Optic White Renewal toothpaste and the Colgate Optic White Overnight Teeth Whitening Pen; the recent buyout of Hello Products LLC and the continued expansion of the Naturals and Therapeutics divisions. However, concerns related to higher SG&A expenses due to increased advertising investment and foreign currency risks cannot be ruled out.

We note that shares of this Zacks Rank #3 (Hold) company have advanced 8.9% in a year's time compared with the industry's and the Consumer Staples sector's growth of 11.7% and 21.2%, respectively. Further, the stock is hovering close to its new 52-week high of $75.85.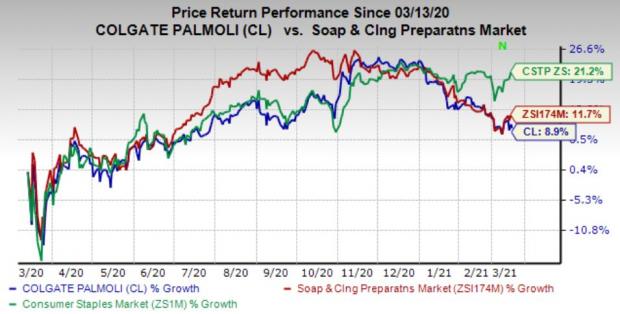 Given these dynamics, we see no reason why Colgate, with a long-term earnings growth rate of 6%, cannot surpass the 52-week-high mark in the near term.
Stocks to Consider
Helen of Troy Limited HELE currently has an expected long-term earnings growth rate of 9.4% and a Zacks Rank #1 (Strong Buy). You can see the complete list of today's Zacks #1 Rank stocks here.

Diageo plc DEO has a long-term earnings growth rate of 8.3% and currently, a Zacks Rank #2 (Buy).

Coca-Cola FEMSA KOF has a long-term earnings growth rate of 9.6% and currently, a Zacks Rank #2.
5G Revolution: 3 Stocks to Make Your Move
With super high data speed, it will make current cell phones obsolete and unlock the full potential of big data, cloud computing, and artificial intelligence. In the next few years this industry is predicted to create 22 million jobs and a stunning $12.3 trillion in revenue.

Today you have an historic chance to pursue almost unimaginable gains like Microsoft, Netflix, and Apple in their early phases. Zacks has released a Special Report that reveals our . . .
Smartest stock for 5G telecom




Safest investment in 5G hardware




Single best 5G buy of all!
Download now. Today the report is FREE >>
Want the latest recommendations from Zacks Investment Research? Today, you can download 7 Best Stocks for the Next 30 Days.
Click to get this free report
ColgatePalmolive Company (CL): Free Stock Analysis Report
Diageo plc (DEO): Free Stock Analysis Report
Helen of Troy Limited (HELE): Free Stock Analysis Report
Coca Cola Femsa S.A.B. de C.V. (KOF): Free Stock Analysis Report
To read this article on Zacks.com click here.
Zacks Investment Research