Why Is Arconic (ARNC) Down 2.4% Since the Last Earnings Report?
A month has gone by since the last earnings report for Arconic Inc. ARNC. Shares have lost about 2.4% in that time frame, underperforming the market.
Will the recent negative trend continue leading up to the stock's next earnings release, or is it due for a breakout? Before we dive into how investors and analysts have reacted of late, let's take a quick look at the most recent earnings report in order to get a better handle on the important catalysts.
Arconic's Q3 Earnings Trail, Sales Beat Estimates

Arconic logged profit, as reported, of $119 million or 22 cents per share for the third quarter of 2017, down from $166 million or 33 cents per share a year ago. The results in the reported quarter include special items including restructuring charges. Profit was hurt by $60 million of costs related to higher aluminum prices, driven by LIFO method of accounting, metal lag and increased processing costs.

Barring one-time items, earnings came in at 25 cents per share for the reported quarter. The results missed the Zacks Consensus Estimate of 27 cents.

Arconic reported revenues of $3,236 million, up around 3% year over year. Sales topped the Zacks Consensus Estimate of $3,129 million. Revenues were driven by improved volumes across all segments and higher aluminum prices.

Arconic remains focused on cost reduction and delivered net cost savings of 1.5% of revenues in the reported quarter.

Segment Highlights

EPS – Revenues from the division came in at $1.5 billion in the third quarter, up 5% year over year. Adjusted EBITDA rose 5% year over year to $312 million in the quarter, as improved aerospace volume and cost savings more than offset unfavorable price and mix.

GRP – The division recorded sales of $1.2 billion in the quarter, down 4% year over year. Adjusted EBITDA fell 2% year over year to $140 million, as lower aerospace wide-body build rates, airframe destocking and pricing pressure more than offset cost savings.

TCS – The segment logged sales of $517 million, up 15% year over year. Adjusted EBITDA increased around 9% to $83 million in the quarter on the back of increased volumes and cost savings that more than offset headwinds including unfavorable price and mix.

Financial Position

Arconic ended the quarter with cash and cash equivalents of roughly $1.8 billion. Long-term debt was around $6.8 billion at the end of the third quarter.

Outlook

Arconic reaffirmed its full-year adjusted earnings guidance of $1.15–$1.20 per share. However, the company updated its revenue and capital expenditure outlook for 2017.

The company now sees revenues for 2017 in the range of $12.6 billion to $12.8 billion (up from $12.3 billion to $12.7 billion expected earlier). Arconic now expects capital expenditure to be roughly $600 million, compared with its prior view of up to $650 million.
How Have Estimates Been Moving Since Then?
Following the release, investors have witnessed a downward trend in fresh estimates. There has been one revision higher for the current quarter compared to two lower.
Arconic Inc. Price and Consensus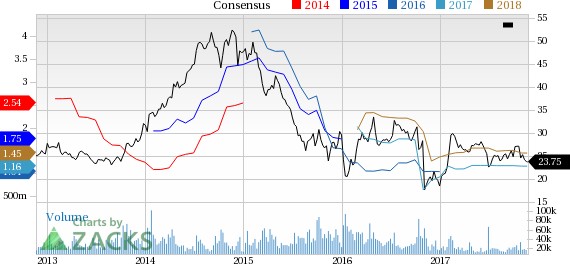 VGM Scores
At this time, Arconic's stock has a poor Growth Score of F, a grade with the same score on the momentum front. However, the stock was allocated a grade of B on the value side, putting it in the top 40% for this investment strategy.
Overall, the stock has an aggregate VGM Score of D. If you aren't focused on one strategy, this score is the one you should be interested in.
The company's stock is suitable solely for value investors based on our style scores.
Outlook
Estimates have been broadly trending downward for the stock. The magnitude of this revision also indicates a downward shift. Notably, the stock has a Zacks Rank #3 (Hold). We expect in-line returns from the stock in the next few months.
Want the latest recommendations from Zacks Investment Research? Today, you can download 7 Best Stocks for the Next 30 Days.
Click to get this free report
Arconic Inc. (ARNC): Free Stock Analysis Report
To read this article on Zacks.com click here.
Zacks Investment Research