Schwab (SCHW) October Metrics Improve on TD Ameritrade Buyout
Shares of Charles Schwab SCHW gained 1.9% after the company announced its activity report for October 2020. Notably, on Oct 6, it concluded the acquisition of TD Ameritrade Holding for $22 billion, which led to the creation of a behemoth in the online brokerage space. Thus, the metrics for the reported month represents data for the combined company.

Total client assets for the reported month were $5.88 trillion, up 34% from September 2020 and 53% from October 2019.

Client assets receiving ongoing advisory services were $2.93 trillion, up 31% from the prior month and 45% year over year. Net new assets were $1.60 trillion, up significantly from the prior month as well as from the year-earlier month. The reported figure primarily included inflows related to the acquisition.

Schwab's average interest earning assets were $442.1 billion at the end of October 2020, up 13% from September 2020 and 66% from October 2019. The company had 14.7 million new brokerage accounts in the reported month. This was significantly up from 184,000 new accounts in September 2020 and 142,000 in October 2019.

Schwab's active brokerage accounts totaled 29.01 million at October-end, up 102% sequentially and 138% from the year-ago month. Further, clients' banking accounts were 1.50 million, rising 1% from September 2020 and 9% from October 2019. The number of retirement plan participants was 2.07 million, up 20% from the prior-month level and 19% year over year.

The company's acquisitions are expected to strengthen its position as a leading brokerage player and be accretive to earnings. Moreover, its efforts to offer commission-free trading is leading to higher client assets and a rise in brokerage accounts, which, in turn, will improve Schwab's market share.

So far this year, shares of Schwab have lost 1.4% against 3.3% growth recorded by the industry.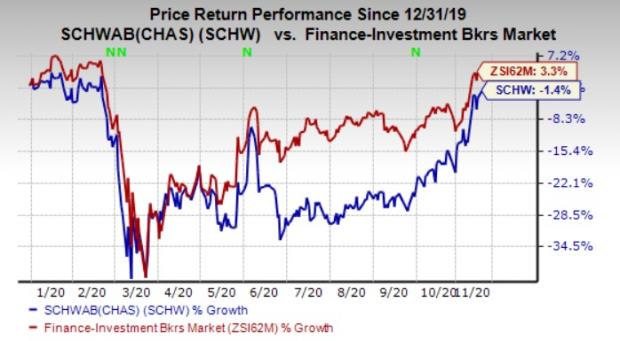 Currently, the company carries a Zacks Rank #3 (Hold). You can see the complete list of today's Zacks #1 Rank (Strong Buy) stocks here.
Performance of Other Brokers
Interactive Brokers Group IBKR released its Electronic Brokerage segment's performance metrics for October 2020. The segment, which deals with clearance and settlement of trades for individual and institutional clients globally, reported a substantial surge in Daily Average Revenue Trades (DARTs) on a year-over-year basis.

Tradeweb Markets Inc. TW reported total trading volume of $19.4 trillion in October 2020. Average daily volumes were $910.8 billion, up 28.8% year over year.

LPL Financial Holdings Inc.'s LPLA total brokerage and advisory assets of $807.6 billion at the end of October 2020 fell marginally from the prior month but increased 10.4% year over year. Of the total assets, brokerage assets were $401.6 billion and advisory assets totaled $406 billion.
Legal Marijuana: An Investor's Dream
Imagine getting in early on a young industry primed to skyrocket from $17.7 billion in 2019 to an expected $73.6 billion by 2027.

Although marijuana stocks did better as the pandemic took hold than the market as a whole, they've been pushed down. This is exactly the right time to get in on selected strong companies at a fraction of their value before COVID struck. Zacks' Special Report, Marijuana Moneymakers, reveals 10 exciting tickers for urgent consideration.

Download Marijuana Moneymakers FREE >>
Want the latest recommendations from Zacks Investment Research? Today, you can download 7 Best Stocks for the Next 30 Days.
Click to get this free report
Interactive Brokers Group, Inc. (IBKR): Free Stock Analysis Report
The Charles Schwab Corporation (SCHW): Free Stock Analysis Report
Tradeweb Markets Inc. (TW): Free Stock Analysis Report
LPL Financial Holdings Inc. (LPLA): Free Stock Analysis Report
To read this article on Zacks.com click here.
Zacks Investment Research